As crypto trading spreads across the world as a legitimate profession, the search for the Best Strategies to Manage Your Crypto Assets and Get Good Returns is always on. Every day, millions of traders execute trades to generate profits and continue trading. However, with the crypto market being active 24×7, volatile price changes are inevitable, making manual trading challenging to execute. Therefore, many traders are now automating their trades and generating returns on autopilot. Moreover, many trading platforms help users copy other traders, letting experts take care of the strategy and execution. This process is known as copy/mirror/social trading.
But as more platforms join the market, choosing the right one is becoming difficult. To help you choose a platform that fits your trading goals, this 3Commas vs Mudrex vs Paratica review will discuss the top features of the platforms and rank them accordingly.
Here's the 3Commas vs Mudrex vs Paratica Review
3Commas
3Commas offers multiple trading solutions for traders on its platform. On this cloud-based platform, users can customise the available trading bots and execute them as per their trading goals. With the availability of template strategies, users can also execute them as is. In this 3Commas review, we will compare the platform with Paratica and Mudrex.

Mudrex
Mudrex is a cloud-based trading platform that makes it easy for everyone to invest in crypto. Users can invest in pre-made trading algorithms created by expert traders. These 100% automated algos take care of the strategy, so the users can sit back and let the trading bot handle everything. If users wish to build their own bot, they can do so by using Mudrex's no-code crypto strategy builder at Mudrex Build. Mudrex offers other investment opportunities as well, including a basket of cryptocurrencies curated by experts. In this Mudrex review, we will compare it with 3Commas and Paratica and rank these platforms on different features.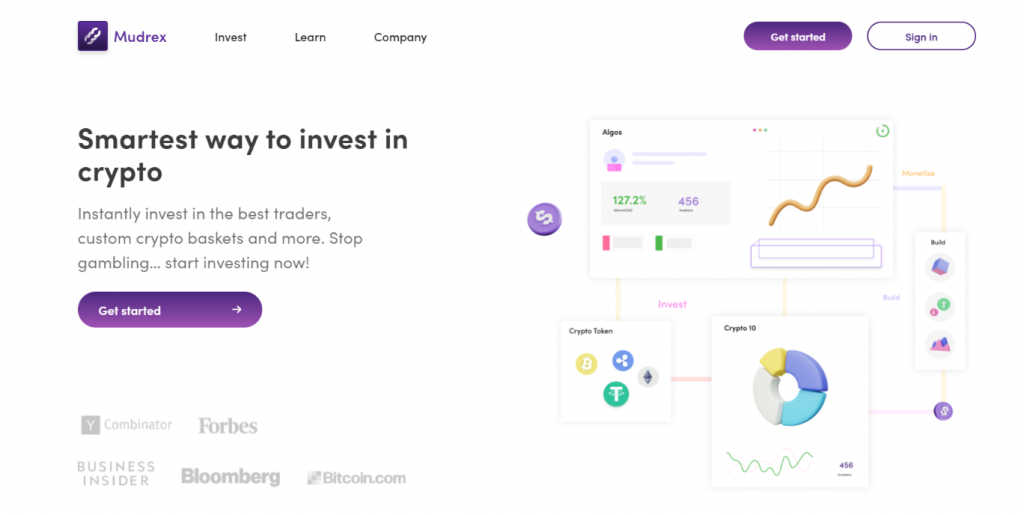 Paratica
The Paratica crypto trading platform provides crypto traders with an opportunity to execute crypto trading themselves or follow other expert traders. This cloud-based platform offers a user-friendly UI, helping traders of all experience levels. Users can easily trade socially by going to the experts' tab and choosing the expert they wish to follow. This Paratica review will rank the platform on some essential features while comparing it with Mudrex and 3Commas.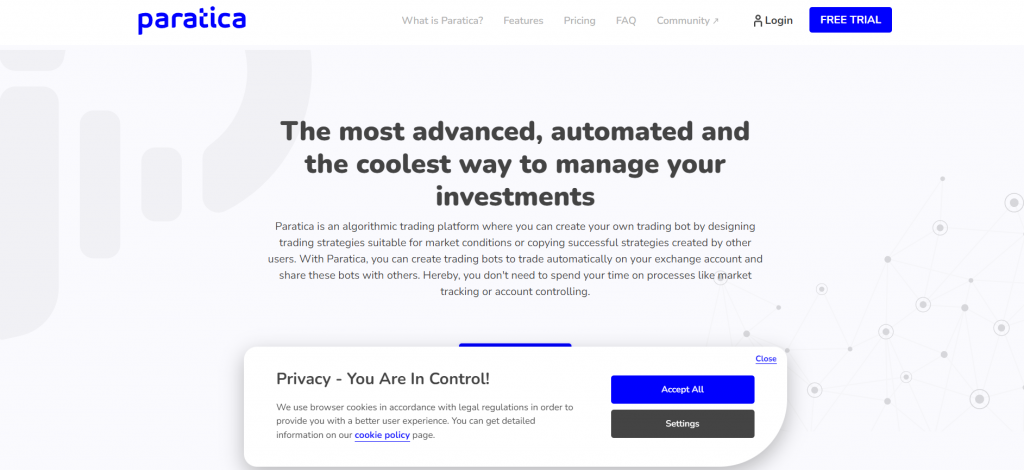 3Commas vs Mudrex vs Paratica— A Review
We bring you this 3Commas vs Mudrex vs Paratica review where we will compare and score these platforms across a variety of features which include the platform fee, profitability of the available trading bots, customer support and more. While the final scores are given below, the detailed 3Commas vs Mudrex vs Paratica review follows.
| | | | |
| --- | --- | --- | --- |
| Feature | 3Commas | Mudrex | Paratica |
| Platform Reliability | 8/10 | 9/10 | 8/10 |
| Trading Strategies and Profitability | 6/10 | 9/10 | 7/10 |
| Platform Pricing/Fee | 7/10 | 8/10 | 7/10 |
| Ease Of Investment | 7/10 | 9/10 | 6/10 |
| Post-Investment Tracking | 6/10 | 7/10 | 7/10 |
| Exchanges Supported | 9/10 | 6/10 | 5/10 |
| Community & Support | 7/10 | 9/10 | 8/10 |
| Referral Bonuses | 6/10 | 9/10 | 7/10 |
| Total Score | 56/80 | 66/80 | 55/80 |
#1 Platform Reliability
Every investor wants their crypto trading platform to be reliable enough to not fall prey to malicious withdrawals or scams. Therefore, we will review the features that make these three platforms reliable.

3Commas Reliability
3Commas is based in Russia and was launched in 2017. Since its launch, 3Commas has seen tremendous growth and has gained over 33,000 active users. To help users invest securely, 3Commas uses API-based trading solutions that do not hold any withdrawal permissions.
Mudrex Reliability
Mudrex was launched in 2019 in San Francisco and has the backing of Y-Combinator. Due to its easy to use interface and extremely profitable crypto investment solutions, Mudrex has been acclaimed heavily by crypto traders of all kinds. Mudrex has crossed over 25,000 investors and $1.5 Billion in trade volume and is going strong. For user's safety, the security measures incorporated by Mudrex include 2FA, API-based no-withdrawal permission trading and swift customer support across channels.

Paratica Reliability
Paratica is based out of Turkey and was launched in 2018. With over $21 Million in trade volume and 5,200 investors, Paratica caters to over 3 million orders per month. Paratica's focus on security can be fathomed by the fact that users cannot start investing before they enable 2FA. Moreover, the platform uses API-based trading.
Reliability is crucial for any investor in any market, and crypto trading platforms are the same. Therefore, Mudrex receives the top rank in platform reliability with a high user base, extreme security measures, and swift customer support.
Platform Reliability
| | | |
| --- | --- | --- |
| 3Commas | Mudrex | Paratica |
| 8/10 | 9/10 | 8/10 |

#2 Trading Bots/Strategies and Profitability
While many other features are significant while choosing a platform, the profitability of the bots is one of the key ones. These platforms have a lot of bots, and it is critical to get the right information before you choose one. Therefore, we review the type of bots each platform provides and how their details are showcased.
3Commas Trading Bots
The 3Commas marketplace contains the trading bots offered by the platform. Users can easily filter out these bots through the crypto exchange, cost, number of followers, and returns over various time periods.
Some of the top-performing bots at 3Commas are:
Statcoinmarket
SkyRock Signals
MP's 3x Signals
Trading At Mudrex
To make selecting a trading bot easy, the Mudrex dashboard offers a clean UI with vital details showcased efficiently. Users can view the available bots and filter them out using the cryptocurrency it trades in, total returns, number of investors, total run time, monthly fee, last month returns, and a performance score (0-10) by Mudrex rating each strategy after a risk vs reward analysis. Moreover, users can view additional details about the strategy on the bot by going to individual bot pages.
Some of the top bots on Mudrex with their last 30 day returns are:
Trading At Paratica
Users at Paratica get the choice between automating their trades themselves or start following other expert traders. The experts' tab displays all available experts that a user can follow. Users can filter the list using the number of followers and their trading status. For more information, the user has to visit the detailed page of the expert.
Some of the top experts on Paratica are:
While every trader looks for the most profitable bots, making informed trading decisions is equally important. Therefore, with transparent results and a detailed dashboard, Mudrex ranks the highest in trading bots and profitability.

Trading Bots/Strategies and Profitability
| | | |
| --- | --- | --- |
| 3Commas | Mudrex | Paratica |
| 6/10 | 9/10 | 7/10 |

#3 Pricing / Platform Usage Fees
There are different pricing models when it comes to crypto trading platforms. While some models are moderately priced, many platforms charge exorbitant fees. Here we review the usage fees for the three platforms.
3Commas Pricing
Users at the 3Commas crypto trading platform can choose from free and investment trading plans. The free plan gives users a taste of the platform and provides minimal features such as one SmartTrade, one Option Bot, and One Grid Bot per month. On the other hand, the paid plans are Starter ($14.5/m), Advanced ($24.5/m) and Pro ($49.5/m). These plans offer various other features over the free plan according to the trading goals of different users.
While there are free strategies on the platform, if you go for a paid strategy, the cost of some are over $100 per month. The minimum investment amount on the platform is $100 after paying the platform and bot fee.
Mudrex Pricing
The Mudrex pricing plans are different from traditional trading platforms, as it only charges a fee when you invest in a bot. Users can create, backtest and invest in their strategies for free (up to $500, then 1% of the invested amount). You only need to pay a fee when you invest in a bot created by another user, where the fee starts as low as $5/month and varies according to the invested amount and bot. The minimum investment amount on the platform is $150. However, users get a fee refund if the strategy does not yield any profit through Mudrex Protect.

Users can also opt for the premium plan to enjoy unlimited backtests, paper trades, and publish & earn from their strategies. With the premium plan, users get access to 200+ technical indicators, priority support, and the ability to earn from your strategies at Mudrex.
Paratica Pricing
With three tiers available, users at Paratica can choose the plan they feel comfortable with. The Silver Premium plan ($9.9/month) offers 150 positions per month, 50 pairs and other features. The Gold Premium Plan ($14.9/month) includes 300 positions/month, 20 concurrent positions and more features over the Silver plan. In the Platinum Premium plan ($19.9/month), users get unlimited positions, 50 simultaneous positions, unlimited pairs, and more. There is no minimum investment requirement at Paratica.
With a simple pay-as-you-invest model, low fees, and extensive features in the free plan, Mudrex ranks highest here.
Pricing / Platform Usage Fees
| | | |
| --- | --- | --- |
| 3Commas | Mudrex | Paratica |
| 7/10 | 8/10 | 7/10 |
#4 Ease of Investment
For any crypto trading platform, ease of investment is a must as it helps all kinds of users make investments easily. Here we review the investment process structured by these platforms.
How To Start Investing On 3Commas
3Commas offers a great user experience on both its browser version and the 3Commas mobile app. Users can start investing after a few steps, and then control their investments easily.
Here's how one can start with 3Commas:
Create/Login to your 3Commas account;
Connect an exchange with an API key;
Pay the membership fee for the platform;
Select the signal that you want to use, and pay the subscription fee;
Create a bot with your subscribed signal and select the investment amount;
Start the bot with the intentional settings, and you are good to go.
How To Start Investing On Mudrex
Mudrex's core focus has always been to bring crypto trading to everyone with ease. Therefore, Mudrex has created an easy-to-use platform where users can start investing in just a few clicks. The intuitive UI, detailed dashboard and user-friendly process make it easy to invest in the platform.

Here's how one can start with Mudrex:
Create/ Login to your Mudrex account;
Connect the desired exchange with API keys;
Choose the bot you want to invest in and select the amount;
Pay the platform fee, and you are all done.
How To Start Investing On Paratica
While the investment process is simple on Paratica, users have to enable 2FA before they start investing. Once the 2FA is enabled, users can easily invest on the platform.
Here's how you can start with Paratica:
Create/ Login to your Paratica account;
Download the app for 2FA security (mandatory);
Scan QR Code;
Backup the security key;
Enable Google Authentication;
Set up an API key;
Create your own strategy or follow an expert;
Set up the bot, and you are good to go.
Crypto trading should be easy, as a complicated process is a deterrent for new traders. Therefore, with the most effortless investment process, Mudrex takes the top spot in ease of investment.
Ease of Investment
| | | |
| --- | --- | --- |
| 3Commas | Mudrex | Paratica |
| 7/10 | 9/10 | 6/10 |
#5 Post-Investment Tracking
Post-investment tracking is critical to making informed trading decisions, as it helps users decide if they wish to continue or change anything. Therefore, we will review the portfolio solutions offered by these platforms.
3Commas Portfolio
The 3Commas portfolio dashboard displays vital details about the user's portfolio, including its total value, 1-day change, and total changes.
Portfolio Tracking At Mudrex
Users at Mudrex can view all essential details about their portfolio right through their dashboard. The details displayed include the list of bots you have invested in, the amount invested, total returns, and individual returns.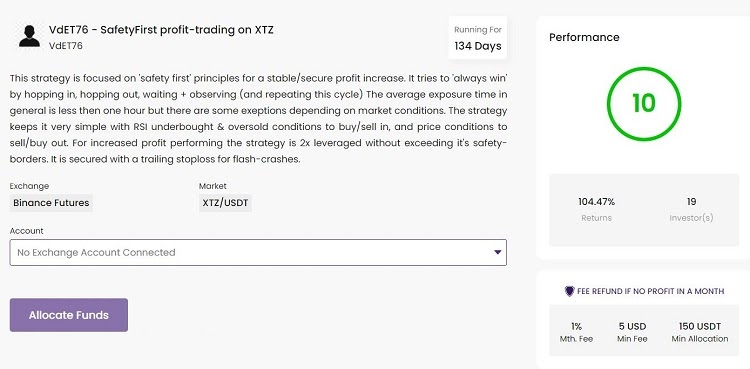 Portfolio Tracking At Paratica
The Paratica dashboard contains detailed information on the user's portfolio, which includes all your positions for the past month and week, and users can click individual positions to get the required information.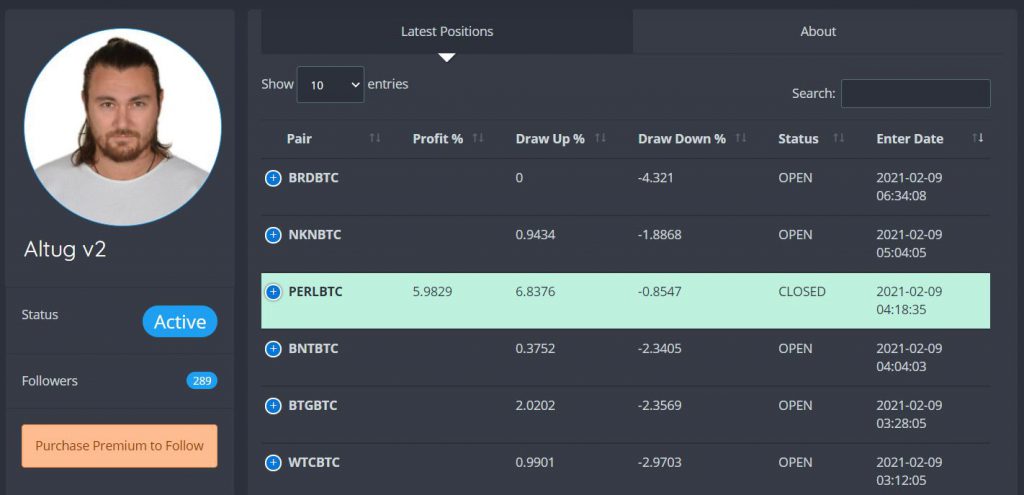 Users at Paratica and Mudrex can view detailed information about their investments easily, making them the top-ranked platforms in post-investment tracking.
Post-Investment Tracking
| | | |
| --- | --- | --- |
| 3Commas | Mudrex | Paratica |
| 6/10 | 7/10 | 7/10 |
#6 Exchanges Supported
As more investors start their crypto trading journey, more exchanges are coming into the picture. Crypto trading platforms need to support as many top exchanges as possible to include the majority of traders. Here we review the exchanges supported by these platforms.
3Commas Exchanges Support
3Commas supports 23 crypto exchanges, including Binance, FTX, Bybit, Bitmex, Deribit, Bittrex and Coinbase Pro.
Mudrex Exchanges Support
At Mudrex, users can invest through Coinbase Pro, Binance, Bybit, Deribit, OKEX, FTX and BitMex.
Paratica Exchanges Support
Users at Paratica can trade through four exchanges, which are HUOBI, Binance, OKEx and Chiliz.
3Commas support the highest number of exchanges among the three platforms, making it the top-ranked platform here.
Exchanges Supported
| | | |
| --- | --- | --- |
| 3Commas | Mudrex | Paratica |
| 9/10 | 6/10 | 5/10 |
#7 Community & Support
Users can often encounter roadblocks in their investment journey, where they require support. Therefore, we review the support offered by these platforms, along with their communities across different channels.
3Commas Support
Users at 3Commas can resolve their issues using the live chat feature. The platform also has significantly active communities on Telegram and Discord, where users can get answers to their queries and trading tips from the community.

Here's how you can reach 3Commas:
Email: support@3commas.io
Discord: discord.com/invite/2yscHv8
Telegram: https://t.me/commas
Mudrex Support
To help users get started with the platform and get answers to almost all account-related issues, Mudrex has a detailed crypto FAQ support section. If the FAQ section doesn't answer your question, users can choose from lightning-fast email support, ticketing system or live chat. Mudrex also has active communities on Telegram and Discord where users can interact and share knowledge.


Here's how you can reach Mudrex:
Paratica Support
The Paratica crypto trading platform offers email support to its users, along with a community page on the website. While the website-based community isn't that active, users can visit the multilingual communities of the platform on Telegram.
Here's how you can reach Paratica:
Email: info@paratica.com
Telegram: t.me/paratica
Twitter: twitter.com/paraticacom
With a comprehensive FAQ section and lightning-fast support spread across various modes, Mudrex is extremely user-friendly. Therefore, it gets the top rank in the community & support.

Community & Support
| | | |
| --- | --- | --- |
| 3Commas | Mudrex | Paratica |
| 7/10 | 9/10 | 8/10 |

#8 Referral Bonuses
While earning through crypto investments is great, many users also wish to earn from their crypto trading network. Therefore, a crypto referral program is a lucrative proposition to have for these platforms. Here we review the referral programs offered by these platforms.
3Commas Referrals
With a commission-based system, the 3Commas referral program offers up to 40% for each referral's spend. Users at 3Commas can enjoy detailed link tracking in their dashboard and minimal payout amount requirements.
Mudrex Referrals
Through the Mudrex crypto referral program, users can earn $25 for every valid referral and a 50% commission for their spending on Mudrex. Moreover, there is no limit, so you can earn as much as possible with your professional networks. The Mudrex referral dashboard offers detailed insights into your referrals, helping users spread the word easily. Users can also enjoy referral bonuses and frequent giveaways at Mudrex.

Paratica Referrals
For every purchase by the referred user, the referrer earns a standard 10% commission. The Paratica referral dashboard offers extensive details, including total earnings, commission rate, balance, and more.
With high profitability, no earning limit and an easy process, the Mudrex referral program takes the top spot in referral bonuses.
Referral Bonuses
| | | |
| --- | --- | --- |
| 3Commas | Mudrex | Paratica |
| 6/10 | 9/10 | 7/10 |
3Commas vs Mudrex vs Paratica— The Final Verdict
Through this detailed 3Commas vs Mudrex vs Paratica review, it is evident that all three platforms have various features that make them unique. While 3Commas supports the most exchanges, Paratica offers good portfolio tracking solutions, and Mudrex has the most profitable, inexpensive and reliable trading bots.
However, it is critical to note that a single crypto trading platform or trading bot does not work for everyone, as each trader differs in trading goals and amount. Therefore, before you invest in any automated crypto trading platform, ensure that you have drafted up your crypto trading goals. Only after understanding your goals and the platform you wish to invest in should you start investing.
Even though no trading bot is ideal for all, this 3Commas vs Mudrex vs Paratica review highlights how Mudrex can be leveraged by all kinds of traders. With investment options spread across various cryptocurrencies, exchanges and trading strategies, you can get started on Mudrex without having to shell out a lot of fees. With Mudrex, you can invest in 100% automated trading solutions and consistently generate returns. It is safe to say, Mudrex is the high-performing automated trading platform you are looking for.
Let your trades work on autopilot. Get consistent returns with Mudrex.