Crypto trading has moved from just a hobby to a full-time job for now, as millions worldwide now trade in different cryptocurrencies every day to generate consistent returns. The stories of the Bitcoin crash, Ethereum's monumental gain, and Dogecoin's unmatched popularity paved the way for many new investors to join the crypto investment bandwagon. But in a market that is extensively volatile and active 24×7, trading manually round the clock is virtually impossible. To ensure that no profits get away and losses are minimised, traders are now automating their trades to generate consistent returns without manually trading. Moreover, many automated trading platforms also offer users a chance to copy other traders. This process is known as copy/mirror/social trading.
To help you select the ideal trading platform for your crypto trading needs, this article will discuss three such platforms. In this 3Commas vs Mudrex vs Tradesanta review, we will highlight their features in detail and rank them accordingly, helping you choose the best platform for your investment needs.
Here's the 3Commas vs Mudrex vs Tradesanta Review
3Commas
3Commas is a cloud-based automated crypto trading platform that offers multiple features for traders of all kinds and experiences. The 3commas bots available on the platform are customisable, and users can mix and match their strategies as per their liking. The 3Commas trading bot platform is one of the most sought after platforms on the market. Users can either follow template strategies from the marketplace or even customise their own to execute automated trading. In this 3Commas review, we will compare it with Mudrex and Tradesanta on a wide variety of features.
Mudrex
The Mudrex bot marketplace is a cloud-based trading platform that is bringing crypto trading to everyone. This new-age platform helps users invest in pre-made Mudrex bots or build their own using a no-code crypto strategy builder at Mudrex Build. The pre-made strategies or algos are created by expert traders, and you can invest in them with ease at Mudrex Invest. These bots are 100% automated and spread across multiple cryptocurrencies and exchanges for you to choose from. In this Mudrex review, we will compare it with 3Commas and Tradesanta across various features and underline the stark differences.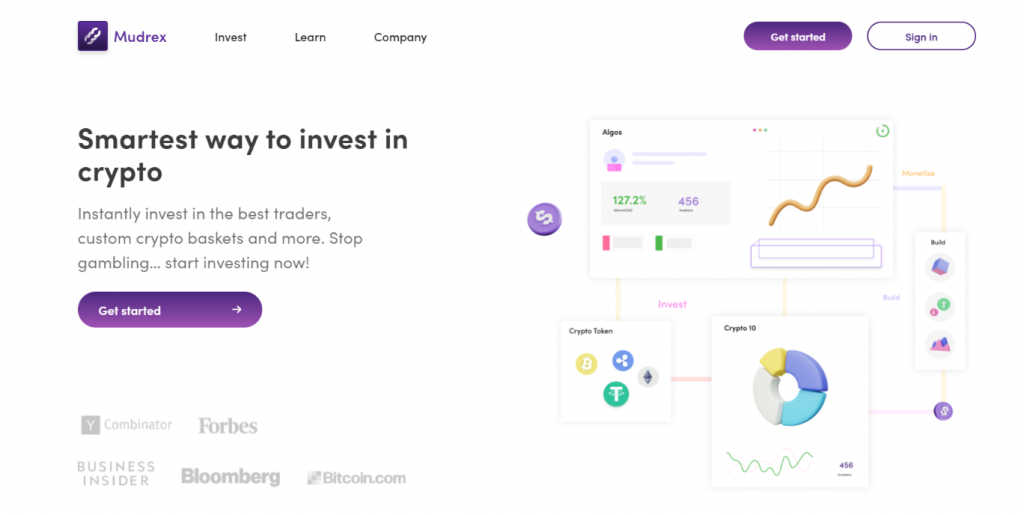 TradeSanta
The TradeSanta trading bot platform is a cloud-based automated trading platform that offers powerful tools for the same. It is built for both beginners and experienced traders and helps users automate their trades easily. These bots are spread across cryptocurrencies and can be customised according to the user's needs. The platform has gained quite some traction in recent times, primarily due to ease of investment and a substantial arsenal of tools. In this Tradesanta review, we will compare it with 3Commas and Mudrex and highlight the best pros and cons of the platform.
3Commas vs Mudrex vs TradeSanta— A Review
In this 3Commas vs Mudrex vs Tradesanta review, we will score each platform from 0-10 on multiple essential features. These are platform reliability, pricing, trading bots profitability, and many more. The final scores are given below, and a detailed 3Commas vs Mudrex vs Tradesanta review follows.
| | | | |
| --- | --- | --- | --- |
| Feature | 3Commas | Mudrex | TradeSanta |
| Platform Reliability | 8/10 | 9/10 | 8/10 |
| Trading Strategies and Profitability | 6/10 | 9/10 | 7/10 |
| Platform Pricing/Fee | 7/10 | 8/10 | 7/10 |
| Ease Of Investment | 7/10 | 9/10 | 7/10 |
| Post-Investment Tracking | 6/10 | 7/10 | 8/10 |
| Exchanges Supported | 9/10 | 6/10 | 7/10 |
| Community & Support | 7/10 | 9/10 | 8/10 |
| Referral Bonuses | 6/10 | 9/10 | 6/10 |
| Total Score | 56/80 | 66/80 | 58/80 |
#1 Platform Reliability
Before you invest in any platform, it is essential to know if the platform is reliable enough to risk your money or not. Therefore, we review these three platforms on their reliability.
3Commas Reliability
The 3Commas trading bot platform was launched in 2017 and is based in Russia. The platform has been growing exponentially since its launch and has over 33,000 active users. The 3Commas security protocols include API-based trading, removing any chance of malicious withdrawals. Moreover, it offers comprehensive documentation to help users understand the platform better.
Mudrex Reliability
The Mudrex trading platform is based in San Francisco and backed by Y-Combinator. Launched in 2019, Mudrex has gained extensive popularity in the crypto space due to its easy-to-use interface and minimal investment steps. With over 25,000+ investors and $1.5 Billion in trade volume, Mudrex is growing strong. To ensure peace of mind for its traders, Mudrex has employed robust security measures that include two-factor authentication, lightning-fast support and no-withdrawal permissions for APIs.

TradeSanta Reliability
The Tradesanta trading bot platform was launched in 2018 and has become a go-to platform for many. It has over 40,000 active users and 12,000 active trading bots. TradeSanta offers 2FA security and offers API support without any withdrawal permissions.
While investing in any platform, reliability is the crucial factor that helps the investors continue worry-free. Therefore, with high security, transparent results and a high userbase, Mudrex ranks the highest in platform reliability.
Platform Reliability
| | | |
| --- | --- | --- |
| 3Commas | Mudrex | Tradesanta |
| 8/10 | 9/10 | 8/10 |
#2 Trading Bots/Strategies and Profitability
Automated trading and social trading platforms often have a lot of bots and strategies to choose from. However, users must know the correct details before they invest to help them trade better. Here we review the types of bots each platform offers, along with their details.
3Commas Trading Bots
Users at 3Commas can view the available bots in the marketplace and sort them out using multiple filters. These include exchange it trades on, cost, followers of a strategy, and the 1-week, 1-month and yearly returns.
Some of the top-performing bots at 3Commas are:
Statcoinmarket
SkyRock Signals
MP's 3x Signals
Trading At Mudrex
The Mudrex crypto trading bot dashboard provides all vital details about the bots. These include the cryptocurrency the bot trades in, total lifetime returns, number of investors in each strategy, a performance score (0-10) by Mudrex rating each strategy after a risk vs reward analysis, total run time of the strategy, the monthly fee and the last 30 day returns.
Investors can easily view the top performing bots, and some of them are listed below with their returns in the past 30 days:
Trading At TradeSanta
TradeSanta gives users a choice between multiple premade trading strategies or making and automating their own bot. TradeSanta also offers a Virtual Trading space, where users can safely test their trading skills using demo balance and see out TradeSanta bots in action. TrandeSanta also provides the functionality to trade manually without involving any bot.
Some of the trading strategies provided by the platform are:
DCA (Dollar Cost Averaging): The bot buys more coins if the trade goes in the opposite direction of the bot, increasing chances of profits
Grid: Take advantage of price fluctuations and extract profits
SmartOrder: Buy and sell a significant amount of cryptocurrencies at market price with split orders
Investing is all about making informed decisions, and transparent results with optimal details available are essential. As Mudrex helps users select the right bot with comprehensive information on its functioning and performance, it ranks the highest here.
Trading Bots/Strategies and Profitability
| | | |
| --- | --- | --- |
| 3Commas | Mudrex | Tradesanta |
| 6/10 | 9/10 | 7/10 |
#3 Pricing / Platform Usage Fees
While it may not be the top priority for many, pricing is a significant deciding factor for many investors while choosing a platform. Here we look at the usage fees of all three platforms.
3Commas Pricing
The 3Commas pricing plan has four different tiers for users to choose from. They can choose between a free and a paid investment plan. The former offers some basic features such as Grid Bot, one SmartTrade, one Options Bot and an Infinite number of exchanges to track per month. The paid plans include three-tiers, Starter ($14.5/m), Advanced ($24.5/m) and Pro ($49.5/m). These are built for traders of all kinds and offer many other features over the free version.
While investing, users can opt to invest in either free strategies or paid ones. If you go for paid strategies, you might have to shell out as high as $100 per month and even more. Investors at 3Commas can start investing with as little as $100, but this is after the platform fee and strategy fee (if investing in a paid strategy).
Mudrex Pricing
Unlike most trading platforms, the Mudrex pricing plans are a bit different. Users at Mudrex do not have to pay anything to use the platform, create and backtest their strategies. Users only pay when they invest in a bot, and the fee starts as low as $5 per month and varies depending on the bot and the amount invested. The pricing is clearly mentioned on the bot's page on the dashboard. The minimum investment amount on the platform is $150, exclusive of the fee. Moreover, Mudrex offers another great feature called the Mudrex Protect, a fee refund if the strategy does not yield profit in a month.
However, if you wish to build, backtest, publish and earn from your strategies, the premium plan is priced at $16/month. With the premium plan, you get unlimited backtests, 200+ technical indicators, priority 24×7 support and the ability to publish and earn from your strategies on Mudrex.

TradeSanta Pricing
The Tradesanta pricing plan has three tiers for the user to choose from. The first is the Basic ($14/month) package, which offers up to 49 trading bots, unlimited trading volume, unlimited pairs, and more. The next tier is Advanced ($20/month), which includes up to 99 bots, TradeSanta Telegram support, new statistics and all the Basic package features. The final package is Maximum ($30/month), consisting of all Basic and Advances packages features and additional statistics.
High pricing often acts as an investment roadblock for many new investors. Therefore, with a simple pay as you invest model, Mudrex ranks highest in platform pricing and usage fees.
Pricing / Platform Usage Fees
| | | |
| --- | --- | --- |
| 3Commas | Mudrex | Tradesanta |
| 7/10 | 8/10 | 7/10 |
#4 Ease of Investment
Users always prefer a platform that can help them make investments easily rather than complicating the steps. Therefore, we look at how these three platforms perform in ease of investment.
How To Invest On 3Commas
The 3Commas crypto trading platform is known for its exceptional user experience, both on the desktop version and the 3Commas app. Users have total control of their investments and can track them easily. Vital information is readily available on the dashboard, making it easier for users to invest and execute trades and bots.
Here's how one can start with 3Commas:
Create/Login to your 3Commas account;
Connect an exchange with an API key;
Pay the membership fee for the platform;
Select the signal that you want to use, and pay the subscription fee;
Create a bot with your subscribed signal and select the investment amount;
Start the bot with the intentional settings, and you are good to go.
How To Start Investing On Mudrex
Mudrex has always focused on bringing the best to its users without complicating anything. The key is to provide an easy-to-use platform, and Mudrex does that exceptionally well. The intuitive UI, user-friendly approach and transparent details available make it extremely easy to invest on Mudrex. While the platform lacks a Mudrex app, the desktop version makes up for that quite efficiently.
Here's how you can start investing on Mudrex:
Create/ Login to your Mudrex account;
Connect the desired exchange with API keys;
Choose the bot you want to invest in and select the amount;
Pay the platform fee, and you are all done.
How To Start Investing On TradeSanta
TradeSanta offers a user-friendly experience, primarily for new traders. You can create your TradeSanta bot in a few clicks and start trading. Moreover, TradeSanta offers a one-click crypto wallet creation with HitBTC right through the platform's interface.
Here's how you can start investing on TradeSanta:
Create/ Login to your TradeSanta account;
Pay the platform fee;
Connect an exchange account, or create a new one within the platform;
Create a bot by selecting the exchange and trading pair;
Choose the desired template and volume you want to trade in;
Manage risks by implementing signals and stop-loss;
Start your bot, and you are good to go.
Investments should be easy to make, as complex processes only demotivate investors from indulging more. Therefore, the Mudrex platform ranks at the top in ease of investment.
Ease of Investment
| | | |
| --- | --- | --- |
| 3Commas | Mudrex | Tradesanta |
| 7/10 | 9/10 | 7/10 |
#5 Post-Investment Tracking
When a user invests, viewing their portfolio and getting transparent results efficiently is extremely important. Therefore, we will review how well-organized the post-investment tracking solutions offered by these platforms are.

3Commas Portfolio
At the 3Commas dashboard, users can view portfolio details such as the total value of the portfolio, the 24-hour change and the respective changes in the invested trading strategies.
Portfolio Tracking At Mudrex
Users can easily view all the essential portfolio details in the Mudrex Invest dashboard. These details include the crypto bots you have invested in, the amount invested, total returns in % of each bot, and the overall returns.
Portfolio Tracking At TradeSanta
TradeSanta's portfolio dashboard includes details such as balance dynamics, profit dynamics, active bots, total balance, and active orders. The dashboard also showcases platform news, exchange rates (selected exchange), and top trading pairs in the last 24 hours.
Users at Tradesanta get a detailed overview of their investments, helping them make better trading decisions. Therefore, TradeSanta receives the highest rank in post-investment tracking.
Post-Investment Tracking
| | | |
| --- | --- | --- |
| 3Commas | Mudrex | Tradesanta |
| 6/10 | 7/10 | 8/10 |
#6 Exchanges Supported
Investors often trade on different exchanges, and multi-exchange support is critical to help them trade freely. Therefore, we look at the exchanges supported by these three platforms.
3Commas Exchanges Support
3Commas supports 23 crypto exchanges, including Binance, FTX, Bybit, Bitmex, Deribit, Bittrex and Coinbase Pro.
Mudrex Exchanges Support
At Mudrex, users can invest through Coinbase Pro, Binance, Bybit, Deribit, OKEX and BitMex.

TradeSanta Exchanges Support
TradeSanta supports seven different exchanges, such as HitBTC, Binance, Bitfinex, Bittrex, UPbit, Huobi and OKEx.
3Commas supports the most exchanges among the three platforms, which is why it is top-ranked in exchanges supported.
Exchanges Supported
| | | |
| --- | --- | --- |
| 3Commas | Mudrex | Tradesanta |
| 9/10 | 6/10 | 7/10 |
#7 Community & Support
No matter how well a platform is built, a user is bound to face some big and small issues. Therefore, every platform should have an expert support system to solve the user's problems. Below we review the support offered by these three platforms along with their community presence.
3Commas Support
The 3Commas crypto trading platform's live chat feature helps users get answers to their queries in real-time. The FAQ section on the platform helps beginners familiarise themselves with how to trade at 3Commas, but isn't very effective when it comes to solving complex issues. 3Commas also has active communities on Telegram and Discord, where users often interact and discuss crypto trading at 3Commas.

Here's how you can reach 3Commas:
Email: support@3commas.io
Discord: discord.com/invite/2yscHv8
Telegram: https://t.me/commas
Mudrex Support
The Mudrex platform offers a detailed crypto FAQ support section where users can understand the platform and get solutions to most account-related questions. If the FAQ section isn't enough, Mudrex offers lightning-fast email support, along with a comprehensive crypto blog. The platform has active communities on Discord and Telegram and a presence on social media as well.

Here's how you can reach Mudrex :
TradeSanta Support
While users can reach TradeSanta support via their email support, TradeSanta has an active YouTube channel as well. The channel videos explain the platform features and how one can set up different Tradesanta bots to begin investing. The platform also boasts of a social media presence and has a pretty active Telegram community.
Here's how you can reach TradeSanta:
Email: team@tradesanta.com
Telegram: t.me/joinchat/EhCySlF1SsWMrOPMKt1Lzg
Facebook: www.facebook.com/tradesanta
Mudrex's fast email support and a detailed blog and FAQ section are top-notch when it comes to community and platform support. Therefore, Mudrex is top-ranked in the community and support feature.
Community & Support
| | | |
| --- | --- | --- |
| 3Commas | Mudrex | Tradesanta |
| 7/10 | 9/10 | 8/10 |
#8 Referral Bonuses
Multiple crypto trading platforms offer referral programs that can help their users earn with their network. Below, we will look at the referral programs offered by these three platforms.
3Commas Referrals
The 3Commas' referral partnership program offers a standard commission whenever a referred user spends on the platform. With detailed link tracking and minimal payout limitations, the 3Commas referral program is a good choice for users. However, the earnings are capped at up to 40% for each referral's spend.
Mudrex Referrals
The Mudrex crypto referral program offers $25 for every valid referral, followed by a 50% commission for whatever the referred user spends on Mudrex. The highlight? There is no limit, and you can earn as much as you like. The referral dashboard has all the valuable details about your referred users and referral links. Moreover, Mudrex also multiple giveaways frequently, including exciting prizes, additional bonuses, and much more.
TradeSanta Referrals
The Tradesanta Referral program stipulates that a user can earn 20% of each plan purchased by the referred user. The accumulated funds can either be used in the platform or withdrawn to a crypto wallet. However, the minimum withdrawal amount is $30.
An excellent referral program should have high profitability, with a high earning ceiling, or no limits at best. Keeping these features in mind, Mudrex's referral program takes the top spot here.
Referral Bonuses
| | | |
| --- | --- | --- |
| 3Commas | Mudrex | Tradesanta |
| 6/10 | 9/10 | 6/10 |
3Commas vs Mudrex vs Tradesanta— The Final Verdict
As we see from this 3Commas vs Mudrex vs Tradesanta review, it is clear that all three platforms bring forth multiple pros and cons. While no single trading bot is perfect for every trader, it is vital to outline your trading goals before investing. Therefore, it is crucial to understand how the platform and the crypto market works and if they match your goals. Through this 3Commas vs Mudrex vs Tradesanta review, we hope to help you select the right trading platform for your crypto investments.
While no trading bot is perfect, this 3Commas vs Mudrex vs Tradesanta review proves that Mudrex can be the ideal choice for crypto traders. Mudrex offers a fantastic user experience with its easy-to-use interface, comprehensive security and profitable bots with nominal fees. With Mudrex, you can generate consistent returns and sleep while you trade. It is safe to say, Mudrex is the high-performing automated trading platform you are looking for.
Let your trades work on autopilot. Get consistent returns with Mudrex.