Besides trading on crypto, did you know you could also generate income out of your holdings passively? Yes, you can do that, by staking your crypto. Here are 5 of the best crypto staking projects to start your staking journey.
For newbies: Check out what is crypto staking here!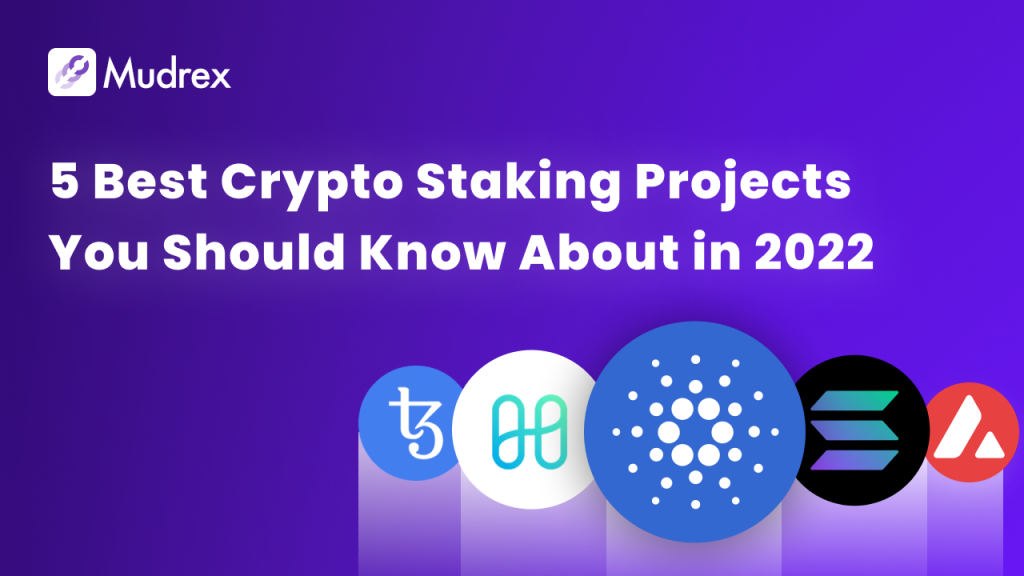 Best Crypto Staking Projects
Solana (SOL)
SOL is one of the best crypto staking projects to start your first staking. It is one of the fastest blockchain with thousands of projects spanning NFTs, DeFi, and Web3. The native token of Solana is stakable which can be useful in paying the network's fee. If you wish to can earn rewards on Solana by participating in the network, you should either as a validator or delegated stakers. The task of the validators is to process transactions and maintain the SOL network, while the delegated stakers take pool operations for rewards. The reward is aligned between validators and delegators. So, validator's and delegator's staking rewards depend on Solana's fine-tuned staking yields.
Avalanche (AVAX)
Avalanche is a blockchain which allows developers to launch decentralized applications (dApps) and enterprise blockchain solutions. The platform's native token AVAX is useful in paying fees and to secure the blockchain through staking. You can stake as a validator or as a delegator on Avalanche. The more tokens a particular validator stakes, the more they can participate in the network earning rewards. On the other side, the delegators can earn reward for their support to validators.
Cardano (ADA)
Cardano is a proof-of-stake blockchain platform to build and run smart contracts. You can stake the native token of the platform, ADA, to increase security and allowing transactions. On Cardano, you can earn rewards through staking delegates and running a pool. The platform uses a game theory to determine which stake pool can create the next block on the chain. The probability of getting chosen as a 'slot leader' increases by the total amount of ADA staked. So, whenever the pool is selected to validate the block, it receives a reward which will be distributed among all the stake delegators.

The interesting element with regard to ADA is that the website provides users a calculator with an estimate of how much staking rewards where you can expect for both delegating and running a staking pool. Overall, Cardano staking can be profitable for people who can run a staking pool keeping the fee managed.
Polkadot (DOT)
Polkadot is an open-source blockchain network providing interconnectivity and interoperability between blockchains. DOT is the native cryptocurrency of the platform helpful for staking, governance, and connecting to new 'parachains'. You can stake rewards being a validator or a nominator. When validators are responsible for validating transactions on the Polkadot network, nominators see to it that validators are on track. And validators can charge commissions for staking rewards, which is subject to change any time.
Tezos (XTZ)
Tezos is a decentralized open-source blockchain platform which can execute peer-to-peer transactions for deploying smart contracts. XTZ is the native cryptocurrency of Tezos which fuels the platform and enables holders to vote in the protocol proposals. The holders of the token can also commit their tokens in exchange for validating the blocks and winning rewards for it which is called 'baking'. The profitability of baking can vary depending on if you are a solo baker or are delegating the users rewards.
Also read: Yield farming vs Staking
Take Away
Even though crypto staking is a good way to earn passive income, you should not stake more than you can afford to lose. These are just a few of the best crypto staking projects suggestions from our side. For staking enthusiasts entering the staking world, it is always better to do your own research and stake.
Happy Staking!