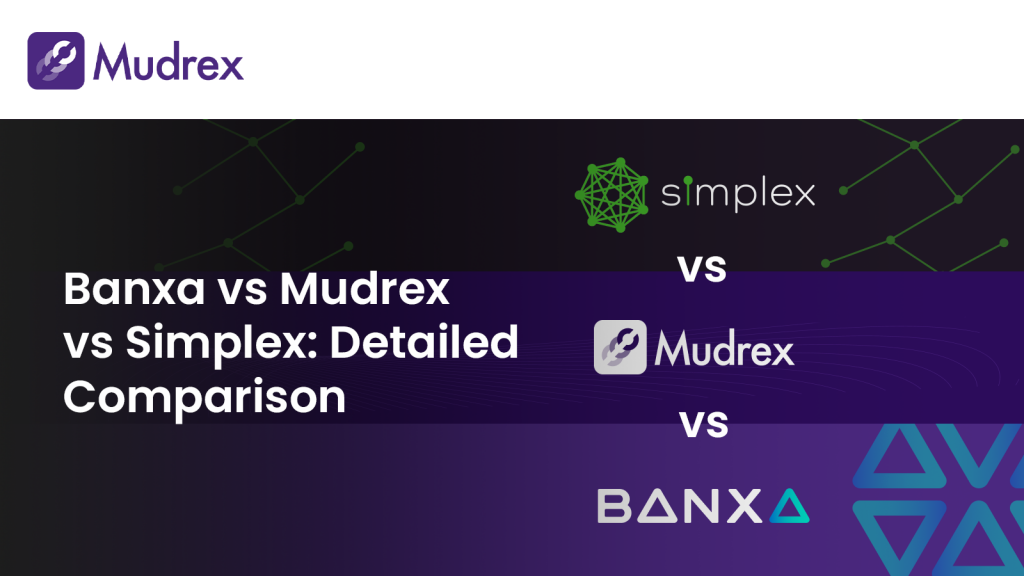 One major challenge in the adoption of cryptocurrency is the ease with which money can flow between traditional (fiat) and crypto ecosystems. This is possible through fiat to crypto exchange. These exchanges enable you to use traditional payment methods such as debit card, credit card, or bank account in order to make your initial purchase of cryptocurrency. 
Some cryptocurrency exchanges only allow for depositing and withdrawal of crypto assets and not fiat currency. They are also necessary once you are ready to convert your crypto back into fiat currency. In this article, we list a comparative analysis of the best fiat-crypto exchanges and give you all the information you need about buying cryptocurrency with USD and other fiat currencies.
Banxa vs. Mudrex vs. Simplex Comparison
Banxa
Banxa is a digital assets company that provides an international fiat-to-crypto gateway solution for exchanges, wallets, and other cryptocurrency businesses. Based in Australia, Banxa has served crypto companies since 2014 and was listed on the Toronto Stock Exchange back in 2017. Banxa offers safe yet fast conversions from digital assets like Bitcoin or Ethereum back into traditional currencies such as Australian Dollars, US Dollars, etc. and vice versa. It is among one of the fastest-growing payment providers, which allows customers to turn their cash into crypto or vice versa with ease.
Mudrex
With its cloud-based platform and automated crypto investment option for any experience level, Mudrex is a great way to invest in cryptocurrencies for both new as well as experienced traders. Those traders that have a flair towards building strategies can do so without the need to code through the Mudrex visual strategy builder.. If you are a new trader who wants the experts to take over strategy, you can invest with automated trading bots at Mudrex Invest. Let an automated bot do all the work for you with 100% security.

Mudrex offers a convenient approach to use your fiat currency to buy cryptos eliminating all the hassles in between. Currently, Mudrex supports 50 different currencies which can be used to buy cryptos.
Simplex
Simplex has been providing conversion services to other companies since 2014. Third parties can integrate with the service, allowing their customers to use fiat money in order to buy cryptocurrencies such as Bitcoin and Ethereum using traditional currencies from a number of different exchanges, including Changelly, Cointelegraph, Binance, and BitHump, among others.
Banxa vs Mudrex vs Simplex – A Review
In this review, we will score each platform from 0-10 on essential features. These are cryptocurrencies supported, fiat currencies supported, integrations, fees, and more. The final scores are given below, and a detailed review follows.
Supported Currencies and Payment Methods
Banxa
Currently, Banxa supports only eight cryptocurrencies: Bitcoin (BTC), Bitcoin SV (BSV), ChainLink (LINK), Ethereum (ETH), Litecoin (LTC), Tether (USDT), Binance USD (BUSD), and USD Coin (USDC).
Banxa currently supports 13 different fiat currencies for conversion. Banxa offers a number of payment methods for different countries: Visa/Mastercard and Apple Pay, SEPA for bank transfers and Sofort for European transactions, Interac for payment network in Canada, NPP for bank transfers and POLi network payment for Australia, Enumis for bank transfer made in the UK, and iDEAL payment network only for Dutch customers.
Mudrex
Mudrex currently supports 41 different cryptocurrencies that can be purchased using any of the 50 different fiat currencies. The supported cryptos range from the most popular ones, such as BTC, ETH, BNB, DOGE, ADA, XRP, etc., to the emerging top cryptos such as ONE, SUSHI, VET, USDC,XLM, etc.
Mudrex offers a number of payment methods for different countries: SEPA for bank transfers across the European nations, bank transfer and card payments across all 50+ supported currencies. across the UK, /Mastercard and Apple Pay,
Simplex
The Simplex gateway supports 12 different cryptocurrencies: Bitcoin, BCH, BUSD, ETH, XRP, BNB, LTC, SLM, TRX, NANO, ATOM, and Dash.
These cryptocurrencies can be bought using a wider range of fiat currencies: SD, EUR, AUD, CAD, CHF, CZK, DKK, GBP, HUF, ILS, JPY, KRW, NOK, NZD, PLN, RUB, SEK, TRY, ZAR, ARS, AZN, CLP, CNY, COP, CRC, DOP, GEL, KZT, MDL, NAD, PEN, PHP, QAR, UYU, UZS or VND.
Simplex supports credit as well as debit cards issued by VISA and Mastercard, as well as some virtual and prepaid cards.
UX and KYC Implementation
Banxa
Banxa requires a photo or a video of you and a photo of your government-issued identification card. In some countries or jurisdictions, Banxa may require additional information as per local country guidelines. Furthermore, you are also required to provide a picture with the written date of your transaction. This ensures that if someone were to steal your ID, they can't make illicit transactions.

The difference arises in the user experience part across these platforms. Banxa has several complaints regarding the lack of support to customers whose KYC process didn't go through for multiple reasons best known to them.
Mudrex
The KYC process in Mudrex is facilitated by Binance. The process is fairly simple. Depending on the type of verification and the amount of transactions done, the time taken may vary.
Simplex
With Simplex, an average fiat to crypto conversion takes about 24 to 72 hours. Simplex is a licensed Electronic Money Institution in Lithuania and implements a stringent KYC policy. Users are required to declare personal information, verify email and phone as well as provide a scan of their passports to be able to buy cryptocurrencies. Furthermore, Simplex also has an extensive fraud-detection and fraud-prevention tool.
Integration and Fees
Banxa
Banxa has a lot of negative reviews on the aspects of integration and fees charged. Although they claim to charge approximately 0 fees, their exchange rates are generally much higher than other peers, which essentially means they mask their fees through the exchange rates. As of publishing this article, the price of 1 BTC in Binance is $32,886.82. The price charged by Banxa currently is $34,520.25, suggesting almost a $2000 difference.
Mudrex
Mudrex charges 1% of the transaction value. This transparent pricing method separates it from other platforms in this domain.
Simplex
Simplex charges anywhere between 3.5%- 7% of the transaction value. They also charge additional fees if the fiat currency is other than US Dollars.

In order to integrate fiat on ramp services, developers need to negotiate a contract with Simplex directly. There are fees involved with integrating Simplex, with costs being quoted to around $20,000.
Simplex can be integrated as a widget with limited customization on wallets and exchanges.
User Fees and Minimum Conversion Amounts
Banxa
The minimum order value for Banxa needs to be $30 and VISA card charges on the same are 1.99%.
Mudrex
The minimum fees charged by Mudrex is $5.
Simplex
Simplex charges a minimum fee of $10 per transaction or up to 5% of the transaction value. Furthermore, users are also required to buy a minimum of $50 for the system to work.
Community and Support
Banxa
Banxa offers support to its users through a knowledge base center and the Support Request option on their homepage. Here's how you can reach out to Banxa:
Support request link: support.banxa.com
Mudrex
Users at Mudrex can find answers to almost all account-related questions in the FAQ section. If you cannot find an answer, their lightning-fast email support is available, and they also post tips on blog posts for users who want to learn more about the platform. They are active on social media but primarily use Discord and Telegram communities where people can interact with others that share similar interests – like trading cryptocurrency! Here's how you can reach Mudrex :
Simplex
Users receive support through Simplex's vast knowledge center and live chat.
Support link: support.simplex.com
| | | | |
| --- | --- | --- | --- |
| Feature | Banxa | Mudrex | Simplex |
| Supported currencies and payment methods | 6/10 | 9/10 | 9/10 |
| UX and KYC implementation | 7/10 | 9/10 | 9/10 |
| Integration and Fees | 6/10 | 8/10 | 7/10 |
| User fees and minimum conversion amounts | 7/10 | 10/10 | 9/10 |
| Community and support | 4/10 | 10/10 | 9/10 |
| Total Score | 30/50 | 46/50 | 43/50 |
Conclusion
The ability to buy cryptos directly using credit/debit cards or bank transfers makes the process of owning cryptos a lot easier. It is essential to do proper research before buying cryptocurrencies through any platform. A prudent decision could be doing a test transaction with a very small amount to understand the efficiency of the platform.