About Bitcoin
Bitcoin (BTC) is the first cryptocurrency in the world and was established in 2009. It is the largest cryptocurrency by market capitalization. Created by an anonymous figure called Satoshi Nakamoto, BTC aims to create a decentralized network where transactions can occur directly between parties without intermediaries. It prioritizes security, immutability, and transparency.
Bitcoin HODLers own digital assets, with transactions recorded on a blockchain public ledger. The system relies on cryptographic protocols to ensure the integrity of transactions. Bitcoin's open-source nature allows developers to innovate and build applications on the network.

Bitcoin went through several cycles in its early years. People started taking note of Bitcoin's first price surge happened in 2017, catapulting it to over $15,000. What started off as a bubble then went on to be considered a store of value over multiple bull and bear cycles.
BTC reached new all-time highs in 2019 and 2021. It reached its highest-ever price of $68,789.63 in 2021. This was followed by the "crypto winter," a tough time for cryptocurrencies, influenced by various issues like rising inflation, the Russia-Ukraine War, an energy crisis, and the downfall of platforms like Terra and FTX.
Market Overview

The crypto market has rallied in the past 24 hours. The past week has seen an 11.68% rise in the price of BTC. Trading activity has also seen monthly highs. This is proof of the renewed interest in Bitcoin since the last month.
November has finished very strongly for the crypto market, particularly Bitcoin.
Bitcoin surged around 19.62% over 30 days, breaking through prior resistance levels. This surge also resulted in liquidations over hundreds of millions as bearish investors miscalculated their positions.
Remember, even though the outlook seems positive, "whales" might use the ETF approval news to sell their holdings and cause a temporary price drop. They do this so they can buy back at a better price.
Bitcoin's current price – is $41,685 (34,53,809.85INR)
24hr change – +5.56%
Market Cap – $814.9 billion
Trade volume (24h) – $26.35 billion, +67.50% change in 24hrs

24hr low – 39,386.61
24hr high – 41,710.58
The crypto fear and greed index is at 74. This has caused investors to become greedy in the market. There are several reasons, such as the pending approval of spot ETFs, increased interest from institutions, and growing open interest.

Bitcoin Technical analysis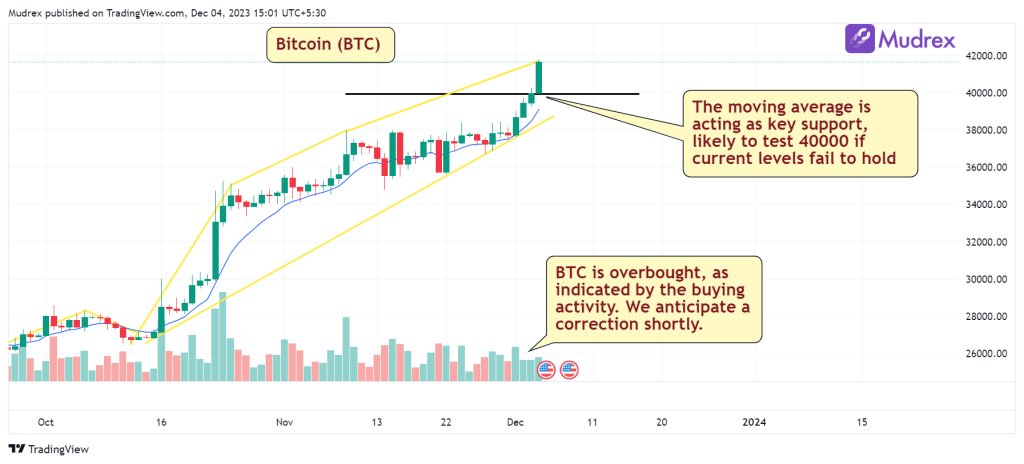 According to the observed pattern, we project a potential move up in Bitcoin's price with corrections along the way. Bulls have gained control of the market by pushing the price past the mark of $41,000. The moving average currently provides support, and if this support is breached, we could witness the price fall to the 40000 mark.
There is growing optimism in the market, echoed by the bullish sentiment that follows.

Technical indicators
We use a set of 15 technical indicators to help us decide whether buying or selling a particular asset is a good idea. These indicators range from volume, strength index, moving average convergence, oscillators, and Bollinger bands. They give us a sense of the market sentiment around that asset, which can be useful for trading.
As of December 4, 2023, here's what our indicators tell us about Bitcoin:
Seven of them suggest it's a good time to buy; Eight are in a neutral zone, meaning they're not leaning toward buying or selling.
| METRIC NAME | ACTION |
| --- | --- |
| Overall Rating | Buy |
| Mass Index | Neutral |
| | |
| On Balance Volume | Buy |
| Moving Average Convergence Divergence | Buy |
| Accumulative Swing Index | Neutral |
| Stoch Relative Strength Index | Neutral |
| Relative Strength Index | Neutral |
| Guppy Multiple Moving Average | Buy |
| Hull Moving Average | Neutral |
| Ultimate Oscillator | Neutral |
| Super Trend | Buy |
| Aroon Up Down | Buy |
| Donchian | Buy |
| Chaikin Oscillator | Neutral |
| Chande Momentum | Neutral |
| Awesome Oscillator | Neutral |
| Bollinger Bands | Buy |
| | |
Monte Carlo simulation is a computer-based technique for understanding something that is hard to predict. Running multiple 'what-if' scenarios helps you see all the possible outcomes.
For example, looking at investment risks will show you the best and worst-case scenarios based on different variables like interest rates and market conditions. It's like rolling dice many times to know all the possible sums you can get. This helps in making informed investment decisions.

Our Monte Carlo simulations had shown that Bitcoin would overcome the resistance of $38000. Now, the bulls are firmly in control over the market. We expect the price to undergo a correction before continuing its upward trend.

It is important to note that Monte Carlo simulations are based on statistical and historical data. They provide a range of possible outcomes and their probabilities, which can help traders and investors make more informed decisions. However, the accuracy of these predictions depends on the quality and relevance of the data used in the model.
Cryptocurrency prices are highly volatile and influenced by several factors. Monte Carlo simulations aren't foolproof, so always use your judgment and invest according to your risk appetite.
2024 Bitcoin Price Prediction
In 2024, Bitcoin is expected to continue rising, with a 15% expected rate of return. This is indicative of a strong bullish sentiment from investors. The price range expectation spans around $48,100, indicating potential for significant growth. The cryptocurrency's price could change significantly, with a high estimate of $62,500 and a low of $33,650. This indicates high volatility in the market.

June of 2024 shall witness the Bitcoin halving, a significant event. Following this, the block reward gets slashed to 3.125 Bitcoins as a reward for every block mined, down from the current 6.25 Bitcoins. The halving events are designed to reduce the rate at which new bitcoins are created and maintain the 21 million cap on the total supply. Historically, every halving has contributed to the bull cycle owing to the demand squeeze associated with it.
2025 Bitcoin Price Prediction
The year 2025 is projected to be exceptionally positive for Bitcoin, with an estimated 61% rate of return. The expected price range is approximately $67,000, signifying substantial growth potential. The upper range reaches $87,100, while the lower range is around $53,580, showcasing the potential for significant price swings.
2026 Bitcoin Price Prediction
In 2026, Bitcoin's value is anticipated to skyrocket, with an approximate 124% expected rate of return. The expected price range is about $93,400, reflecting strong bullish sentiment. The high-end projection reaches $121,400, while the low-end is $74,720, indicating the possibility of notable price fluctuations.
2027 Bitcoin Price Prediction
2027 is poised to be a year of tremendous growth for Bitcoin, with an estimated 215% rate of return. The expected price range is around $131,300, underscoring the bullish outlook. The upper range projects to $157,600, while the lower range is approximately $91,940, suggesting the potential for substantial price volatility.
2028 Bitcoin Price Prediction
2028 forecasts substantial gains for Bitcoin, with an approximate 332% expected rate of return. The price range expectation is approximately $180,300, indicating robust growth potential. The upper range reaches $216,300, while the lower range is around $126,190, emphasizing the potential for price fluctuations.

2028 will see the next halving after 2024 where the miner rewards shall get halved from 3.125 to 1.562. As seen historically, we can anticipate a supply squeeze surrounding the bull market which should play a huge role in propelling the price further.
2029 Bitcoin Price Prediction
For 2029, Bitcoin's value is projected to surge, with an estimated 525% expected rate of return. The expected price range is about $260,400, reflecting strong bullish sentiment. The high-end projection reaches $312,500, while the low-end is approximately $182,280, highlighting the potential for significant price swings.
2030 Bitcoin Price Prediction
In 2030, Bitcoin is anticipated to experience remarkable growth, with an approximate 753% expected rate of return. The expected price range is around $355,600, signaling robust bullish sentiment. The upper range projection is $426,700, and the lower range is approximately $248,900, underlining the potential for substantial price fluctuations.
These predictions suggest a positive outlook for Bitcoin in the coming years, with significant growth potential and the possibility of price volatility.
According to Changelly,
| | | | |
| --- | --- | --- | --- |
| Year | Minimum Price | Average Price | Maximum Price |
| 2023 | $32,091 | $33,250 | $37,291 |
| 2024 | $45,722 | $47,385 | $55,298 |
| 2025 | $66,282 | $68,177 | $78,746 |
| 2026 | $93,741 | $97,150 | $112,341 |
| 2027 | $134,935 | $139,792 | $162,968 |
| 2028 | $203,544 | $209,136 | $236,813 |
| 2029 | $290,475 | $300,932 | $354,324 |
| 2030 | $433,885 | $445,923 | $509,921 |
As for coinpedia.org,
| | | | |
| --- | --- | --- | --- |
| Year | Minimum Price | Average Price | Maximum Price |
| 2023 | $25,401 | $30,200 | $35,000 |
| 2024 | $57,027 | $65,997 | $74,967 |
| 2025 | $61,357 | $85,903 | $110,449 |
| 2026 | $82,522 | $108,903 | $135,284 |
| 2027 | $152,837 | $160,942 | $169,047 |
| 2028 | $174,063 | $183,486 | $192,908 |
| 2029 | $204,634 | $222,096 | $239,559 |
| 2030 | $277,751 | $312,767 | $347,783 |
Robert Kiyosaki predicts the Bitcoin price will reach $120,000 in 2024.
Blockware Solutions Predict Bitcoin Post-Halving Price To Reach $400,000.


There is clear optimism surrounding Bitcoin. The projected path suggests that BTC could potentially breach $250,000, marking an 8-fold increase over the next seven years.

Note that this outlook is speculative and derived from historical data and should not be considered financial advice.

These potential returns would outperform traditional market indexes, underscoring the immense global adoption expected for cryptocurrencies. Additionally, there's a prevailing belief that the total cryptocurrency market capitalization could reach $10 trillion in the coming years, which would likely see more penetration in terms of crypto users.

Is this a good time to buy Bitcoin?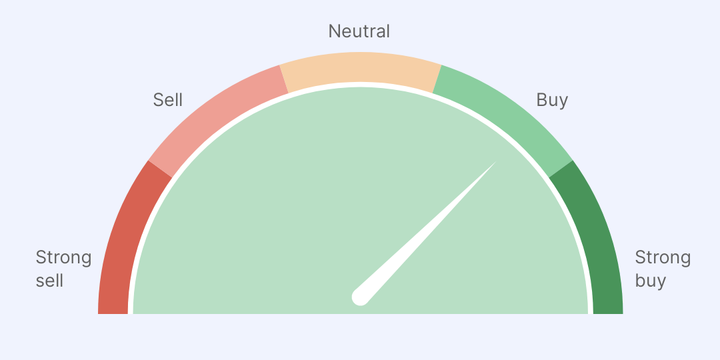 Overall, the BTC price forecast is optimistic, but we don't have any solid proof of this growth.
Bitcoin's robustness is indicated by the fact that 60% of investors have held onto it since early 2022. This resilience proves BTC's lasting significance as an enduring asset in the market.
We suggest dollar cost averaging. It helps you accumulate the asset consistently without worrying about daily market rates. We recommend that you follow a systematic investment plan to start investing.
Markets Ahead
Bitcoin is gaining popularity among institutions as more than a speculative asset. This newfound enthusiasm has brought in a new era. Experts predict Bitcoin could surpass $100,000 soon as the likelihood of a spot ETF approval grows. Many people think the SEC will listen to the market because cryptocurrency is expected to grow a lot in the next few years. The upcoming halving event will help this growth.
Throughout history, every halving cycle caused a demand squeeze, causing Bitcoin's value to surge. Before the halving, there is usually a long period of sideways trading. This is seen as the start of a bull market. Also, as more people become interested in exchanges and fewer Bitcoins are in supply, savvy investors choose to store their Bitcoin securely instead of selling it. This is important because it helps drive up the price of the cryptocurrency.