Cryptocurrency trading has transitioned from a hobby to a full-time job for many. Even part-time traders are generating profits like never before. The crypto market has grown considerably in the past few years, and 2020 might have been the best year for all major cryptos, especially for Bitcoin. However, in a market that is extremely volatile and active round the clock, generating constant profits with manual trading is quite difficult. Tracking all the price changes, executing trades and making consistent returns manually has become virtually impossible. Therefore, traders are now using automated trading platforms that offer various features to make trading easy. On these platforms, users can either create their own trading strategies or copy other expert traders. This process is known as copy/mirror/social trading.
This article will discuss three such copy trading platforms, their features in detail, and help you choose the best platform for your automated crypto trading.
Here's the Coinrule vs Mudrex vs Paratica comparison
Coinrule
Coinrule is a cloud-based crypto trading platform that offers an easy way for traders to automate their crypto trades. Users can easily create trading rules or use over 190 pre-made trading templates. These templates encompass all major trading strategies, helping users invest easily. If you want to build your own trading rules, you can easily do it without writing code. The rules can be created by multiple if-then rules and can encompass as many filters as you like. In this Coinrule review, we will rank the platform on various features, providing a comprehensive analysis.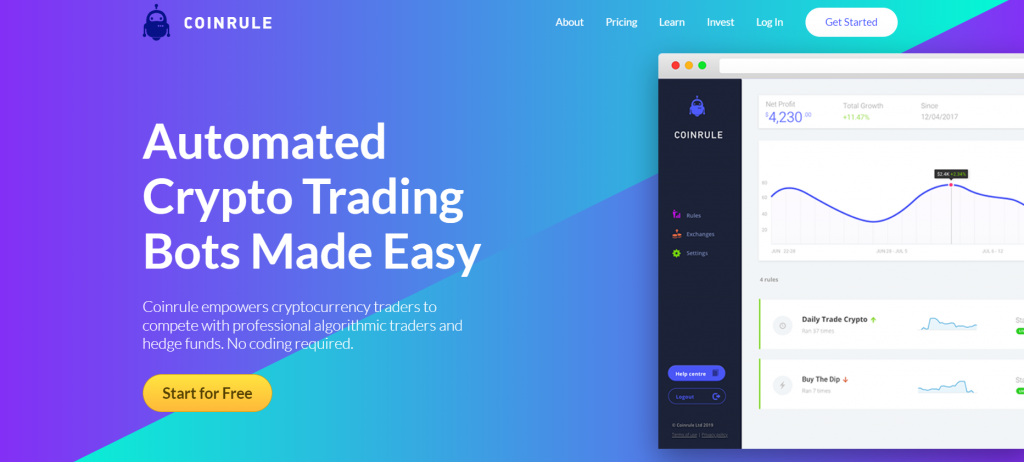 Mudrex
Mudrex is a new-age cloud-based automated crypto investment platform, which aims to bring crypto investment to everyone. At Mudrex, users can invest in pre-made strategies or build and invest in their own. If you want the experts to take over strategy, you can invest with automated trading bots at Mudrex Invest. These bots are 100% automated and spread across multiple cryptocurrencies and exchanges for you to choose from.
At Mudrex Build, you can build, backtest and publish your own strategies using innovative trading blocks, and without writing a single line of code. In this Mudrex review, we will look at the various features the platform has to offer, providing a detailed analysis.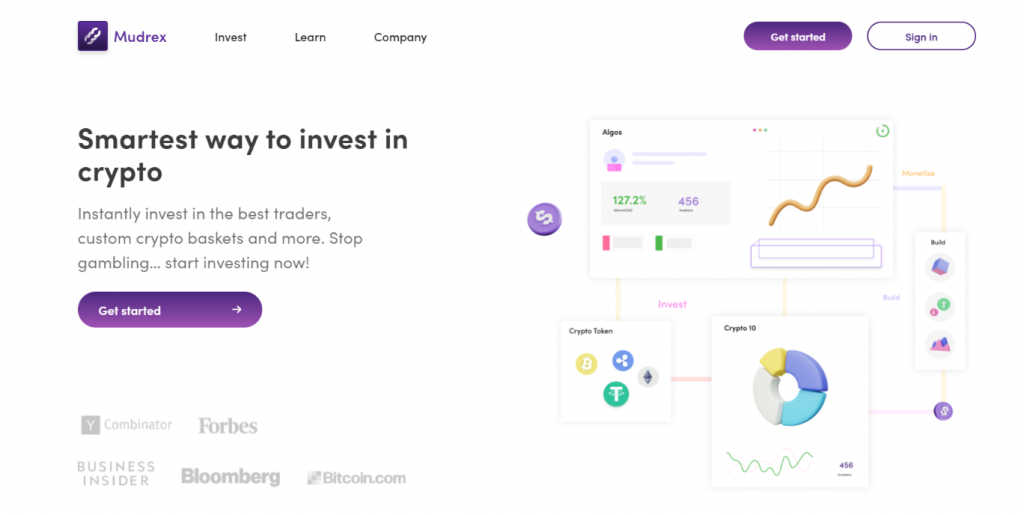 Paratica
Paratica is a cloud-based social trading platform. Users at Paratica have the option to manually set trading strategies, or follow trading experts. The platform offers an easy to use UI, where users can easily alter the bot settings if they want to trade manually. The experts tab showcases all the expert traders who invest via different strategies, making investments across currencies and exchanges extremely easy. This Paratica review will detail the best features of the platform while rating it on each of them.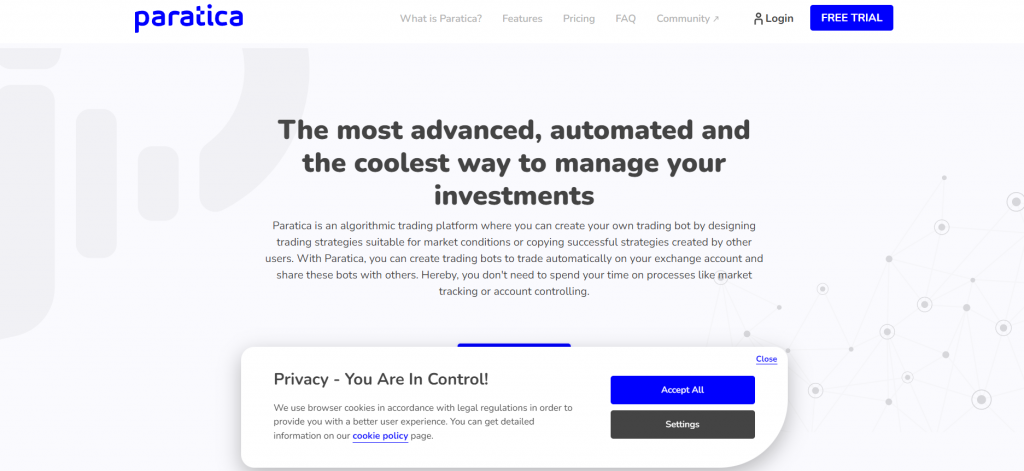 Coinrule vs Mudrex vs Paratica — A Review
In this Coinrule vs Mudrex vs Paratica review, we will score each platform from 0-10 on critical features that an investor looks for in a trading platform. These include but are not limited to platform reliability, pricing, ease of investment and many more. The final scores are given below, and the detailed review follows.
| | | | |
| --- | --- | --- | --- |
| Feature | Coinrule | Mudrex | Paratica |
| Platform Reliability | 8/10 | 9/10 | 8/10 |
| Trading Strategies and Profitability | 6/10 | 9/10 | 7/10 |
| Platform Pricing/Fee | 6/10 | 8/10 | 7/10 |
| Ease Of Investment | 8/10 | 9/10 | 6/10 |
| Post-Investment Tracking | 8/10 | 7/10 | 7/10 |
| Exchanges Supported | 8/10 | 6/10 | 5/10 |
| Community & Support | 7/10 | 9/10 | 8/10 |
| Referral Bonuses | 0/10 | 9/10 | 7/10 |
| Total Score | 51/80 | 66/80 | 55/80 |
#1 Platform Reliability
The first question we answer for an investor is 'How Reliable Is This Trading Platform?'
Coinrule Reliability
Coinrule, also known as Coinrule Limited, is a London-based automated trading platform launched in 2017. Since its launch, the no-code building block approach of manual trading has made it quite a hit in the crypto trading community, along with the plethora of pre-made strategies for automated trading. To help users feel secure about their investments, it requires minimal API permissions, which removes the possibility of malicious withdrawals while investing, while employing 2FA.
Mudrex Reliability
Launched in 2019, Mudrex has gained a considerable investor base in a short span of time. Based in San Francisco and backed by Y-Combinator, Mudrex boasts over 10,000 investors and a total trade value of $500 million. Mudrex has carried out comprehensive security features to help users invest securely, such as 2FA, no withdrawal permissions for APIs, and lightning-fast customer support.
Paratica Reliability
Paratica was launched in 2018 and is based out of Istanbul, Turkey. The platform has over 5200 clients, with over $21 million trade volume every month, and over 3 million orders per month. It is touted as the world's most advanced cryptocurrency auto-trading solution on its website. To begin investing at Paratica, users must enable 2FA before they can even add API credentials. Moreover, the API credentials have minimal permissions, removing the risk of any withdrawals.
For any investor, a reliable platform is essential, as it helps them invest freely and make better decisions. Therefore, keeping security and transparency in mind, we rank Mudrex the highest in platform reliability.
Platform Reliability
| | | |
| --- | --- | --- |
| Coinrule | Mudrex | Paratica |
| 7/10 | 9/10 | 8/10 |
#2 Trading Bots/Strategies and Profitability
The next question that we answer is 'Which Platform Helps Me Select The Best Bot And Make The Right Choice?'
Trading At Coinrule
Users at Coinrule can use from over 190 pre-made templates spread across multiple strategies. Some of the tags that traders can use to filter the templates are Maximise, New, Trend, Leverage and Rebalance. These templates have different if and then cases as per the strategy, and can be modified as per the user's preference.


Trading At Mudrex
When users visit the Mudrex dashboard, they can view all the crucial details about the bots published by expert traders. These details include the cryptocurrency the bot trades in, total lifetime returns, number of investors in each strategy, a performance score (0-10) by Mudrex rating each strategy after a risk vs reward analysis, total run time of the strategy, the monthly fee and the last 30 day returns.

Investors can easily view the top performing bots, and some of them are listed below with their returns in the past 30 days:
Trading At Paratica
Paraticais a comprehensive trading platform, where users can either follow expert traders or automate their own trades. If you wish to follow the experts, you can simply go to the experts tab in the Paratica portal, and select the expert. Users can filter out these experts according to the number of followers they have, and their status (actively trading or passive). Each expert has a separate page, where you can see all their trades, the pairs used, profit %, status and enter date among other details.
Investors can easily view the top-followed experts, and some of them are:
In automated trading, the user should be presented with all the important information to make accurate decisions while trading. Mudrex takes the top spot here as it helps users select the right bot with minimal clicks.
Trading Bots/Strategies and Profitability
| | | |
| --- | --- | --- |
| Coinrule | Mudrex | Paratica |
| 6/10 | 9/10 | 7/10 |
#3 Pricing / Platform Usage Fees
Here, we answer the question 'How Much Is The Platform Usage Fee, And What Is The Minimum Amount I Need To Start With?'
Coinrule Pricing
Users at Coinrule have the option to choose between a free and a paid investment plan. Coinrule has four trading plans from which the investors can choose from, including a free plan. The Starter or the free plan provides features such as one connected exchange, $3,000 maximum traded volume in a month and seven template strategies. The Hobbyist plan ($29.99/month) offers 40 template strategies, two connected exchanges, advanced indicators and up to $100,000 monthly trade volume. With the Trader plan ($59.99/month), users get one-to-one training sessions, unlimited strategies, three connected exchanges, up to $1 Mn monthly trade volume. With the Pro plan ($449.99/month), users get a dedicated server, unlimited strategies, up to $5 Mn monthly trade volume, ultra-fast execution, and a lot more. At Coinrule, there is no minimum trade limit, and users can invest as low as the exchange permits.
Mudrex Pricing
Unlike all other major automated trading platforms, investors at Mudrex don't have to pay a fee to use the platform. At Mudrex Invest, users only pay a small fee when investing in a trading bot. The fee varies depending on the bot and starts as low as $5. The platform allows investors to begin with a minimum investment amount of $150 (excluding the fee). Another impressive feature of the platform is Mudrex Protect, through which users get a full fee refund if the strategy does not yield a profit in a month.
However, if you want to build and execute your own strategies using technical analysis and indicators, you can use the Mudrex Build platform. It has both free and paid versions, with the free version offering only a few features to help you get started. With the paid version at $16/month, users get unlimited backtests, all technical indicators, priority 24×7 support and the ability to publish their strategies on Mudrex for other users to trade on.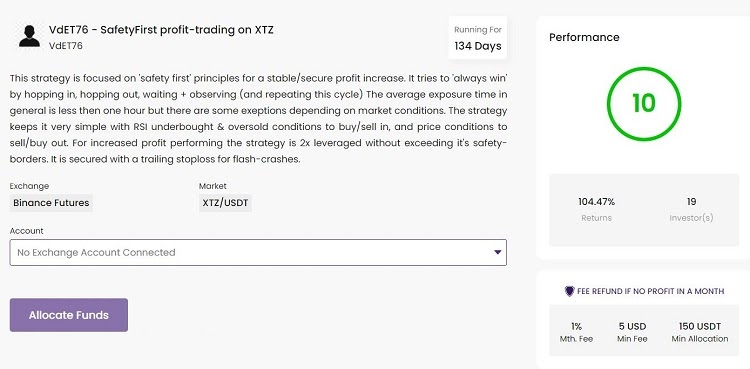 Paratica Pricing
Users at Paratica have the option to choose from three different plans. The first is the Silver Premium plan ($9.9/month) with five positions per day and 150 positions per month, 50 pairs and many other features. The next plan is the Gold Premium Plan ($14.9/month), which includes ten positions/day, 300 positions/month, 20 concurrent positions and much more over the silver plan. The biggest plan is the Platinum Premium plan ($19.9/month) in which users can get unlimited positions, 50 concurrent positions, unlimited pairs, and a lot more. While there is no free plan, traders can enjoy a no-card required 7-day free trial before paying the fee. There is no minimum investment amount at Paratica, and users can invest as low as the exchange permits.
High fees always push investors away, especially beginners. Therefore, Mudrex ranks at the top with its unique pay as you invest model.
Pricing / Platform Usage Fees
| | | |
| --- | --- | --- |
| Coinrule | Mudrex | Paratica |
| 6/10 | 8/10 | 7/10 |
#4 Ease of Investment
The next question we answer is 'How Easy It Is To Start Using The Platform?'
How To Invest On Coinrule
The Coinrule platform is easy to start investing with and provides a simple UI to help users understand and invest easily. The platform is available only as a desktop version, and the users can easily track and control their crypto investments right from the dashboard. With over 190 pre-made templates, automated trading is easy at Coinrule.
Here's how one can start with Coinrule:

Create/Login to your Coinrule account;
Connect an exchange with an API key;
Pay the membership fee for the platform;
Build a new rule or select from the templates;
Start your rule, and you are good to go.
How To Start Investing On Mudrex
Mudrex is a reasonably easy-to-use automated trading platform, and its intuitive and sleek UI helps. With minimal yet vital details displayed competently on the platform, users can get started with just a few clicks. Even though the platform is yet to be launched on mobile devices, the desktop version perfectly performs the job.
Here's how you can start investing on Mudrex:
Create/ Login to your Mudrex account;
Connect the desired exchange with API keys;
Choose the bot you want to invest in and select the amount;
Pay the platform fee, and you are all done.
How To Start Investing On Paratica
At Paratica, the users have to enable 2FA security before they can start investing. This involves downloading its mobile app and enabling Google authentication. The platform is pretty easy to use, and investors can create their own strategy or follow expert traders. The platform is available on desktop and Android.
Here's how you can start investing on Paratica:
Create/ Login to your Paratica account;
Download the app for 2FA security (mandatory);
Scan QR Code;
Backup the security key;
Enable Google Authentication;
Set up an API key;
Create your own strategy or follow an expert;
Set up the bot and you are good to go.
The Mudrex Invest platform is extremely easy to start using for investors, which is why it receives the top rank here.
Ease of Investment
| | | |
| --- | --- | --- |
| Coinrule | Mudrex | Paratica |
| 8/10 | 9/10 | 6/10 |
#5 Post-Investment Tracking
The next question we answer is 'How Easily Can I Track My Investments?'
Portfolio Tracking At Coinrule
The Coinrule dashboard provides multiple details about the user's portfolio, including net profit, total growth, and start date. Moreover, it also showcases each rule, its status, growth and net profit.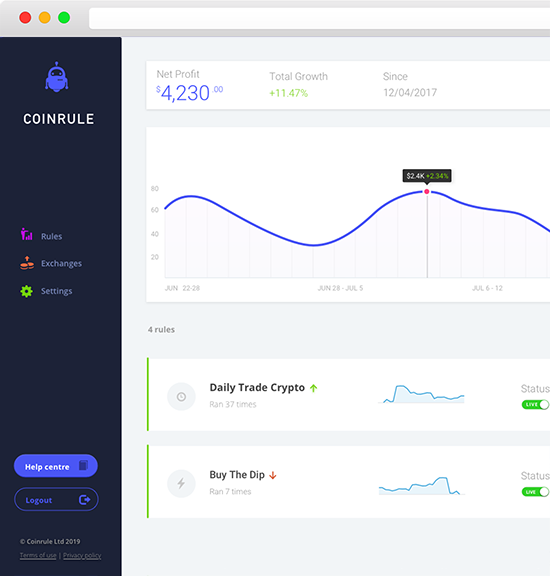 Portfolio Tracking At Mudrex
The Mudrex Invest dashboard offers vital details, including the bots you have invested in, the total amount invested, the current value of the investment, the total returns in % of each bot, and the overall returns.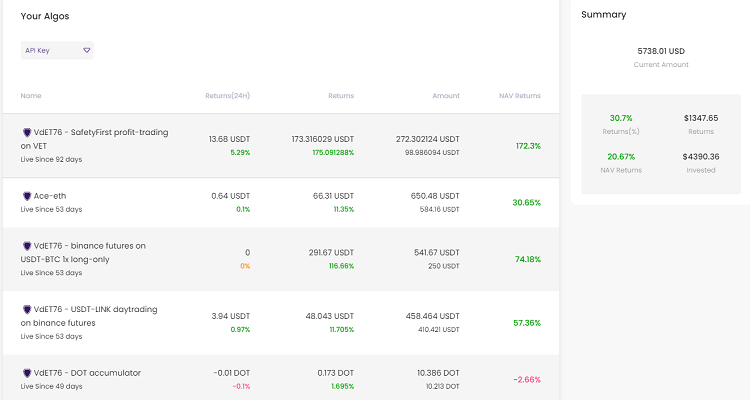 Portfolio Tracking At Paratica
At Paratica, users get all the important details about their trades right in the dashboard. These include all your positions, filtered for the last 30 days, last ten days and the last seven days. Users can easily click each position and get additional details.
Coinrule offers a detailed yet simple overview of the investments to the users, which is why it is the top-ranked holder for post-investment tracking.
Post-Investment Tracking
| | | |
| --- | --- | --- |
| Coinrule | Mudrex | Paratica |
| 8/10 | 7/10 | 7/10 |
#6 Exchanges Supported
The next question we answer is 'How many exchanges does the platform support?'
Exchanges Supported By Coinrule
Coinrule supports ten popular exchanges, including Binance, Coinbase Pro, OKEx, Bitstamp, Kraken and BitMex.
Exchanges Supported By Mudrex
At Mudrex, users can invest through Coinbase Pro, Binance, Bybit, Deribit, OKEx and BitMex.
Exchanges Supported By Paratica
Users at Paraticacan can trade through four exchanges, which are HUOBI, Binance, OKEx and Chiliz.
Coinrule supports the most number of exchanges among the three platforms. Therefore, it receives the top rank here.
Exchanges Supported
| | | |
| --- | --- | --- |
| Coinrule | Mudrex | Paratica |
| 8/10 | 6/10 | 5/10 |
#7 Community & Support
To help the traders, the next question we answer is 'How easily can the platform solve my problems, and how do I reach them?'
Coinrule Support
Once you log in to the Coinrule platform, you get access to a comprehensive knowledgebase or help portal that has detailed information on major account related factors, such as starting with Coinrule, trading strategies, exchange guidelines, trading tips and much more. The platform also has a FAQ section where you can find answers to almost all your questions. The platform has a minimal presence on social media as well.
Here's how you can reach them:
Twitter: twitter.com/coinrulehq
Youtube:.youtube.com/channel/UCCSylQq7Biq9xDEWR4QI1Mg
Facebook: www.facebook.com/CoinruleHQ/
Mudrex Support
Mudrex has a detailed FAQ section that contains solutions to nearly all account-related problems a user can face. However, if the FAQ section isn't enough for a user, the platform offers lightning-fast customer support. Users can also visit the Mudrex blog, which features details about the platform, and trading tips and strategies. The platform has active communities on Discord and Telegram, with a minimal presence on social media.
Here's how you can reach Mudrex :
Email: support@mudrex.com
Discord: discord.com/invite/qdXmm4N
Twitter: twitter.com/officialmudrex
Paratica Support
Paratica offers email support with active and multi-lingual communities on Telegram. Users can get support on Telegram through communities in English and Turkish. There is also a community page on the website, but it may not have the answers you are looking for as it is quite general.
Here's how you can reach Paratica:
Email: info@paratica.com
Telegram: t.me/paratica
Twitter: twitter.com/paraticacom
Traders at Mudrex have access to fast support and a comprehensive blog and FAQ section. Therefore, it receives the top rank in community & support.
Community & Support
| | | |
| --- | --- | --- |
| Coinrule | Mudrex | Paratica |
| 7/10 | 9/10 | 8/10 |
#8 Referral Bonuses
Here we answer the question 'How Can I Earn More With My Network?'
Coinrule Referrals
At the time of writing, Coinrule is not running any referral programs.
Mudrex Referrals
For each valid referred user, both the referrer and the referred user receive $25. Moreover, the referrer will receive 50% of each referred user's spend without any limits. The platform also occasionally adds referral bonuses, such as adding a referral amount or a chance to win impressive prizes.

Paratica Referrals
Users get 10% commission for every referral sale they make. The referral dashboard is pretty extensive and offers details such as referral code, total earnings, balance, commission rate, and social share icons as well. Users also get a customised QR code that they can share across their network.
In any referral program, users often look for high profitability chances with a no or high ceiling on earning limits. Keeping these features in mind, we rank Mudrex at the top spot in referral bonuses.
Referral Bonuses
| | | |
| --- | --- | --- |
| Coinrule | Mudrex | Paratica |
| 0/10 | 9/10 | 7/10 |
Coinrule vs Mudrex vs Paratica — The Final Verdict
With this Coinrule vs Mudrex vs Paratica review, it is evident that each platform has its own set of features that make it different. While they have certain limitations as well, all three platforms are well appreciated by the community. We hope this review helps you make better investment decisions by choosing the right platform for your crypto investments. However, before you start with any platform, make sure you do a deep dive in their working, along with the crypto market dynamics as well. Always remember, no bot is 'perfect' for everyone, and it all depends on your investment needs.
While no trading bot is perfect for everyone, through this review, it can be said that Mudrex is the ideal automated trading platform for crypto traders. With a fantastic user experience to offer, along with stellar security and an intuitive UI, Mudrex provides an easy-to-invest platform for traders of all shapes and sizes. It is safe to say, Mudrex is the high-performing automated trading platform you are looking for.
Let your trades work on autopilot. Get consistent returns with Mudrex.