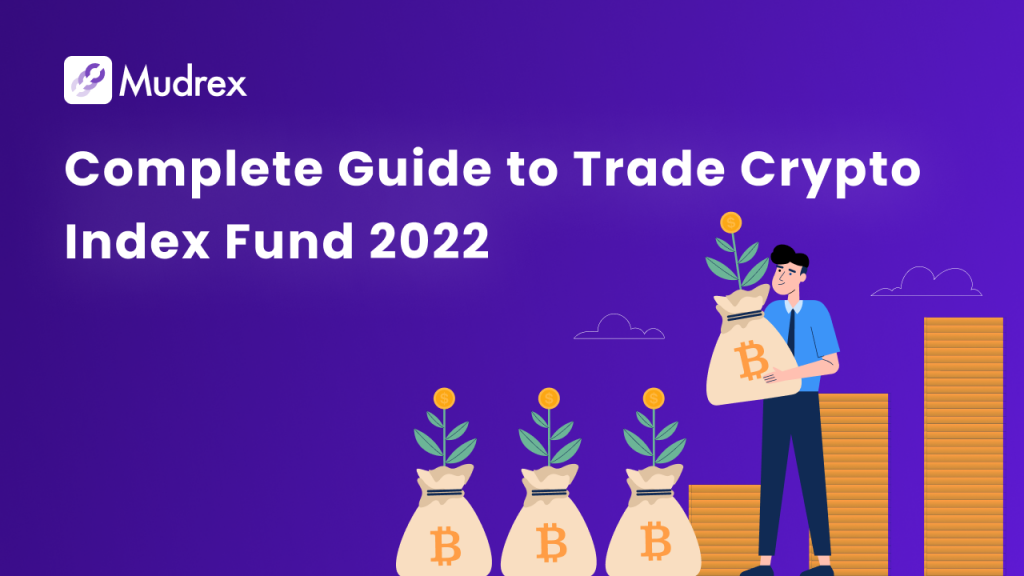 Cryptocurrency has been on a steady rise and has emerged as a popular asset class. Despite its overwhelming concepts, with brands like Tesla endorsing Bitcoin in the recent past, and Dogecoin's popularity, crypto assets are getting mainstream acceptance. Cryptocurrency index funds emerge as a popular solution in the crypto world.
But is it a viable investment for you? To decide, a deep understanding of the crypto risk model and how the cryptocurrency index funds work is crucial
What Is a Crypto Index fund?
There is not much of a difference between cryptocurrency index funds and regular index funds. A crypto index is a portfolio of selected cryptocurrencies that traders can buy, sell or swap, rather than trading individually. In other words, the cryptocurrency index fund tracks the price, performance and other variables of a group of cryptocurrencies quite similar to the S&P500 index that tracks stocks. This helps crypto traders easily diversify their cryptocurrency portfolio.

Why do you actually need a crypto index fund?
We might have often pondered the million-dollar question: "which crypto should I buy?" We often hear investors panicking after investing in a particular crypto, as soon as the crypto starts tanking. It is one of the main reasons why a lot of retail crypto traders fail miserably while making investments. Unless you are a 'Warren Buffett' of cryptos, the chances of getting lucky by cherry-picking cryptos might not work out! That is where a crypto-index fund comes to the rescue. Investing in a basket of cryptocurrencies diversifies the risk.
Thus, even if one coin performs terribly, the returns from the others might be greater than the loss on any particular crypto. Therefore, the overall fund gains even though one of the cryptos did poorly. If a particular cryptocurrency performs abnormally poorly, it can be removed from the basket of cryptos and replaced by another crypto.
How does the crypto index work?
The cryptocurrency index fund gives investors a door to the crypto market as a whole without being tied to the performance of single crypto; rather to the performance of a broader basket of cryptos with minimal risks.
The financial data stored in the blockchain calculates the performance index of any crypto group transparently. The entire process is automated with minimum scope for human error or interference. Crypto indexes are divided into two major categories: price weighting and market cap weighting.
Price weighting is when the higher-priced assets influence the movement of the index more than the lower-priced ones. Market cap weighting is where the assets with the largest capitalization (their aggregate valuation) move the index the most.
Market sentiment is also a key factor that should be taken into consideration. A software research company, Alternative, has published Crypto Fear & Greed Index, which is a sentiment tool that tracks Bitcoin data relating to volatility, volume, social media surveys, dominance, and trends over time.
Top Crypto Index Fund 2022 
Tools and platforms that offer crypto portfolio management, automated trading with rebalancing, and tracking are on the rise. Here is a list of some of the popularly used crypto index funds that can help you automate your crypto investment portfolio.
Stacked Invest
Stacked Invest offers two features – index fund investing and access to premium algorithm trading strategies. The index fund investing feature is free to use.
All you have to do is select the index fund you want to invest in and see the returns of the index fund in the last three months, six months, or even a year. Then, you can connect any of these index funds with your exchange using API keys. Select the amount you wish to invest and the rebalancing period. Stacked Invest will automatically rebalance your portfolio after a given time.
Crypto 20
Crypto 20 works as a model of the traditional index fund market, making it easier for experienced investors and traders to jump into crypto investment.
The C20 is predefined and cannot be changed by each investor. It is also a tokenized crypto index fund which means that there is a single Ethereum based ERC-20 token called C20. When you buy that token, you are subscribing to the whole index. They offer a set strategy for when portfolio allocations will be changed, execution of rebalancing, and when assets are added or removed from the index.
Shrimpy
Shrimpy is a versatile tool when it comes to market indexing, automated trading, and portfolio rebalancing. You can create your index fund based on parameters like weighting, minimum and maximum asset allocation, asset buffer zone, and more.
When you create a custom portfolio index, you can connect Shrimpy with the exchange of your choice through API keys and set a rebalance period. Shrimpy then performs automated trades based on those entries. With Shrimpy, you can create and configure your custom portfolio.
Crypto Index
Crypto Index (CIX100) tracks the top 100 cryptocurrencies chosen by the companies "Zorax" technology. The CIX100 is also available on Reuters, TradingView, and Bloomberg financial terminals, which are already used by half a million traditional investors worldwide.
Crypto Index uses an AI algorithm that considers 200+ factors for a refined ranking and selection of coins. The CIX100 automatically rebalances itself every month and also has a built-in feature for detecting coins that have an artificially inflated price. Furthermore, investors can also choose to make their portfolios based on an index that is rebalanced every month. It is important to note that Crypto Index also used Ethereum based ERC-20 token called CIX100, which is the actual portfolio assets under the CIX100 index fund.
Bitwise
Bitwise is among the leading providers of crypto index funds and has created one of the world's first cryptocurrency index funds called 'Bitwise 10 Private Index Funds.' The fund tracks the 10 largest cryptocurrencies weighted by 5-year diluted market capitalization and monthly rebalancing of funds.
The platform is targeted towards seasoned investors and traders as the minimum investment required is $25,000.
Closing Thoughts
As the cryptocurrency market is moving forward with rapid growth, many people are jumping in to benefit from this ecosystem. Crypto index funds make it easy for investors and traders to gain consistent returns from crypto investments.
With the evolution of crypto index funds, investors have more options and strategies to make an investment in cryptocurrency. One such platform that helps traders with automated trading bots is Mudrex. At Mudrex, users do not need to pay any platform fee. It is safe to say, Mudrex is the high-performing automated trading platform you are looking for.
Let your trades work on autopilot. Get consistent returns with Mudrex.