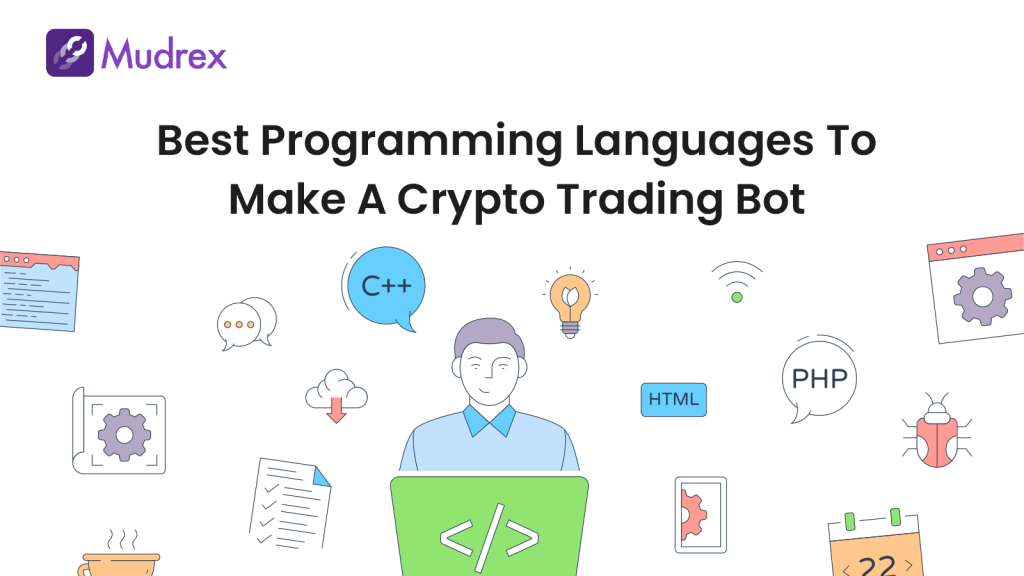 Cryptocurrencies are highly volatile assets. Crypto trading happens round-the-clock, and crypto traders may find difficulty promptly reacting to the price fluctuations. Here is where the crypto trading bot comes in, allowing traders to set predefined rules for executing the trade efficiently. These bots can help you by working for you day and night with minimum supervision. Many companies and individual traders are looking towards building a crypto trading bot with these advantages. But the question comes about which programming languages to choose for making a crypto trading bot? To help you with this, we are here to answer this question for you, but before that, let's know about algorithmic trading. 
What is algorithmic trading?
Algorithmic trading is when you use computer code and software to open and close trades according to the set rules like points of movement in an underlying market. But, how does it work? So, when the current market conditions match any pre-set criteria, trading algorithms or algos start executing the buy and sell signals on your behalf, eliminating the need for manual scan saving time. Algo trading is an evolving concept already in place at the stock market and crypto companies.
Advantages of algorithmic trading
Removes human error
Capitalizes on any rare or special events
Fine-tunes your risk management strategy
Less maintenance
Increases opportunities with instant execution
How can algorithmic trading be useful in financial markets?
Human error and vigorous activity is eliminated.
A high volume of data is processed faster, which is not possible for the human trader.
High accuracy
Should you buy bots or code one yourself?
If you want to kick-start your use of crypto trading software, there are two ways. One is by purchasing a ready-made solution that can help you trade hassle-free. The other is to build your trading solution. The first one is relatively easy, but the second one is quite complicated but not impossible though. To start with option two, it is mandatory to have a piece of prerequisite knowledge and experience in programming languages to build for your crypto trading. Are you wondering which programming language to choose? Here are the best programming languages to make a crypto trading bot. 
Top Programming Languages to Build a Crypto Trading Bot
The performance of the binary functions, testing, complexity, maintenance, licensing costs, and the overall achievement rate must be kept in mind while choosing a programming language. Here are the top programming languages which can be used to build a crypto trading bot.
Python
Python is one of the popular programming languages that has been most promising for most coding and algorithmic trading. It is widely used for its rich and advanced libraries that are easy-to-learn basics for beginners. And so, it is attracting more and more traders to build Python trading bots. Python allows you to develop accessible and sophisticated bots with various functions. It is an excellent choice for automated trading in case of low or medium trading frequency for trades that do not last less than a few seconds. You can get the hang of this programming language by trying it yourself. Moreover, there are tons of various courses on how to code with Python online. It is one of the best crypto programming languages that can be used for coding for trading.
C++
Unlike Python, C++ is not as easy-to-use and understandable. But most of the developers believe it to be the best programming language to build an algo crypto trading bot. C++ holds a lot of prominence for its fast and reliable processing solutions. Whereas for the newbies, C++ might be pretty tricky since it is based on C. So, it is a good idea to start with C and shift to C++ after practice and experience. Even though it is a bit complex, C++ is here to stay. 
C#
Most beginner algorithmic trades believe that C and C++ are quite similar. But it is not so. C is known to be a higher-level component-oriented language, while C++ is a bit low-level platform-neutral object-oriented programming language. C is similar to Java rather than C++. In the current scenario, C# and Java are being used for the same functions in trading. It is considered to be the top coding language for stock market analysis.
Java
Java is treated to be the up-coming language in algorithmic trading. As of now, it is being used for a wide range of various applications such as simulations and modeling. Even though it is complex, it is also a comprehensive programming language to learn. If you are entirely new to the programming world, Java might not be a good choice to start as it is harder to pick up.
R
If you are familiar with the programming world, starting with the R language is a good option.
It is currently being used for advanced statistical analysis. R can help you with effective algorithmic trading as you can use this programming language for generating various trading signals. R allows you to design a program that can generate trading signals and maximize strategy's returns. All in all, R is an open-source language that is extensively used in statistics and data analytics.
Can you build bots without code?
Are you not on good terms with coding? Are you wondering if you can build a bot without coding? Yes, you can make it without using any programming language to answer your query.
Even with no coding experience, you can start using crypto trading software. You can do this by just picking up the best strategy with the help of an intuitively comprehensive program interface. If you are quite familiar with some manual trading experience, it may take less than little time to set up trading bots. When you start on this journey, you will have many obstacles, exploring new ways that can benefit automatizing dozens of trading processes. All this is just possible by practice. 
When you get the hang of it, you can start diving deeper into algorithmic crypto trading. You might start trying out using programming to take your bots to the next level.
However, programming skills may not be helpful in significantly increasing your profits. Still, they will give you a chance to get advanced testing and analyze various types of data and set more sound and effective trading solutions. If this way seems complicated, you still have Mudrex's Strategy Builder to help you with it. Some of the best traders have used it to build their trading strategies without writing a single line of code.
Conclusion
These days algorithmic crypto trading is gaining a lot of momentum for its demand in the trading market. The programming languages such as Python, C++, C, Java, and R which can be the best choices to make for an algorithmic trading system. But before that, consider the performance, ease of development, resiliency and testing, maintenance, source code availability, and maturity of libraries. Most of you might take a step back just thinking about the coding skills, but remember automated trading is still available for everyone.