With a crypto market that is active 24×7, trading automation has now become a vital tool for traders. Users can now easily automate their trades and generate returns even when they are not trading manually. Moreover, many platforms also offer traders the choice to copy the strategies of expert traders, a process known as copy/mirror/social trading. In this Cryptohopper vs Mudrex vs eToro review, we will discuss the key features of these automated trading platforms. We will also score the platforms for each feature based on the relevant pros and cons and provide a total score at the end to help you choose the best platform for your investment needs.
Here's the Cryptohopper vs Mudrex vs eToro comparison
Cryptohopper
Cryptohopper is a cloud-based copy trading platform that boasts itself as the 'The Most Powerful Crypto Trading Bot.' The platform helps users customise and backtest their strategies as per their trading needs. It offers a variety of trading strategies and templates for users to invest in. Cryptohopper has emerged as one of the top crypto trading platforms due to its ease of investment and availability of all essential tools. In this Cryptohopper review, we will compare it with Mudrex and eToro and rate them on their top features.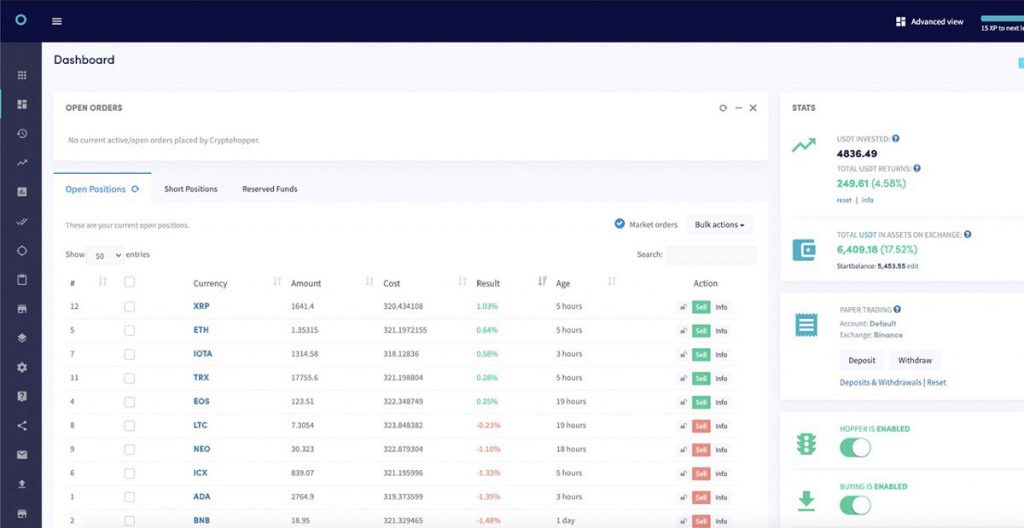 Mudrex
The Mudrex bot marketplace is a cloud-based trading platform that aims to make crypto trading easy for everyone. Mudrex helps users invest in pre-build Mudrex Algo bots or customise their own strategies using a no-code crypto strategy builder. The pre-built strategies are created by expert traders, and you can invest them in a few clicks at Mudrex Invest. These crypto trading strategies are 100% automated and support multiple cryptocurrencies and exchanges. In this Mudrex review, we will compare it with Cryptohopper and eToro and underline the stark differences while ranking them on various features.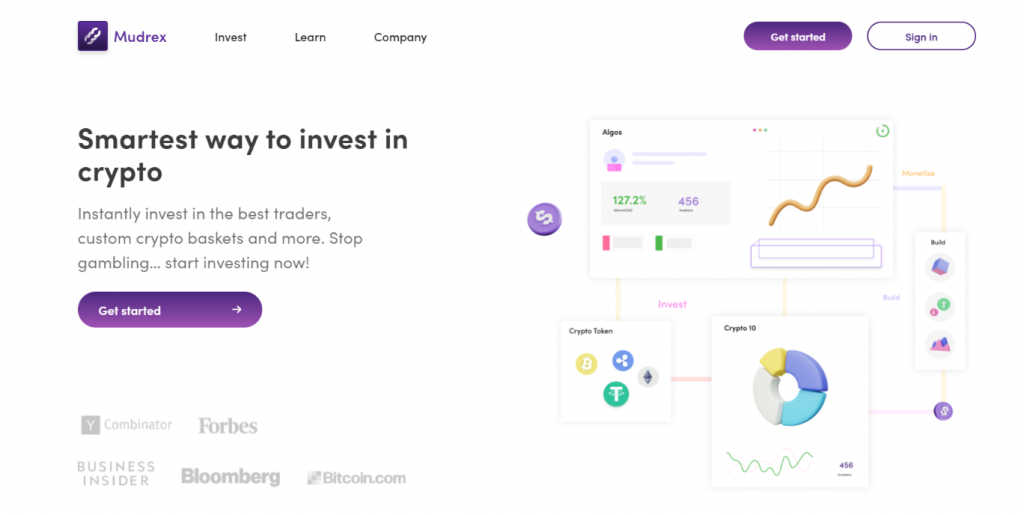 eToro
eToro is a leading social trading platform built to provide investment solutions across markets (cryptocurrency, stocks, ETF and CFD). eToro offers both social trading and manual trading solutions, helping traders of all kinds. Therefore, users can either follow other traders or create their own trading strategies. eToro also offers a service called CopyPortfolios, a portfolio management product, investing in which will automatically copy multiple markets or traders. In this eToro review, we will compare it with Cryptohopper and Mudrex and rank them on their top features.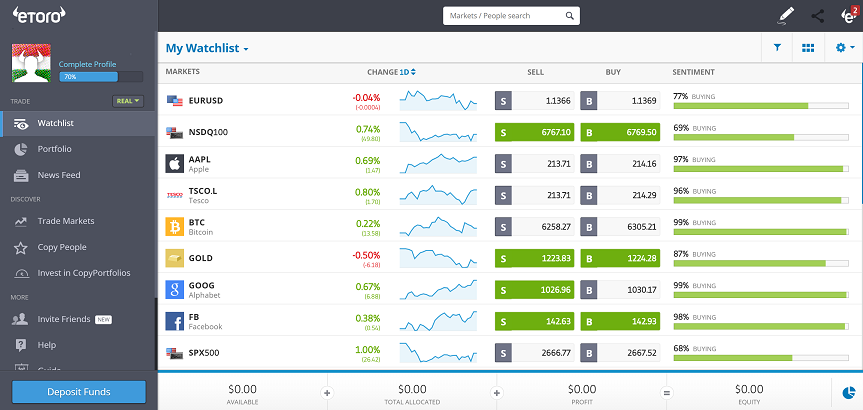 Cryptohopper vs Mudrex vs eToro — A Review
In this Cryptohopper vs Mudrex vs eToro review, we will score each platform from 0-10 on multiple essential features that an investor looks for in a trading platform. These include platform reliability, profitable strategies, usage fees, customer support and referral bonuses. The final scores are given below, and a detailed review follows.
| | | | |
| --- | --- | --- | --- |
| Feature | Cryptohopper | Mudrex | eToro |
| Platform Reliability | 8/10 | 9/10 | 9/10 |
| Trading Strategies and Profitability | 7/10 | 9/10 | 8/10 |
| Platform Pricing/Fee | 6/10 | 8/10 | 7/10 |
| Ease Of Investment | 6/10 | 9/10 | 7/10 |
| Post-Investment Tracking | 8/10 | 7/10 | 8/10 |
| Exchanges Supported | 7/10 | 6/10 | 5/10 |
| Community & Support | 8/10 | 9/10 | 6/10 |
| Referral Bonuses | 7/10 | 9/10 | 6/10 |
| Total Score | 57/80 | 66/80 | 56/80 |
#1 Platform Reliability
A reliable platform is a must for every trader, as it offers peace of mind to the user. We review some features that make these platforms reliable.
Cryptohopper Reliability
Launched in 2017, Cryptohopper is a cloud-based crypto trading platform based out of Amsterdam. Cryptohopper has over 200,000 users on its platform and claims to have completed 30 million crypto transactions. The Cryptohopper platform is extremely popular and has multiple security features, such as password security, 2FA, no withdrawal permission API integration, among others.
Mudrex Reliability
Based in San Francisco, the Mudrex crypto trading platform was launched in 2019 and backed by Y-Combinator. In a short span, Mudrex is turning heads in a short span due to its easy-to-use crypto investment platform and highly profitable solutions. With over 25,000 investors on the platform, Mudrex has transacted over $1.5 Billion in trade volume. Mudrex has employed certain security measures that include two-factor authentication, lightning-fast customer support, and no-withdrawal permissions for APIs to ensure that the platform is safe for all users.

eToro Reliability
Launched in 2007 with a vision to revolutionise Fintech, eToro was originally an online stock trading portal. In 2017, nearly a decade later after it was found, eToro added support for cryptocurrencies. This London-based platform has over 13 million registered users and now offers trading solutions across multiple markets. However, users need to add funds in their eToro account rather than an exchange wallet to trade.
Reliability is a must to ensure that traders don't lose money to fraudulent trading platforms. With utmost security and transparent results, both Mudrex and eToro rank the highest in platform reliability.
Platform Reliability
| | | |
| --- | --- | --- |
| Cryptohopper | Mudrex | eToro |
| 8/10 | 9/10 | 9/10 |
#2 Trading Bots/Strategies and Profitability
Most trading platforms have multiple strategies that users can choose from, but numerous choices can be overwhelming, especially for new users. Here we review the types of strategies, templates and bots offered by these platforms.
Trading At Cryptohopper
Traders at Cryptohopper can create highly customisable bots using different indicators or use the trading strategies designed by other users. The Cryptohopper marketplace contains multiple trading strategies developed by other users, which one can follow. Each strategy displays a collective of information that helps the users choose securely and safely. However, the abundance of information can confuse new traders.
Some of the top-performing trading bots at Cryptohopper are:

Profit Hero Premium – DEX
Profit Grinder by Crypto-Base.eu
Triple Screen Short Term Swing Trading
Trading At Mudrex
The Mudrex crypto trading platform's dashboard display all essential information with just one click. These details include the cryptocurrency the bot trades in, total lifetime returns, number of investors in each strategy, a performance score (0-10) by Mudrex rating each strategy after a risk vs reward analysis, total run time of the strategy, the monthly fee and the last 30 day returns.
Investors can easily view the top performing bots, and some of them are listed below with their returns in the past 30 days:
Trading At eToro
As eToro is built for multiple markets (crypto, stocks, ETFs, and CFD), the UI can be confusing due to overflowing options. Users can view the trade markets at eToro, which feature the top cryptocurrencies you can trade with. Also, users can copy other people's trading strategies on the platform. Users can filter out these traders using filters such as time period, verified or unverified trader, returns, risk score (calculated from 1-10 by the platform), number of people copying the strategy and number of weeks the trader has been active for.
Investors can easily view the top-performing traders, and some of them are:
In the end, a platform's success boils down to how profitable it is for the users and how easily users can make informed trading decisions. Mudrex helps users select the bot that fits their investment needs with transparent results. Therefore, Mudrex receives the top rank here.
Trading Bots/Strategies and Profitability
| | | |
| --- | --- | --- |
| Cryptohopper | Mudrex | eToro |
| 7/10 | 9/10 | 8/10 |
#3 Pricing / Platform Usage Fees
Platform pricing is a significant factor for many users while investing. Therefore, we review the pricing model of these three platforms.
Cryptohopper Pricing
Cryptohoppers offers a free version to new users where they can leverage minimal features to try out the platform. These include 20 positions per month but are restricted to manual trading. The paid investment packages are relatively costlier than most platforms, with Explorer ($16.58/m), Adventurer ($41.58/m) and Hero($83.25). Moreover, users will have to shell out additional fees when they invest in paid strategies, some of which cost a lot. Also, the minimum investment amount at Cryptohopper is $250, significantly more than the other two platforms.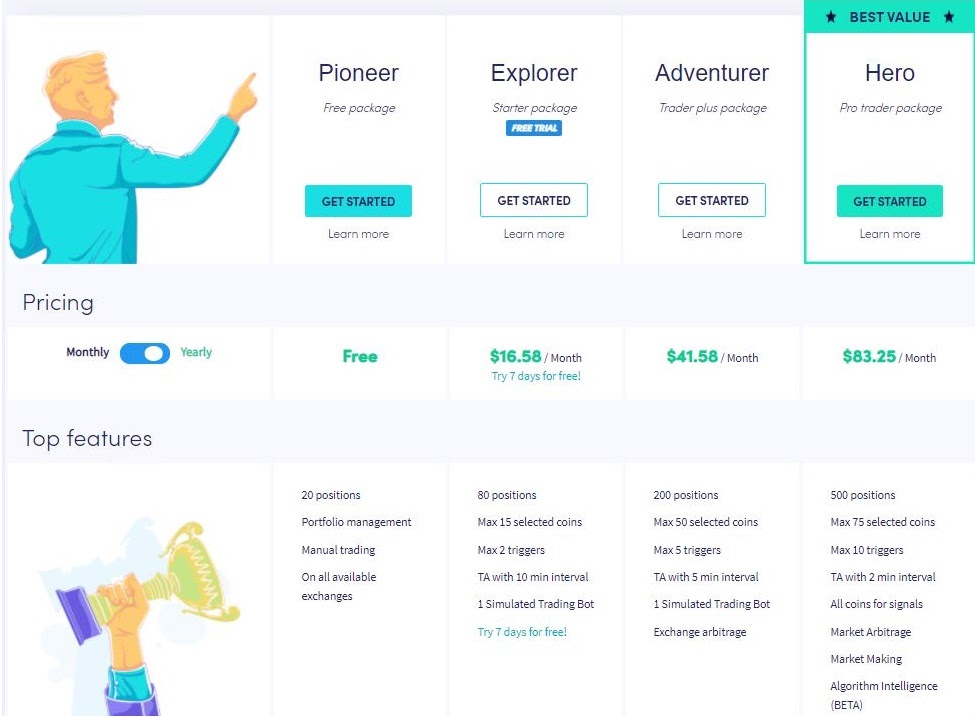 Mudrex Pricing
Mudrex, with its user-first approach, does not charge any account opening or monthly fee from the users. Users can also create and backtest their strategies at Mudrex for free. Users only pay when they invest in a bot, and the fee starts as low as $5 per month and varies depending on the bot and the amount invested. The minimum investment amount on the platform is $150, exclusive of the fee. Moreover, Mudrex offers another great feature called the Mudrex Protect, a fee refund if the strategy does not yield profit in a month.
If users wish to publish and monetise their strategy, they can opt for the premium plan priced at $16/month. The premium plan offers features such as get unlimited backtests, 200+ technical indicators, priority 24×7 support and the ability to publish and earn from your strategies on Mudrex.

eToro Pricing
eToro offers a highly user-friendly pricing model, as opening an account at eToro is free. Moreover, the platform does not charge any management fee, and you can copy other traders for free. However, when purchasing cryptocurrencies from the platform, the platform charges a spread fee varying according to the crypto. For example, the spread on bitcoin is 0.75%, so for every $1000 worth of BTC purchased, the platform will charge a fee of $7.5. Moreover, the platform also charges a withdrawal fee of $5, and a standard crypto transfer fee may also apply.
With a simple pricing model that charges a nominal fee only when investing, Mudrex receives the top rank in platform usage fee.
Preview externally(opens in a new tab)
Pricing / Platform Usage Fees
| | | |
| --- | --- | --- |
| Cryptohopper | Mudrex | eToro |
| 6/10 | 8/10 | 7/10 |
#4 Ease of Investment
All users want an easy to use platform that does not complicate investments. We will review how easily a user can invest in these three platforms.
How To Invest On Cryptohopper
Cryptohopper has a neatly designed platform with a clean UI. The interactive dashboard showcases all invested positions and helps users trade easily. The CryoHopper app is also available for Android and iOS but with minimal features. While the platform offers many features, the overabundance of options is highly confusing, especially for amateur traders. Here's how one can start investing at Cryptohopper:
Create/Login to your Cryptohopper Account;
Connect an exchange with an API key;
Pay the membership fee for the platform;
Select the strategy you want to use from the marketplace, and pay the subscription fee;
Start the strategy, and you are done.
How To Start Investing On Mudrex
Mudrex focuses on bringing the best to its users without complicating anything. The Mudrex UI is exceptionally intuitive and built with simplicity in mind. The seamless process, user-friendly approach and utmost transparency make it extremely easy to invest with Mudrex. While the platform lacks a Mudrex app on mobile, the desktop version is extremely thorough and sufficient.

Here's how you can start investing on Mudrex:
Create/ Login to your Mudrex account;
Connect the desired exchange with API keys;
Choose the bot you want to invest in and select the amount;
Pay the platform fee, and you are all done.
How To Start Investing On eToro
Before users can invest at eToro, they have to answer a few questions for the platform to offer the best trading solutions. Once the questions are responded to and the account is verified, then you can start investing on eToro.
Here's how you can start investing on eToro:
Create/ Login to your eToro account;
Answer multiple questions to get started;
Verify your eToro account;
Deposit funds via credit/debit card or payment platforms;
Choose the trader you want to follow;
Copy their strategies, and you are good to go.
Out of all three platforms, Mudrex offers the most effortless investment process, where users can invest in just a few steps. Therefore, it tops the list for ease of investment.
Ease of Investment
| | | |
| --- | --- | --- |
| Cryptohopper | Mudrex | eToro |
| 6/10 | 9/10 | 7/10 |
#5 Post-Investment Tracking
Easy portfolio tracking is essential for a great user experience and informed trading decisions. Here, we review how these three platforms offer post-investment tracking solutions.
Portfolio Tracking At Cryptohopper
The Cryptohopper dashboard displays a detailed analysis of a user's portfolio, with details such as total invested amount, total assets in exchange, open positions, total current positions, last five sells, the current target, and Cryptohopper output, which shows detailed trade information.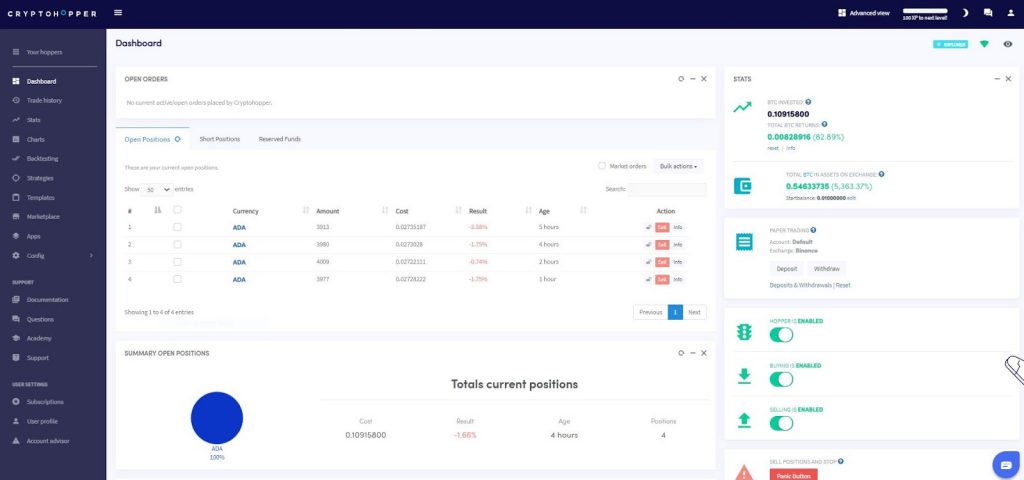 Portfolio Tracking At Mudrex
The Mudrex Invest dashboard provides all portfolio details to the users in just one click. Users can easily few the bots they have invested in, the total amount invested, the current value of the investment, the total returns in % of each bot, and the overall returns.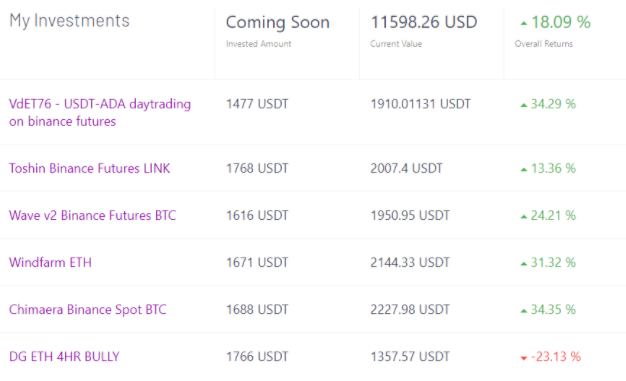 Portfolio Tracking At eToro
eToro's portfolio dashboard is exceptionally detailed and offers all essential details about the user's investments in a single click. Users can seamlessly access a graphical representation of their investment, total funds available, total allocated funds, total returns, total equity, past trades and net cash flows.

Both Cryptohopper and eToro offer a detailed portfolio overview to the users, which is why they jointly hold the top rank for post-investment tracking.
Post-Investment Tracking
| | | |
| --- | --- | --- |
| Cryptohopper | Mudrex | eToro |
| 8/10 | 7/10 | 8/10 |
#6 Exchanges Supported
With the availability of different exchanges, users have spread across. This is why all trading platforms should support as many exchanges as possible. Here, we look at the exchanges supported by these three platforms.
Exchanges Supported By Cryptohopper
Cryptohopper officially supports 13 exchanges, such as HitBTC, Bitpanda Pro, Binance, Coinbase Pro and Bittrex, to name a few.
Exchanges Supported By Mudrex
At Mudrex, users can invest through Coinbase Pro, Binance, Bybit, Deribit, OKEX and BitMex.
Exchanges Supported By eToro
Users at eToro can purchase cryptocurrency directly on the platform with debit/credit cards and then transfer them to your eToro Wallet in their own exchange known as eToroX.
Cryptohopper supports the most exchanges among the three platforms, which is why it ranks the highest.
Exchanges Supported
| | | |
| --- | --- | --- |
| Cryptohopper | Mudrex | eToro |
| 7/10 | 6/10 | 5/10 |
#7 Community & Support
Expert customer support and an active community are essential for any crypto trading platform. Therefore, we the support offered by these three platforms and their social communities.
Cryptohopper Support
Cryptohopper offers multi-lingual support with languages including English, Spanish, and French. It provides round the clock chat feature for support, and users can also generate support tickets for their grievances. The platform also boasts of active communities on Discord & Telegram, with a presence on Facebook, Twitter, and Instagram.
Here's how you can reach Cryptohopper:
Email: support@cryptohopper.com
Discord: discord.com/invite/qdv6RJx
Twitter: twitter.com/cryptohopper
Mudrex Support
The mudrex crypto trading platform offers a highly comprehensive FAQ support section where users can understand how Mudrex works and get solutions to most account-related issues. Mudrex also offers lightning-fast email support, along with a comprehensive crypto trading blog that has multiple articles on trading strategies, investment tips & tricks, and a lot more. The platform has active communities on Discord and Telegram and a presence on social media as well.
Here's how you can reach Mudrex: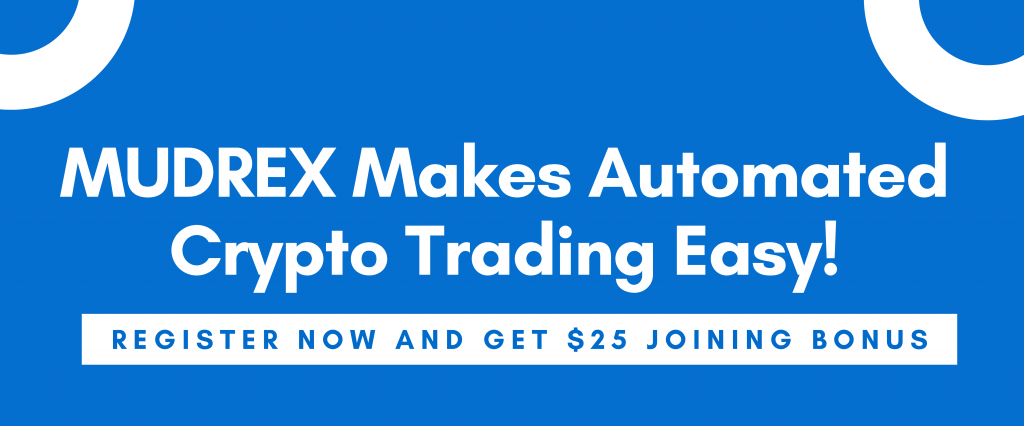 eToro Support
eToro offers a live chat feature for its users while also enabling them to raise support tickets. However, the ticketing system may not be swift enough, and your grievance may be addressed in a few days. eToro also has an active social media presence across major social channels such as Twitter, YouTube and Facebook.
Here's how you can reach eToro:
YouTube: https://www.youtube.com/user/eToro
Twitter: twitter.com/eToro
Facebook: facebook.com/eToro
When it comes to community and platform support, Mudrex's fast support and a comprehensive blog & FAQ section are optimal for any user. Therefore, it receives the top rank in the community & support feature.
Community & Support
| | | |
| --- | --- | --- |
| Cryptohopper | Mudrex | eToro |
| 8/10 | 9/10 | 6/10 |
#8 Referral Bonuses
Many crypto trading platforms offer referral programs where users can earn through their professional and personal networks. Below, we will look at the referral programs offered by these three platforms.
Cryptohopper Referrals
Users will receive a 10% commission when their referred user signs up for a paid plan and up to 15% commission for every payment made on the platform.
Mudrex Referrals
The Mudrex crypto referral program offers $25 for every valid referral, along with a 50% commission for all funds spent on Mudrex by the referred user. There is no earning limit for the commission, and a user can earn as much as they wish to. The Mudrex referral dashboard contains all essential details about your referred users and referral links. Mudrex also hosts frequent giveaways with exciting prizes and additional bonuses.

eToro Referrals
The eToro referral program stipulates a $50 bonus for every valid referral. However, this offer is only available for users in a handful of countries, and the referral cap is $500.
Mudrex takes the top spot as it offers a highly profitable crypto referral program with no earning limits and a high commission.
Referral Bonuses
| | | |
| --- | --- | --- |
| Cryptohopper | Mudrex | eToro |
| 7/10 | 9/10 | 6/10 |
Cryptohopper vs Mudrex vs eToro — The Final Verdict
As we see from this Cryptohopper vs Mudrex vs eToro review, all three platforms have multiple features that help them stand out. For example, Mudrex is highly reliable, Cryptohopper supports the most exchanges, and eToro has great portfolio solutions. Through this Cryptohopper vs Mudrex vs eToro review, we hope we can help you select the right trading platform for your crypto investments. But before you invest, ensure that you understand that there is no 'one bot fits all' phenomenon. Every trading bot is different, and so are traders. Therefore, before you start investing, make sure your investment goals are clear and you have thoroughly researched the platform you wish to invest in.
While no trading bot is perfect, this Cryptohopper vs Mudrex vs eToro review highlights that Mudrex is the ideal platform for all traders. With a stellar user experience, nominal fee while investing, utmost security and highly profitable strategies, Mudrex helps traders automate their trades and generate consistent returns. Trade while you sleep with 100% automation without worrying about a thing. It is safe to say, Mudrex is the high-performing automated trading platform you are looking for.
Let your trades work on autopilot. Get consistent returns with Mudrex.