About Ethereum
Ethereum is a decentralized, open-source blockchain platform that enables the creation and execution of smart contracts and decentralized applications (DApps). In 2015, a team led by Vitalik Buterin launched Ethereum, which has since evolved beyond cryptocurrency, allowing developers to build and deploy decentralized applications on its blockchain.

Ether (ETH) is the native cryptocurrency of the Ethereum platform, serving as both a digital currency and fuel for executing smart contracts. Its use of blockchain technology has significantly opened up the possibilities of decentralized, trustless transactions by providing a platform for various applications beyond traditional finance, like NFTs and more.

Ethereum began with an initial coin offering (ICO) in 2014, where each coin was sold for just $0.311. For the first couple of years until January 2016, it was worth less than $1. But in January 2018, Ethereum reached its then-all-time high (ATH) price of $1,270.
ETH exploded in 2021, reaching a new ATH at $4,891.70. Following the crypto winter, it saw a drop to $890.
More recently, Ethereum faced significant price swings following legal actions by the U.S. SEC against two major crypto exchanges, Binance and Coinbase. These lawsuits alleged that the exchanges were involved in the sale of unregistered securities.
Ethereum Market Overview

The crypto market has recently surged, with Bitcoin leading the charge. In the past week, ETH went past $2,100. Trading activity has also seen monthly highs. This is proof of the renewed interest since October. During this time, altcoins have been quite volatile due to several factors.

November has been a good month, with many events in the cryptocurrency space influencing the price cycles.
Ethereum was no stranger to the market movement up as it broke through the $20470 resistance. This surge also resulted in liquidations over hundreds of millions as bearish investors miscalculated their positions.
Ethereum current price – $2,260 (187,059.24INR)
24hr change – +4.43%
Market Cap – $271.81 billion
Trade volume (24h) – $12.05 billion, +24.08% change in 24hrs

24hr low – 2151.72
24hr high – 2262.70
The crypto fear and greed index is at 74. This has caused investors to become greedy in the market. There are several reasons, such as filings for the ETH spot ETFs, increased interest from institutions, and growing open interest.

Ethereum Technical analysis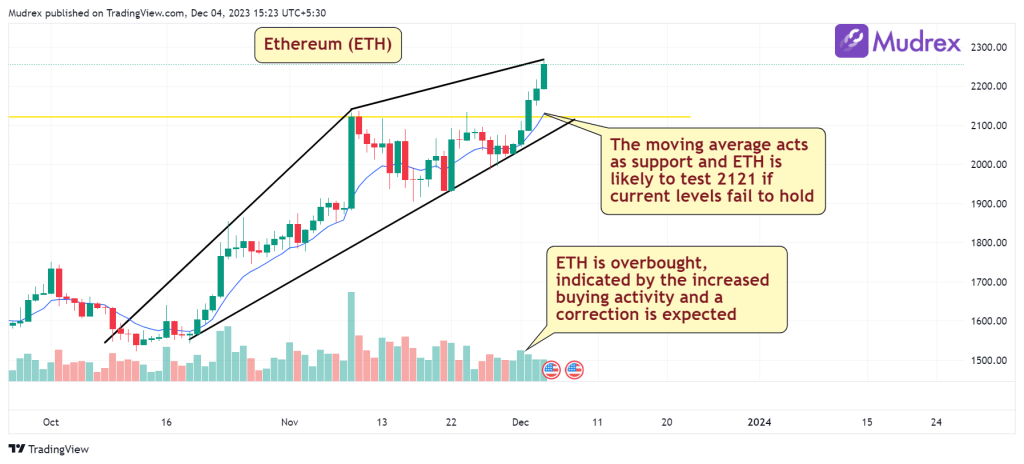 Ethereum bulls have been in control of the rally, with a strong move up after an extended period of market consolidation. This is interpreted as a precursor to the bull market. The open interest exhibited by institutions and increased trade volume on various platforms are testaments to this.

The moving average is acting as the support. If this fails to hold, we can see a pullback to 2121 levels. There is a possibility that ETH shall correct before continuing its path up.
Technical indicators
We use a set of 15 technical indicators to help us decide whether buying or selling a particular asset is a good idea. These indicators range from volume, strength index, moving average convergence, oscillators, and Bollinger bands. They give us a sense of the market sentiment around that asset, which can be useful for trading.
As of December 4, 2023, here's what our indicators tell us about Ethereum:
Six of them suggest it's a good time to buy, and Nine are in a neutral zone – which means they're not leaning towards buying or selling.
ETHEREUM SCORECARD ANALYSIS
| METRIC NAME | ACTION |
| --- | --- |
| Overall Rating | Buy |
| Mass Index | Neutral |
| | |
| On Balance Volume | Buy |
| Moving Average Convergence Divergence | Buy |
| Accumulative Swing Index | Neutral |
| Stoch Relative Strength Index | Neutral |
| Relative Strength Index | Neutral |
| Guppy Multiple Moving Average | Buy |
| Hull Moving Average | Neutral |
| Ultimate Oscillator | Neutral |
| Super Trend | Buy |
| Aroon Up Down | Buy |
| Donchian | Neutral |
| Chaikin Oscillator | Buy |
| Chande Momentum | Neutral |
| Awesome Oscillator | Neutral |
| Bollinger Bands | Neutral |
| | |
Monte Carlo simulation is a computer-based technique for understanding something hard to predict – running multiple 'what-if' scenarios helps you see all the possible outcomes.
For example, looking at investment risks will show you the best and worst-case scenarios based on interest rates and market conditions. It's like rolling dice many times to know all the possible sums you can get. This helps in making informed investment decisions.

Our Monte Carlo simulations had shown that Ethereum would overcome the resistance of $2150, and the market should adopt this trend. Now, the bulls are firmly in control over the market. We expect the price to continue its upward trend.

It is important to note that Monte Carlo simulations are based on statistical and historical data. They provide a range of possible outcomes and their probabilities, which can help traders and investors make more informed decisions. However, the accuracy of these predictions depends on the quality and relevance of the data used in the model.
Cryptocurrency prices are highly volatile and influenced by several factors. Monte Carlo simulations aren't foolproof, so always use your judgment and invest according to your risk appetite.
Ethereum Price Prediction in 2024
In 2024, Ethereum is expected to continue rising with a 23% rate of return. The price range is anticipated to be between $2,766.50 and $2,800, with a potential high of $3,319.80 and a potential low of $1,659.90.
As seen historically, the Bitcoin halving could be a significant factor that influences the crypto bull run. As a result, we could see money pumping into the large caps like Bitcoin and Ethereum and then flushing out into the altcoins.
Ethereum Price Prediction for 2025
2025 holds promising prospects for Ethereum, with an estimated 90% rate of return. The expected price range is approximately $4,264.60 to $4,300, with a potential high of $5,117.52 and a potential low of $2,985.22.
Ethereum Price Prediction for 2026
In 2026, Ethereum's value is anticipated to increase, offering a substantial expected rate of return at 192%. The price range is estimated to range from $6,572.12 to $6,600, with a potential high of $8,543.76 and a potential low of $4,600.48.
Ethereum Price Prediction for 2027
2027 is believed to be a year of remarkable growth for Ethereum, with an expected rate of return of 337%. The price range expectation spans around $9,826.94 to $9,800, with a potential high projection of $11,792.33 and a potential low of $6,878.86.
Ethereum Price Prediction for 2028
Ethereum is predicted to experience substantial gains in 2028, with an impressive expected rate of return of 595%. The price range expectation is approximately $15,628.04 to $15,600, featuring a potential high of $20,316.45 and a potential low of $12,502.43.
Ethereum Price Prediction for 2029
For 2029, Ethereum value is projected to go up dramatically, offering an estimated 947% rate of return. The expected price range is around $23,563.29 to $23,600, with a potential high of $28,275.95 and a potential low of $18,850.63.
Ethereum Price Prediction for 2030
In 2030, Ethereum is poised for remarkable growth, with an approximate 1499% expected rate of return. The expected price range is approximately $35,974.64 to $36,000, encompassing a potential high of $46,767.03 and a potential low of $25,182.25.
These predictions paint a positive outlook for Ethereum, indicating substantial growth potential for the coming years while acknowledging the potential for price volatility.

Ethereum uses a proof-of-stake-based consensus mechanism, enabling developers to build dApps on the blockchain.
According to Techopedia,
| | | |
| --- | --- | --- |
| Year | Minimum Price | Maximum Price |
| 2023 | $1400 | $2000 |
| 2024 | $1800 | $6500 |
| 2025 | $4500 | $10700 |
| 2030 | $7400 | $12200 |
As for Changelly,

| | | | |
| --- | --- | --- | --- |
| Year | Minimum Price | Average Price | Maximum Price |
| 2023 | $2048 | $2139 | $2335 |
| 2024 | $2933 | $3018 | $3614 |
| 2025 | $4394 | $4515 | $5123 |
| 2026 | $6463 | $6688 | $7571 |
| 2027 | $9171 | $9438 | $11329 |
| 2028 | $13469 | $13846 | $15883 |
| 2029 | $18611 | $19165 | $23273 |
| 2030 | $26811 | $27577 | $31984 |
According to NewsBTC, Ronghui Gu, CEO of Certik, forecasts Ethereum at $30,000 to $50,000 by 2030.
Ark Invest CEO Cathie Wood believes Ethereum should see ATHs of between $170K – $180K by 2030.


Note that this outlook is speculative and derived from historical data and should not be considered financial advice.

These potential returns would outperform traditional market indexes, underscoring the immense global adoption expected for cryptocurrencies. Additionally, there's a prevailing belief that the total cryptocurrency market capitalization could reach $10 trillion in the coming years, which would likely see more penetration in terms of crypto users.


Is this a good time to buy Ethereum?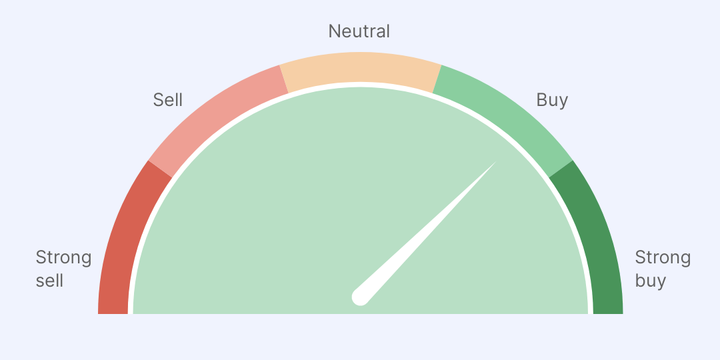 Overall, the ETH price forecast is optimistic, but we don't have any solid proof of this growth.
While Bitcoin is often seen as digital gold and a store of value, Ethereum offers a broader range of applications through its smart contract capabilities. ETH is the foundation for a thriving ecosystem of decentralized applications, known as DApps, and the booming world of decentralized finance (DeFi).
We suggest dollar cost averaging. It helps you accumulate the asset consistently without worrying about daily market rates. We recommend that you follow a systematic investment plan to start investing.

Markets Ahead
Ethereum is gaining popularity among institutions and retail investors alike. Experts predict Ethereum could see the likes of $10,000 over the years as the likelihood of a spot ETF approval grows. This could be closely associated with the BTC ETF ruling. Ethereum's strong community and developer support have consistently driven innovation, making it a versatile and promising investment in the ever-evolving landscape of cryptocurrencies. The future upgrades should Ethereum improve upon scalability and introduce lower fees.