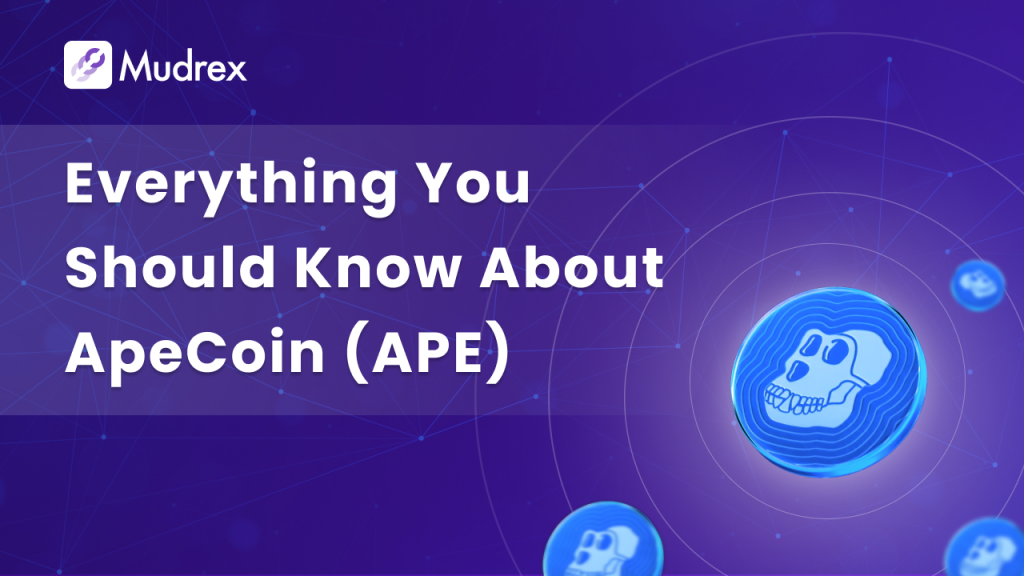 Every passing month, hundreds of organizations announce hundreds of new projects and cryptocurrencies. But out of them, only few gain traction immediately when they are launched. This could depend on various factors such as their intention, theme, company, and many more. ApeCoin is one such cryptocurrency that has got more than just a few people talking. For all the people surfing the internet to find out things about ApeCoin and how it works, here it is. 
What is ApeCoin (APE)?
ApeCoin is the utility token of the APE ecosystem. The Bored Ape Yacht Club (BAYC) — a collection of 10,000 unique Bored Ape NFTs —has also adopted ApeCoin as its utility token. By the way, who powers this token? These tokes are powered by the Ape Foundation and are managed and supervised by the ApeCoin DAO (what's a DAO?). So, if you are an APE holder, then by default you become a voter on the DAO. APE is an ERC-20 token, built on the Ethereum blockchain. A total of 1 billion tokens are in circulation for the trade. All 1 billion were minted in one go.
Who founded ApeCoin?
ApeCoin was launched to be used within the rapidly growing APE ecosystem. It aims to build an environment which is boosted by the APE Foundation one side and the ApeCoin DAO wants to make fair and inclusive APE tokens. The main goal behind this project is to provide an infrastructure for its users to collaborate through permissionless governance processes.
The project will also have its own 'board' or an administrative council, which can carry out the decisions and tasks of the ApeCoin DAO members. The voting of this board is carried out annually where APE DAO members will vote selecting the new board members.
How does APE work?
The BAYC is behind the creation of the APE tokens. These tokens are released to give ApeCoin DAO uninterrupted access to the APE ecosystem. The interesting thing here is that 62% of all ApeCoins were allocated to the Ecosystem Fund which will help in supporting the community-driven initiatives that will be voted on by APE DAO members. The project also gives access to exclusive games and services to its members.
Key features of APE
There are three main attributes that drive the Web 3.0 community by catering towards: Voting, Access, and Spending.
Voting: ApeCoin holders also become members in its DAO ecosystem which gives them the access to voting on any proposed changes for the long-term growth.
Access: APE also gives its members access to exclusive merchandise, games which are otherwise restricted for day-to-day users. Holders can get these games through ApeCoins.
Incentivization: The network participants who own this cryptos can even incorporate 'Bored Apes' into their projects under development. With this holders can use Ape avatars in games to services and many others.
Spending: Since APE is an ERC-20 utility token, it can also act as a crypto token allowing the community to make transactions amongst themselves.
Distribution of APE
As discussed above, nearly 62% of the total APE Coins are set aside for the DAO treasury. The other 38% of APE pool is set aside for 'initial contributors' and for the Jane Goodall Legacy Foundation which supports conservation efforts. In the first 90 days of the coin's existence, people who hold the combinations of NFTs from the Bored Ape Yacht Club, Mutant Ape Yacht Club, and Bored Ape Kennel Club can claim a certain amount of APE from the ApeCoin's website. As of now nearly 110 million APE tokens have been claimed by NFT holders.
How can APE be used?
Firstly, APE can be used for the governance purposes for the DAO. The famous mobile game, Benji Bananas (developed by Animoca Brands), is starting to adopt APE as its in-game currency. When users buy a Benji Bananas Membership Pass, they earn special tokens in-game which can be exchanged for APE tokens. Yuga Labs is also planning to use APE as its de-facto for all new projects, so you can always have an edge if you want to add it to your portfolio.
How you invest in APE & ApeCoin price
ApeCoin is already listed on various exchanges such as Binance, Coinbase, KuCoin, Huobi, Kraken, Bybit, FTC, etc. At the time of publishing this article, APE was trading at around the $11 mark.
Conclusion
ApeCoin seems like an interesting project, and promises potential. As always, YMMV, and we recommend you do your own research before investing for best results. Happy investing!