About POLYGON
Polygon is a layer 2 scaling solution for Ethereum, designed to improve its scalability and address issues related to high transaction fees and slow confirmation times. It aims to provide a framework for building and connecting multiple blockchain networks. Polygon achieves this through sidechains, which are independent blockchains that can be linked to the Ethereum mainchain. This architecture allows for faster and more cost-effective transactions while leveraging the security and decentralization of the Ethereum network.
The Polygon SDK enables developers to create their own customized blockchain networks, known as "Polygon sidechains." These sidechains can be optimized for specific use cases, such as decentralized finance (DeFi), non-fungible tokens (NFTs), and gaming applications. The native cryptocurrency of the Polygon network is MATIC, which is used for transactions, securing the network through staking, and participating in protocol governance.

When Polygon (MATIC) first came out in its Initial Coin Offering (ICO), its starting price was really low, at $0.004418. In January 2021, MATIC exploded above $0.1. This was due to gas fees increasing on the Ethereum network. By May 2021, it had reached an all-time high of $2.44.
We saw it fall to below $0.50 before it rallied up recently.
Market Overview
The crypto market has found its footing after the recent rally. Last month, we saw an 19.8% rise in the price of MATIC. Trading activity has also seen monthly highs. This is proof of the renewed interest in crypto since the last month.
Polygon (MATIC) Current price – $0.8244 (70.02INR)
24hr change – -0.80%
Market Cap – $7.65 billion
Trade volume (24h) – $570 million, +4,05% change in 24hrs
24hr low – 0.814
24hr high – 0.845

The market sentiment is neither positive nor negative. Investors are staying away from the market.
The crypto fear and greed index is at 72. This is in light of the Binance SEC case, and the index reveals that investors are still greedy in the market. There are several reasons, such as the pending approval of spot ETFs, increased interest from institutions, and growing open interest.

Technical analysis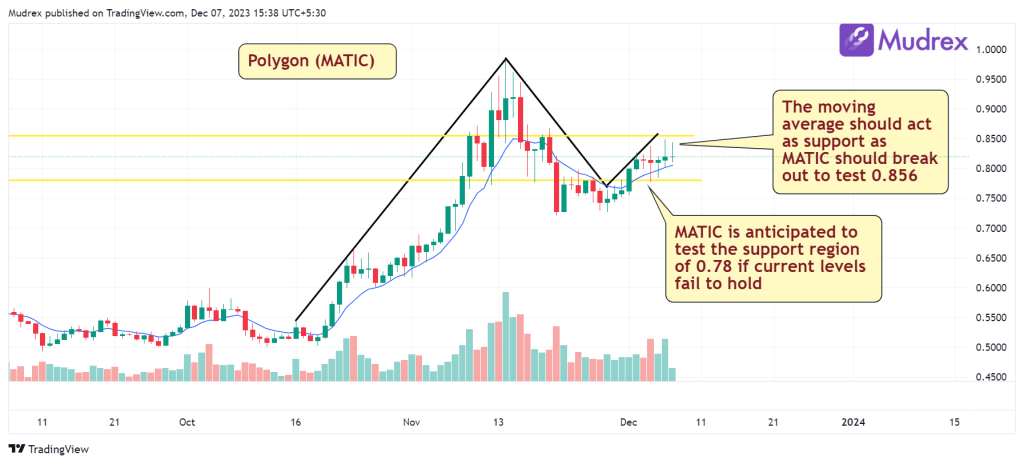 According to the observed pattern, we project a move-up with anticipated corrections. The moving average is acting as support after the price shift. We anticipate that Polygon will attempt to break out of these levels before moving up. However, if MATIC gets rejected, we can anticipate a move down to 0.78
Technical indicators
We use a set of 15 technical indicators to help us decide whether buying or selling a particular asset is a good idea. These indicators range from volume, strength index, moving average convergence, oscillators, and Bollinger bands. They give us a sense of the market sentiment around that asset, which can be useful for trading.
As of December 7, 2023, here's what our indicators tell us about MATIC
Nine suggest it's a good time to buy; Six are in a neutral zone, meaning they're accumulating MATIC
POLYGON SCORECARD ANALYSIS
| METRIC NAME | ACTION |
| --- | --- |
| Overall Rating | Strong Buy |
| Mass Index | Neutral |
| | |
| On Balance Volume | Buy |
| Moving Average Convergence Divergence | Buy |
| Accumulative Swing Index | Neutral |
| Stoch Relative Strength Index | Neutral |
| Relative Strength Index | Neutral |
| Guppy Multiple Moving Average | Buy |
| Hull Moving Average | Buy |
| Ultimate Oscillator | Buy |
| Super Trend | Buy |
| Aroon Up Down | Buy |
| Donchian | Neutral |
| Chaikin Oscillator | Buy |
| Chande Momentum | Neutral |
| Awesome Oscillator | Buy |
| Bollinger Bands | Neutral |
| | |
Monte Carlo simulation is a computer-based technique for understanding something that is hard to predict. Running many 'what-if' scenarios helps you see all the possible outcomes.
For example, looking at investment risks will show you the best and worst-case scenarios based on interest rates and market conditions. It's like rolling dice many times to know all the possible sums you can get. This helps in making informed investment decisions.

Our Monte Carlo simulations showed bulls are yet to drive the price up. We expect the price to move sideways before continuing its upward trend.

It is important to note that Monte Carlo simulations are based on statistical and historical data. They provide a range of possible outcomes and their probabilities, which can help traders and investors make more informed decisions. However, the accuracy of these predictions depends on the quality and relevance of the data used in the model.
Cryptocurrency prices are highly volatile and influenced by several factors. Monte Carlo simulations aren't foolproof, so always use your judgment and invest according to your risk appetite.
2024 Polygon Price Prediction
In 2024, Polygon (MATIC) anticipates steady growth with an expected rate of return of 57%. The price range expectation is projected to reach $1.29, offering potential highs of $1.83 and lows of $0.76. This signifies a year of measured expansion for Polygon, providing investors with diverse opportunities within the dynamic cryptocurrency market.
2025 Polygon Price Prediction
Moving into 2025, Polygon (MATIC) gains accelerated momentum with an expected rate of return at 119%. The price range expectation expands to $1.80, featuring potential highs reaching $2.80 and lows at $0.80. This year positions Polygon as an asset with significant potential surges, capitalizing on its growing presence in the blockchain space.
2026 Polygon Price Prediction
In 2026, Polygon (MATIC) continues its impressive growth trajectory with an expected rate of return at a remarkable 184%. The projected price range for this year is $2.33, offering potential highs of $3.83 and lows of $0.84. Polygon's exceptional performance reflects its market resilience and solidifies its position as a cryptocurrency with substantial upside.
2027 Polygon Price Prediction
Advancing to 2027, Polygon (MATIC) experiences continued expansion with an expected rate of return at an impressive 249%. The price range expectation is $2.87, featuring potential highs reaching $4.81 and lows at $0.92. This year signifies Polygon's potential to provide investors with lucrative opportunities, further establishing its prominence in the cryptocurrency market.
2028 Polygon Price Prediction
In 2028, Polygon (MATIC) presents a picture of substantial returns with an expected rate of return at 331%. The price range expectation rises to $3.54, offering potential highs at $5.98 and lows at $1.10. These figures underscore Polygon's potential for substantial returns, positioning itself as a dominant player in the cryptocurrency landscape.
2029 Polygon Price Prediction
The year 2029 projects unmatched growth for Polygon (MATIC), featuring an expected rate of return of 411%. The price range expectation surges to $4.20, with potential highs reaching $7.13 and lows at $1.27. Polygon's consistent performance positions it as an appealing choice for investors seeking significant growth opportunities.
2030 Polygon Price Prediction
Finally, in 2030, Polygon (MATIC) anticipates monumental expansion, projecting an estimated rate of return at an impressive 505%. The price range expectation reaches $4.98, with potential highs of $8.30 and lows of $1.65. This marks a pivotal year for Polygon, offering investors the prospect of substantial growth and solidifying its leadership in the evolving cryptocurrency market.
According to Coinpedia,

| | | | |
| --- | --- | --- | --- |
| Year | Minimum Price | Average Price | Maximum Price |
| 2025 | $2.62 | $3.84 | $5.06 |
| 2026 | $3.42 | $3.95 | $4.48 |
| 2027 | $4.45 | $4.94 | $5.43 |
| 2028 | $4.82 | $5.66 | $6.50 |
| 2029 | $6.26 | $6.85 | $7.45 |
| 2030 | $8.71 | $8.89 | $9.08 |
AMBCrypto's MATIC cryptocurrency price prediction forecasts lows of $0.91, highs of $1.37, and an average price of $1.14 by the end of 2023.
There is optimism surrounding MATIC. It would be exciting to see how the price action develops considering the utility offered.
Note that this outlook is speculative and derived from historical data and should not be considered financial advice.

These potential returns would outperform traditional market indexes, underscoring the immense global adoption expected for cryptocurrencies. Additionally, there's a prevailing belief that the total cryptocurrency market capitalization could reach $10 trillion in the coming years, which would likely see more penetration in terms of crypto users.

Is this a good time to buy MATIC?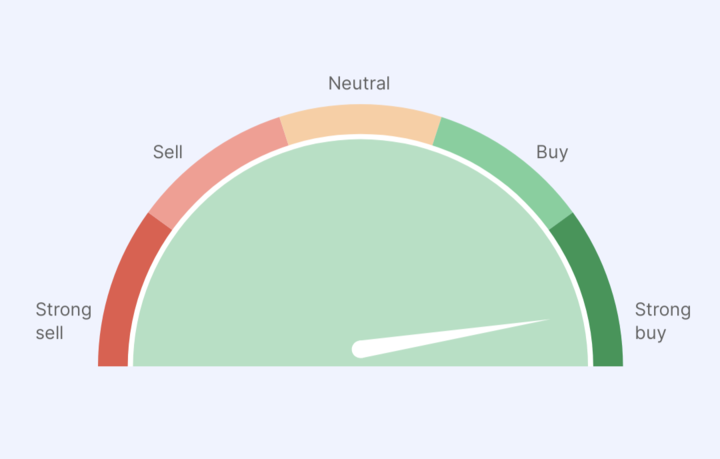 As per the technical indicators, investors are bullish on the market and grow confident about the market conditions. 
Overall, the MATIC price forecast is very optimistic, but we don't have any solid proof of this growth.
We suggest dollar cost averaging if you want to buy meme coins. It helps you accumulate the asset consistently without worrying about daily market rates. We recommend you follow a systematic investment plan to start investing with only what you can afford to lose.

Markets Ahead
With Bitcoin and crypto gaining popularity among institutions, it should not be long before people identify altcoins for their utility. Experts predict the crypto market cap could surpass $10 trillion as soon as the likelihood of a spot ETF approval grows. Many people think the SEC will listen to the market because cryptocurrency will grow significantly in the next few years. The upcoming halving event will help this growth.