Gone are the days when manual trading was the norm, especially for crypto. The crypto market is active round the clock, and it is impossible for a person to trade manually without losing out on profits. This is where trading automation comes in. Many crypto trading platforms offer users a chance to invest in pre-made trading strategies or build their own and automate their trades. Many professionals are now building and selling their own trading strategies, a process known as copy trading, social trading and mirror trading.
However, managing a crypto portfolio without the right set of tools can be tricky for traders. Therefore, many copy trading platforms have put in the work to provide their traders with the best tools for trading, investments, automation, and much more. This article hopes to save you some time searching for the best crypto trading platform by analysing the pros and cons of the three platforms. In this Shrimpy vs Mudrex vs Gunbot review, we will also score the platforms for each feature we review and provide a holistic overview.
Here's the Shrimpy vs Mudrex vs Gunbot comparison
Shrimpy
Shrimpy is a relatively new but fast-growing cloud-based social trading platform. Focusing majorly on portfolio tracking and rebalancing, Shrimpy is highly acclaimed when it comes to traders who are looking to automate their portfolio. Using Shrimpy, traders can copy the trading strategies of the Shrimpy leaders, and allocate their portfolio to the strategy of the leader of their choice. Moreover, anyone can create a crypto index, allocate their assets to different currencies, without having to use multiple exchanges. Users have the option to automate their trades and develop multiple portfolios to invest via different strategies. In this Shrimpy review, we will talk about its prominent features and some shortcomings.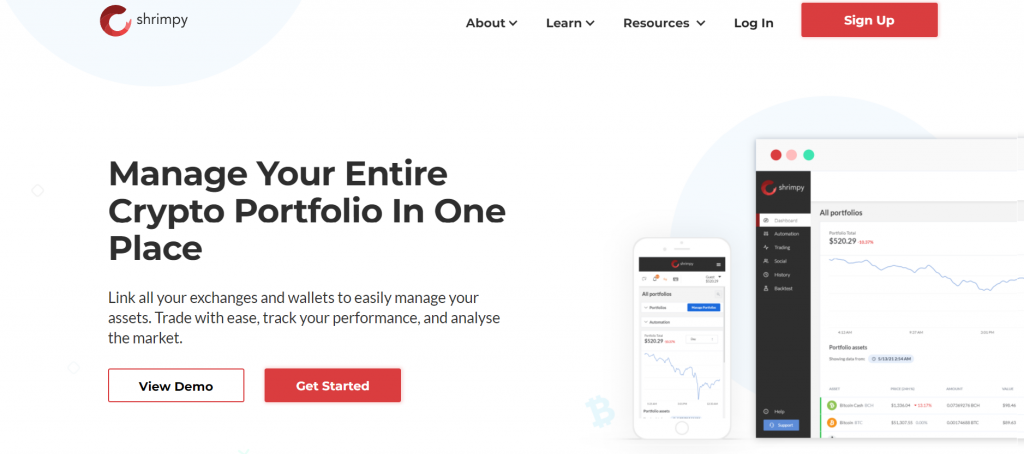 Mudrex
Mudrex, a cloud-based automated trading platform, offers two unique facets of automated trading. One is Mudrex Invest, where users can easily invest in trading bots created by expert traders. These bots are reliable and 100% automated. However, if you want to build your own trading strategies, you can create, backtest and execute them with Mudrex Build. This no-code feature helps you develop strategies using blocks, making it extremely easy to build trading strategies. The Mudrex platform has grown exponentially in recent times, majorly due to the ease of investment for its users. This Mudrex review will rate it on multiple features, while comparing it with the other platforms.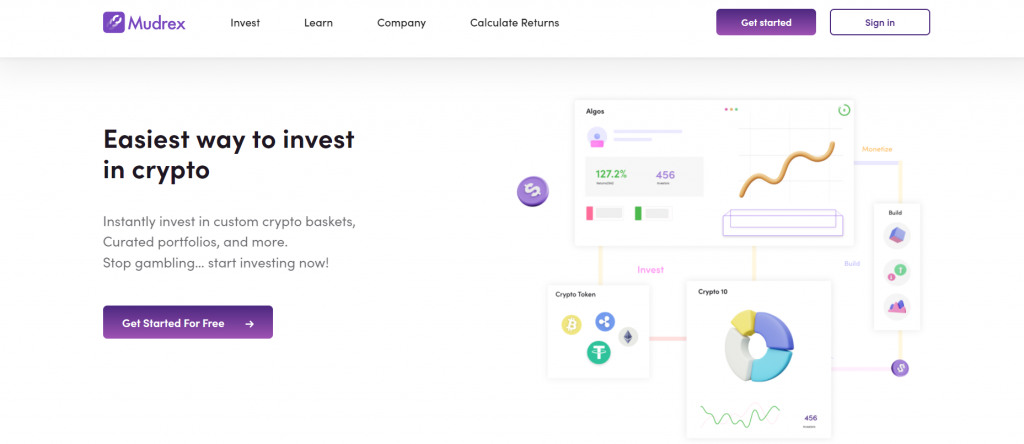 Gunbot
Gunbot is a locally-hosted automated crypto trading bot, where users can define their trading strategy, and the bot does the rest. Focused on user security, the bot only runs on your local computer, a Virtual Private Server (VPS) or a Raspberry Pi. It is easy to install and use, and traders have the option to use their own trading strategies or invest through multiple premade strategies. Moreover, one can add unlimited trading pairs while building a strategy across various exchanges. In total, Gunbot has the right tools for both beginner and experienced traders, with optimal security in place. In this Gunbot review, we will analyse its USPs and comparing it with other platforms.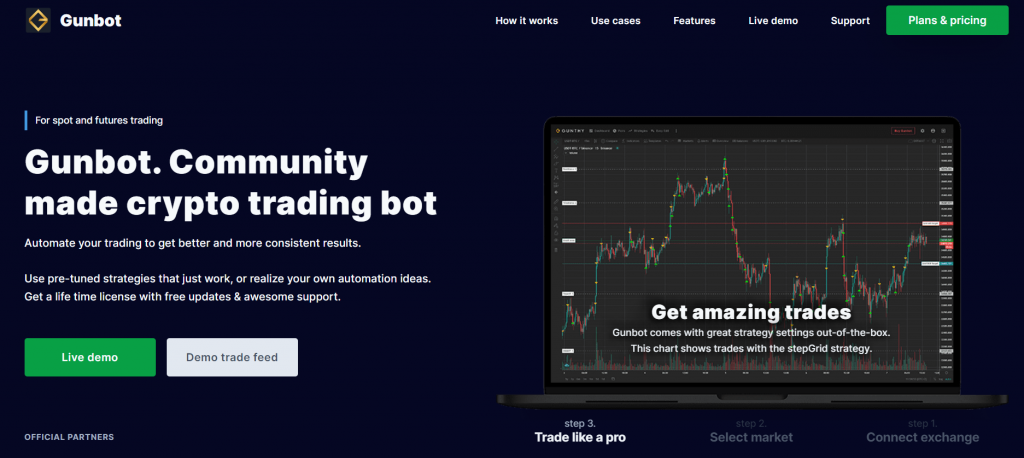 Shrimpy vs Mudrex vs Gunbot — A Review
In this Shrimpy vs Mudrex vs Gunbot review, we will score each platform on a number of features that are important to investors. These features include but are not limited to platform reliability, ease of investment, platform pricing and referral bonuses. Here's the final scores below, and the detailed Shrimpy vs Mudrex vs Gunbot review follows.
| | | | |
| --- | --- | --- | --- |
| Feature | Shrimpy | Mudrex | Gunbot |
| Platform Reliability | 8/10 | 9/10 | 8/10 |
| Trading Strategies and Profitability | 8/10 | 9/10 | 7/10 |
| Platform Pricing/Fee | 7/10 | 8/10 | 7/10 |
| Ease Of Investment | 7/10 | 9/10 | 6/10 |
| Post-Investment Tracking | 7/10 | 7/10 | 8/10 |
| Exchanges Supported | 8/10 | 6/10 | 9/10 |
| Community & Support | 7/10 | 9/10 | 8/10 |
| Referral Bonuses | 7/10 | 9/10 | 6/10 |
| Total Score | 59/80 | 66/80 | 59/80 |
#1 Platform Reliability
For any investor, a reliable platform is a must. Therefore, through multiple checks, we see how reliable these platforms really are.
Shrimpy Reliability
Originally launched in January 2018, Shrimpy boasts over $1 Billion in trades, and over 1,20,000 trades are executed on the platform every day. Created to help users manage their crypto portfolio while automatically rebalancing it across assets, this California-based platform has grown tremendously following its feature on Product Hunt. Built keeping user security in mind, Shrimpy offers 2FA security, limited API permission requirement and API encryption.
Mudrex Reliability
Based in San Francisco, Mudrex launched in 2019 and is backed by Y-Combinator. In a short span of time, the platform has reached over 10,000 users and has a total trade value of over $500 million to date. Keeping ease of investment and user security as its primary concerns, Mudrex offers a secure platform to its investors. Some of the security features of Mudrex include 2FA, exceptional support and minimal withdrawal permissions for APIs, eliminating malicious play.
Gunbot Reliability
The Gunbot automatic trading tool was created by a trader Gunthar De Niro back in 2016, with a vision to build a bot that would be easy to use for all traders, but would offer advanced trading features for anyone wanting to wield them. People loved the bot, and soon enough Gunthar hired a team to manage and augment the bot's capabilities. The platform now has over 10,000 users and is going strong. The platform is locally hosted on the user's personal machine, eliminating the downtime risk, so your traders are secure and always up. Moreover, the platform has minimal API permissions, which ensures no malicious withdrawals can take place.
For any crypto trader, choosing a reliable platform is a must. Keeping the platform security, age of platform and the user base in mind, we rank Mudrex at the top position in platform reliability.
Platform Reliability
| | | |
| --- | --- | --- |
| Shrimpy | Mudrex | Gunbot |
| 8/10 | 9/10 | 8/10 |
#2 Trading Bots/Strategies and Profitability
In the end, it is all about profitability. Therefore, we look at how these platforms help you make money.
Trading At Shrimpy
Investors at Shrimpy can automate their own trading bots, or invest in strategies created by social trading leaders on the platform. One can easily navigate to the social tab on the dashboard and check the leaders. Users have the ability to view results with filters such as the exchange, one-day performance, one-week performance, one-month performance, number of followers a leader has and the premium leaders. Once you click on a leader, you can see additional details about their portfolio.

Investors can easily view the top performing bots, and some of them are listed below with their returns in the past 30 days:

BOTCOIN: ~125%
CRYPTOGURU: ~123%
COXMBTC: ~120%
Trading At Mudrex
While investing at Mudrex, users can view the list of trading strategies by other traders at Mudrex Invest. These come with details such as the asset the bot trades in, total lifetime returns, number of investors in each strategy, a performance score by Mudrex rating each strategy after a risk vs reward analysis, total run time of the strategy, the monthly fee and the last 30 day returns. Mudrex offers multiple strategies across various cryptocurrencies, helping you invest easily and sleep while you trade.
Some of the top performing bots on the platform are:
SafetyFirst profit-trading
Daytrading & TrendSurfing on BTC
Hugonacci Lite Coinbase Pro GBP
Trading At Gunbot
Trading at Gunbot is filled with features and customisable options for traders. Simply, it is an expert trader's playground. When it comes to automating your own strategies, you can configure it as per your liking, and select the pairs you want the bot to trade on. There are multiple preset strategies in place, in case you do not want to build your own.
Investors can easily view there-made strategies, and some of them are listed below:
When it comes to platform profitability, clearly viewing the predefined trading strategies and their performance over multiple time periods is crucial. Therefore, Mudrex receives the highest score.
Trading Strategies and Profitability
| | | |
| --- | --- | --- |
| Shrimpy | Mudrex | Gunbot |
| 8/10 | 9/10 | 7/10 |
#3 Pricing / Platform Usage Fees
To many investors, the pricing of a platform matters more than the list of features it offers. If the price isn't right, many traders click the x button as soon as they can. Therefore, we look at the pricing model offered by these platforms.
Shrimpy Pricing
For investments, users can follow social trading leaders to invest in their strategies automatically. While most of these leader strategies are free, many strategies charge a fee from the assets you allocate to them, and/or the final profit the strategy makes. For example, one of the top-performing strategies at Shrimpy charges 0.1% of Assets Under Management and 10% of the total profits.
For platform fee, Shrimpy offers a simple pricing model. Basically, users can opt for a free trial which offers minimal features such as exchange connect, crypto price monitor and performance monitoring. Therefore, the free option only gives traders a sneak peek into the platform, nothing more. The paid model only has one plan, which is $13/month when billed annually, and users can unlock the full potential of the platform, with features including unlimited trading, unlimited social following, backtesting, extensive portfolio management and more.
Shrimpy also offers customised enterprise solutions, with additional features such as tax optimisation, account reconciliation and custom feature development. At Shrimpy, users can trade for as low as the exchange supports, which may vary as per the exchange and the crypto you are trading in.
Mudrex Pricing
In contrast to almost all other platforms, the Mudrex Invest platform does not charge any platform fee, and only charges a small fee when one invests in a trading bot. The minimum investment amount on the platform is $150 (exclusive of the strategy fee), and the bot fee can be as low as $5/month, varying according to the trading bot you invest in. However, Mudrex offers a unique feature called Mudrex Protect, which ensures a full fee refund if the strategy does not make any profit in a month.
However, if you want to build, backtest and deploy your own trading strategies, you can opt for the Mudrex Build platform. The platform offers a free version with minimum functionalities and a paid version with features such as unlimited backtests, 24×7 support and the ability to publish strategies on Mudrex. The paid plan costs $16/month when billed annually.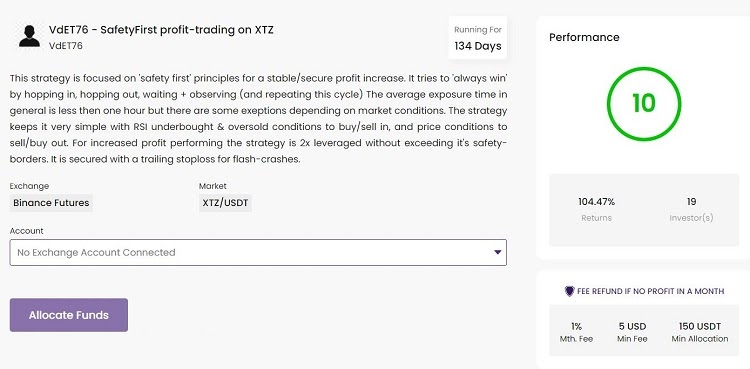 Gunbot Pricing
Unlike other major social trading platforms, Gunbot charges a one-time payment to receive access to the platform and its features. However, there are four different plan options available that traders can choose from. These are (at the time of writing) Starter (Ƀ 0.01), Standard (Ƀ 0.025), Pro (Ƀ 0.0375) and Ultimate (Ƀ 0.0625). Users can also opt for additional add-ons with their plan. A major concern with this pricing is that it is not constant, and will fluctuate according to the bitcoin price. The Gunbot license is sold through a network of global resellers, and while purchasing, ensure that you are dealing with an authorised reseller.
While a one-time fee may be a good deal for expert traders, new traders might stay away from the platform as they may not want to commit a large amount in case they quit trading soon. In terms of investment, the Gunbot tool does not post any limits to the minimum amount supported, and users can trade for as low as the exchange or currency supports.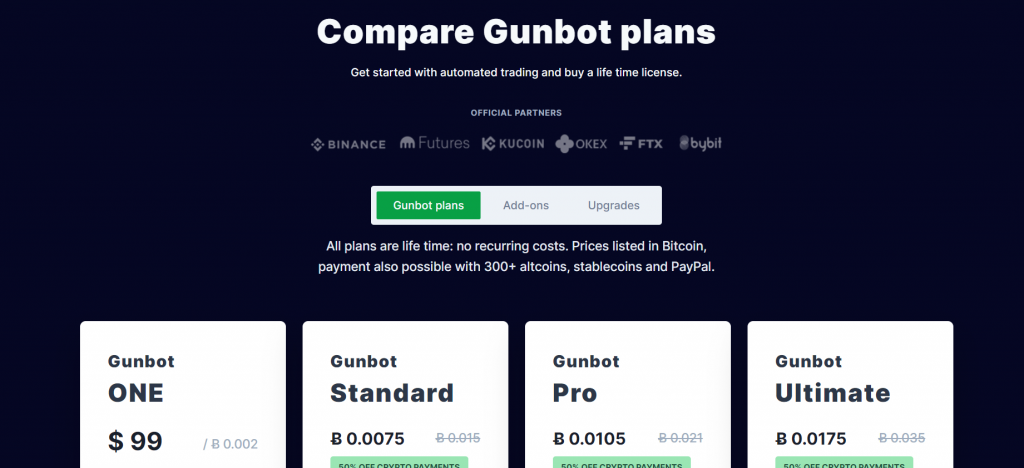 The usage fee is an essential factor for traders when deciding which platform to use. Therefore, Mudrex ranks at the top with its pay only when you invest model.
Platform Pricing
| | | |
| --- | --- | --- |
| Shrimpy | Mudrex | Gunbot |
| 7/10 | 8/10 | 7/10 |
#4 Ease of Investment
An investment platform should be easy to use, even for beginners. Therefore, we see how easily you can start investing on these platforms.
How To Start Investing On Shrimpy
Starting with Shrimpy is fairly easy as it offers an easy to use interface to its users. While Shrimpy is not available on mobile devices, its desktop version is quite beginner-friendly and provides a pleasing user experience.
Here's how you can start investing on Shrimpy:
Create/ Login to your Shrimpy account;
Start with the free trial, or pay the platform fee;
Connect the desired exchange with API keys;
Create your portfolio automation, or follow a social trading leader to invest with;
Select the amount, and you are good to go.
How To Start Investing On Mudrex
Mudrex offers its users the ability to start investing after only a few clicks. The simple UI helps users understand what they are doing, and the platform helps navigate the user to the next step effortlessly. The platform is currently unavailable on mobile devices, but its desktop version is quite handy for all traders.
Here's how you can start investing on Mudrex:
Create/ Login to your Mudrex account;
Connect the desired exchange with API keys;
Choose the bot you want to invest in and select the amount;
Pay the platform fee, and you are all done.
How To Start Investing On Gunbot
Gunbot is an advanced automated trading platform with multiple features to help traders. However, one needs to install software on their computer or a virtual server to start trading on Gunbot. The bot tends to affect the RAM usage, and it is often advised that a trader sets up a VPS to keep the bot running 24×7 effectively. Gunbot offers a clean UI with multiple features to help traders customise their automated trades, or invest in pre-made strategies for ease of use.
Here's how you can start investing on Gunbot:
Create/ Login to your Gunbot account;
Pay the membership fee for the platform via BTC or Paypal;
Install Gunbot on your computer or VPS;
Connect the exchange with Gunbot using API keys;
Create your own trading strategy or choose one of the pre-recorded strategies;
Choose the amount to invest;
Start running your bot, and you are done.
For any trader, the ease of investment is crucial while choosing a platform. Therefore, Mudrex tops the list with its easy to understand and use platform.
Ease Of Investment
| | | |
| --- | --- | --- |
| Shrimpy | Mudrex | Gunbot |
| 7/10 | 9/10 | 6/10 |
#5 Post-Investment Tracking
Tracking your investment portfolio is essential, and can help you make informed decisions for future investments. Therefore we look at how portfolio tracking works at these three platforms.
Portfolio Tracking At Shrimpy
Users can get a total overview of their portfolio with the Shrimpy dashboard. With a well-organised data presentation, Shrimpy showcases details such as each asset in the portfolio, performance over multiple time frames and other vital stats. Investors can also view the past performance of all the assets, right from the dashboard. Moreover, if one wishes to view their historical trades and other portfolio updates, Shrimpy offers a history tab for the same.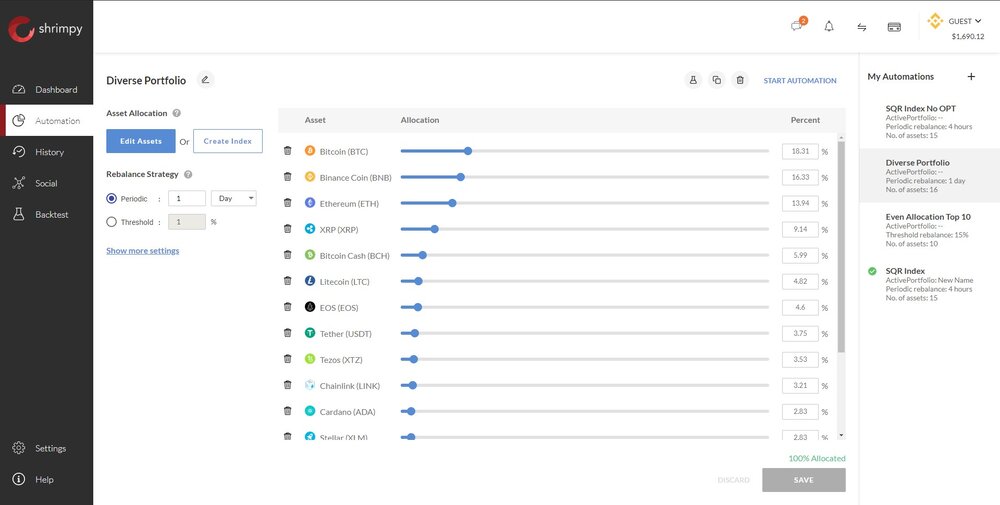 Portfolio Tracking At Mudrex
Mudrex is focused on providing its users with all details about their investments with simplicity. Therefore, traders at Mudrex can view the vital information right on the Invest dashboard. The details include the bots one has invested in, the total amount invested, the current value of the investment, the total returns in % of each bot, and the overall returns.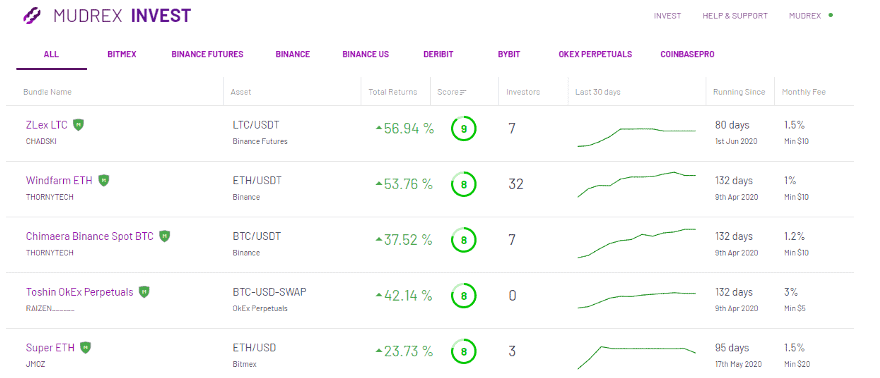 Portfolio Tracking At Gunbot
At Gunbot, users can track their portfolio through the Gunbot dashboard. The dashboard shows all recent trades, wallet balances, and other details, with visualisations for enhanced understanding. Moreover, users can have telegram integration with Gunbot, which will help them interact and track their investments through push notifications.
Post-investment tracking is vital to understand one's portfolio and subsequently, augment its growth. Taking into account the ease of investment tracking, Gunbot is highest-ranked.
Post-Investment Tracking
| | | |
| --- | --- | --- |
| Shrimpy | Mudrex | Gunbot |
| 7/10 | 7/10 | 8/10 |
#6 Exchanges Supported
As the number of crypto exchanges grows every day, the trading platforms must support as many exchanges as possible. Here we look at the exchanges supported by these three platforms.
Exchanges Supported By Shrimpy
Shrimpy supports 16 different exchanges, such as KuCoin, BiBox, Binance, Coinbase Pro, Bittrex and Kraken, to name a few.
Exchanges Supported By Mudrex
At Mudrex, users can invest through Coinbase Pro, Binance, Bybit, Deribit, OKEX and BitMex.
Exchanges Supported By Gunbot
Users at Gunbot have support for over 100 exchanges, but many exchanges have limited functionalities. Some of these exchanges include Binance, Bitmex, Kraken, Coinbase Pro, FTX and Bittrex.
As we consider the number of exchanges supported, Gunbot is ahead of the other two platforms and receives the highest rank.
Exchanges Supported
| | | |
| --- | --- | --- |
| Shrimpy | Mudrex | Gunbot |
| 8/10 | 6/10 | 9/10 |
#7 Community & Support
The platform support and its community come in handy when you run into a problem. Therefore, we look at the available channels you can get help from on these platforms.
Shrimpy Support
While users can reach the support via mail or chat, the Shrimpy community is extensive and active. Users can ask questions in the platform chat itself, while Shrimpy has an active presence on Discord, Telegram, Reddit and other social media channels. Shrimpy also has a large number of published blogs to help users understand the platform and crypto trading.
Here's how you can reach Shrimpy:
Email: support@shrimpy.io
Discord: discord.com/invite/NTk4yTm
Reddit: www.reddit.com/r/ShrimpyApp/
Mudrex Support
Users at Mudrex have access to a detailed FAQ section that can solve almost all account-related issues. Mudrex also has a pretty active Telegram and Discord community, and a presence on social media as well. For traders who want to explore the platform and get special insights, Mudrex offers a blog as well.
Here's how you can reach Mudrex :
Email: support@mudrex.com
Discord: discord.com/invite/qdXmm4N
Twitter: twitter.com/officialmudrex
Gunbot Support
Gunbot offers comprehensive support to its users. Once you join, you have access to private support groups with the Gunbot staff, swift email support and detailed documentation to get you through most account-related problems. Moreover, Gunbot offers an active Telegram group and a forum where users can voluntarily help each other. However, the platform has no official social media presence.
Here's how you can reach Gunbot:
Email: info@gunbot.shop
Telegram: @AitorRuiz
Blog: gunbot.shop/blog
When it comes to community and platform support, Mudrex ranks higher than the other two platforms, with its lightning-fast support and active communities.
Community & Support
| | | |
| --- | --- | --- |
| Shrimpy | Mudrex | Gunbot |
| 7/10 | 9/10 | 8/10 |
#8 Referral Bonuses
Referral programs are an integral part of many of these trading platforms. If you have a good crypto network, you can leverage it with the referral programs mentioned below. 
Shrimpy Referrals
Shrimpy's affiliate program offers 50% commission for the first three months on any payments made by the referred user. However, the commission caps at $30 per referred user. The referral bonus can be withdrawn once it reaches $20.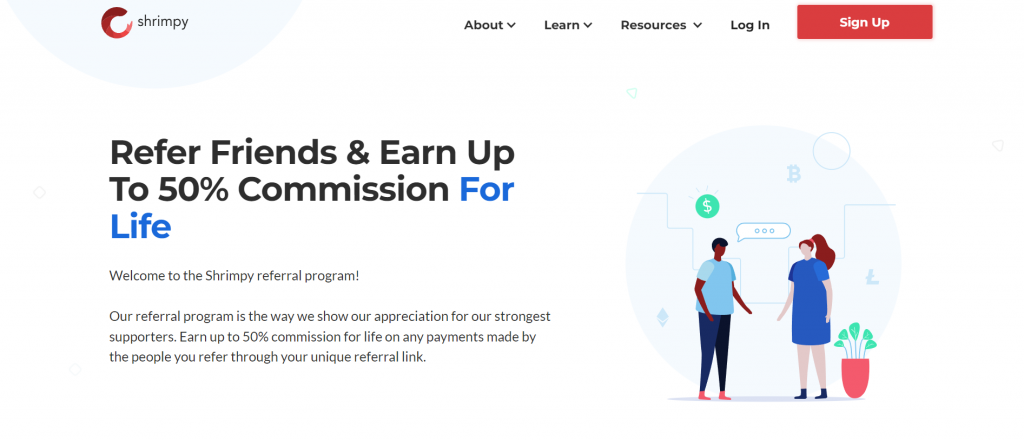 Mudrex Referrals
For each valid user you refer to Mudrex, you will receive a referral bonus of $25. Moreover, you will also receive 50% of whatever amount your referred user spends on Mudrex, without any limits. In addition, Mudrex often adds certain bonuses for referrals, allowing them to win additional prizes, such as more bonus amounts, prizes, and much more.

Gunbot Referrals
Gunbot has a two-step referral program for its affiliates. As a standard affiliate, you earn a 12% commission for their sale of the Gunbot license, while VIP affiliates get 15%. Each affiliate starts as a standard affiliate and will convert into VIP once they get their first weekly payment.

Mudrex offers a highly profitable referral program to its users, making it the highest-ranked platform in referrals bonuses.
Referral Bonuses
| | | |
| --- | --- | --- |
| Shrimpy | Mudrex | Gunbot |
| 7/10 | 9/10 | 6/10 |
Shrimpy vs Mudrex vs Gunbot — The Final Verdict
In recent times, cryptocurrency tools have become vital for traders, and these three platforms are a prime example of it. With a detailed Shrimpy vs Mudrex vs Gunbot review, we have clearly seen that each bot comes with its own set of features and limitations. No trading bot is perfect for all traders, and in the end, it depends on what kind of tools are you looking for in an automated trading platform.
But after the comprehensive analysis of all three platforms' pros and cons, Mudrex seems to be the best choice for traders. It is a reliable and easy to use platform with the utmost security and a plethora of features to automate your trades and earn while you sleep. It doesn't matter if you are just starting with trading or have become proficient in it. Mudrex is the high-performing automated trading platform you are looking for.
Let your trades work on autopilot. Get consistent returns with Mudrex.