About Solana
SOL is the native token of Solana, a Layer 1 Blockchain that supports smart contracts and dApps. The blockchain lets users spend less and benefit from faster speeds. Many NFT Marketplaces and DeFi Platforms, like Hyperspace and Sollible, are built on Solana. Solana's Layer 2 focuses on connecting Solana with different blockchains. Solana combines Proof-of-History (POH) with Proof-Of-Stake (POS), making a unique consensus mechanism.

PoH timestamps transactions before they are included in a block, providing a historical record that helps nodes reach consensus more efficiently. This innovative approach allows Solana to achieve high throughput and low transaction costs, making it an attractive option for developers seeking a scalable and cost-effective blockchain solution.
Despite its strengths, Solana faces concerns about token concentration among large holders, posing questions about decentralization. Becoming a validator on Solana requires substantial investment, potentially limiting the accessibility for smaller participants. Nonetheless, the blockchain maintains a stable roadmap for future development, prioritizing scalability.
However, the downtimes and congestion on the network have raised questions about the platform's operability.
Solana Market Overview

The crypto market has seen a significant rally. The last month has seen a 55.98% rise in the price of SOL. Trading activity has also seen monthly highs. This is proof of the renewed interest in crypto since the October.
24hr change – +4.21%
Market Cap – $26.75 billion
Trade volume (24h) – $2.27 billion, +8.67% change in 24hrs

24hr low – 59.25
24hr high – 64.58
There is a bullish sentiment in the market. Investors are growing increasingly confident about the market. The crypto fear and greed index is at 72. This has caused investors to become greedy in the market. There are several reasons, such as the pending approval of spot ETFs, increased interest from institutions, and growing open interest.

Technical analysis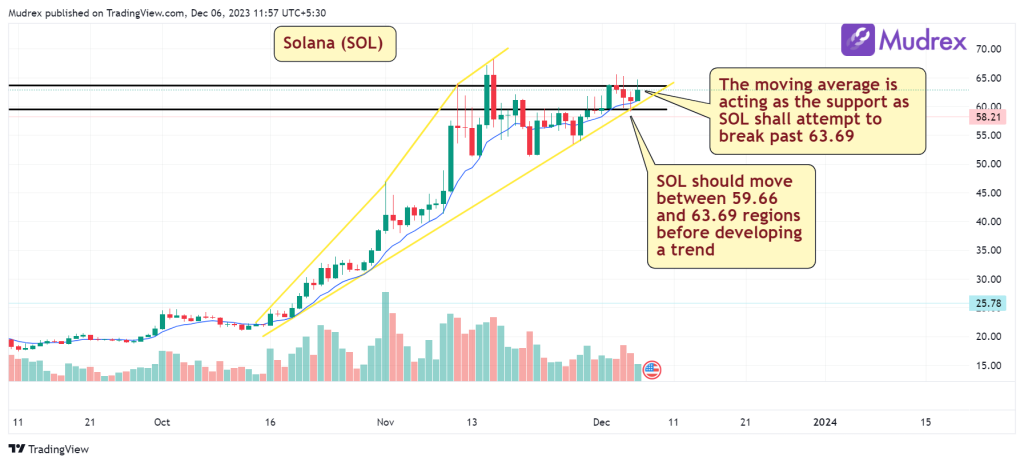 According to the observed pattern, we anticipate that SOL could move up with corrections along the way. There is a possibility it may test the resistance at 63.69. The moving average currently acts as support, and SOL will test 59.66 if current levels fail to hold.

Technical indicators
We use a set of 15 technical indicators to help us decide whether buying or selling a particular asset is a good idea. These indicators range from volume, strength index, moving average convergence, oscillators, and Bollinger bands. They give us a sense of the market sentiment around that asset, which can be useful for trading.
As of December 6, 2023, here's what our indicators tell us about Solana
Five suggest it's a good time to buy; Nine are in a neutral zone, meaning they're not leaning toward buying or selling. These indicators recommend waiting till we see a price pattern emerge before entering the market.
SOLANA SCORECARD ANALYSIS
| METRIC NAME | ACTION |
| --- | --- |
| Overall Rating | Buy |
| Mass Index | Neutral |
| | |
| On Balance Volume | Neutral |
| Moving Average Convergence Divergence | Neutral |
| Accumulative Swing Index | Neutral |
| Stoch Relative Strength Index | Neutral |
| Relative Strength Index | Neutral |
| Guppy Multiple Moving Average | Buy |
| Hull Moving Average | Buy |
| Ultimate Oscillator | Neutral |
| Super Trend | Buy |
| Aroon Up Down | Buy |
| Donchian | Neutral |
| Chaikin Oscillator | Sell |
| Chande Momentum | Buy |
| Awesome Oscillator | Neutral |
| Bollinger Bands | Neutral |
| | |
Monte Carlo simulation is a computer-based technique for understanding something hard to predict. Running many 'what-if' scenarios helps you see all the possible outcomes.
For example, looking at investment risks will show you the best and worst-case scenarios based on different variables like interest rates and market conditions. It's like rolling dice many times to know all the possible sums you can get. This helps in making informed investment decisions.

Our Monte Carlo simulations had shown that Solana would test the resistance at 56. Now, the bulls are firmly in control over the market. We expect the price to correct before continuing its upward trend.

It is important to note that Monte Carlo simulations are based on statistical and historical data. They provide a range of possible outcomes and their probabilities, which can help traders and investors make more informed decisions. However, the accuracy of these predictions depends on the quality and relevance of the data used in the model.
Cryptocurrency prices are highly volatile and influenced by several factors. Monte Carlo simulations aren't foolproof, so always use your judgment and invest according to your risk appetite.
2024 Solana Price Prediction
In 2024, Solana is expected to continue its impressive trajectory with an estimated rate of return of around 5%, maintaining stability with a price range expectation of $57.20. There's potential for Solana to reach a high of $74.36 and a low of $45.76, offering investors a range of opportunities within this year..
2025 Solana Price Prediction
The subsequent year, 2025, is poised for even more substantial growth, with an expected rate of return of 117%. Solana's price range expectation is projected to expand to $117.79, offering potential highs of $153.13 and lows of $94.23. As Solana's adoption in the DeFi space continues to gain momentum, it positions itself as a promising asset in the ever-evolving blockchain landscape.
2026 Solana Price Prediction
In 2026, Solana continues its meteoric rise with an expected rate of return of a staggering 354%. The price range expectation for this year is $246.61, with a potential high of $320.59 and a potential low of $172.63. Solana's exceptional performance further solidifies its position as a cryptocurrency with immense growth potential.
2027 Solana Price Prediction
As we advance to 2027, the projected rate of return for Solana reaches an astonishing 858%. The expectation price range is $520.92, with a potential high of $729.29 and a potential low of $312.55. Solana's remarkable trajectory suggests it may become a significant player in the cryptocurrency market, offering lucrative opportunities for investors
2028 Solana Price Prediction
In 2028, Solana presents a remarkable expected rate of return at 1641%. The price range expectation increases to $946.64, with a potential high of $1,325.29 and a potential low of $567.98. These figures showcase Solana's potential to provide substantial returns for investors.
2029 Solana Price Prediction
The year 2029 projects a striking rate of return, with an expected rate of 3388%. The price range expectation is $1,896.49, and the potential high surges to $2,655.08, with a potential low of $1,137.89. Solana's performance continues to impress, making it an attractive choice for investors looking for significant growth.
2030 Solana Price Prediction
Finally, in 2030, Solana anticipates remarkable growth with an estimated rate of return of 6009%. The price range expectation reaches $3,321.61, with a potential high of $4,982.41 and a potential low of $1,660.80.
According to Coinpedia,

| | | | |
| --- | --- | --- | --- |
| Year | Minimum Price | Average Price | Maximum Price |
| 2025 | $109.91 | $121.2 | $132.49 |
| 2026 | $157.6 | $184.3 | $210.95 |
| 2027 | $180.6 | $221.6 | $262.62 |
| 2028 | $245.6 | $288.3 | $331 |
| 2029 | $308.5 | $356.3 | $404 |
| 2030 | $387.9 | $459.1 | $530.4 |
As for Cryptonewsz,

| | | |
| --- | --- | --- |
| Year | Minimum Price | Maximum Price |
| 2023 | $19.29 | $48.07 |
| 2024 | $40.90 | $58.87 |
| 2025 | $52.02 | $74.88 |
| 2026 | $66.32 | $95.47 |
| 2027 | $83.51 | $120.22 |
| 2028 | $106.13 | $152.79 |
| 2029 | $135.44 | $194.98 |
| 2030 | $170.93 | $246.07 |
Raoul Pal, the founder & CEO of Real Vision predicts a 20x move for Solana considering the utility offered.


There is optimism surrounding Solana, which predicts a 5x return in over 7 years.
Note that this outlook is speculative and derived from historical data and should not be considered financial advice.

These potential returns would outperform traditional market indexes, underscoring the immense global adoption expected for cryptocurrencies. Additionally, there's a prevailing belief that the total cryptocurrency market capitalization could reach $10 trillion in the coming years, which would likely see more penetration in terms of crypto users.


Is this a good time to buy Solana?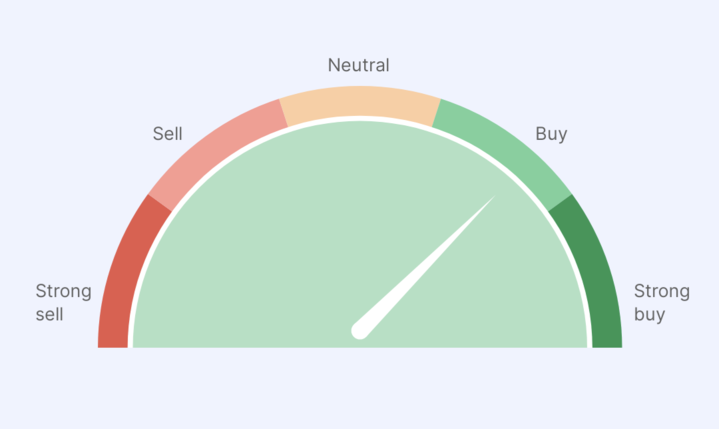 The market sentiment is bullish, with investor confidence strong in buying Solana.
Overall, the SOL price forecast is optimistic, but we don't have any solid proof of this growth.
SOL's utility and real-world application suggest that the adoption levels should rise with the blockchain revolution.
We suggest dollar cost averaging. It helps you accumulate the asset consistently without worrying about daily market rates. We recommend that you follow a systematic investment plan to start investing.

Markets Ahead
With Bitcoin and crypto gaining popularity among institutions, it should not be long before people start to identify altcoins for their utility. Experts predict the crypto market cap could surpass $10 trillion as soon as the likelihood of a spot ETF approval grows. Many people think the SEC will listen to the market because cryptocurrency is expected to grow a lot in the next few years. The upcoming halving event will help this growth.