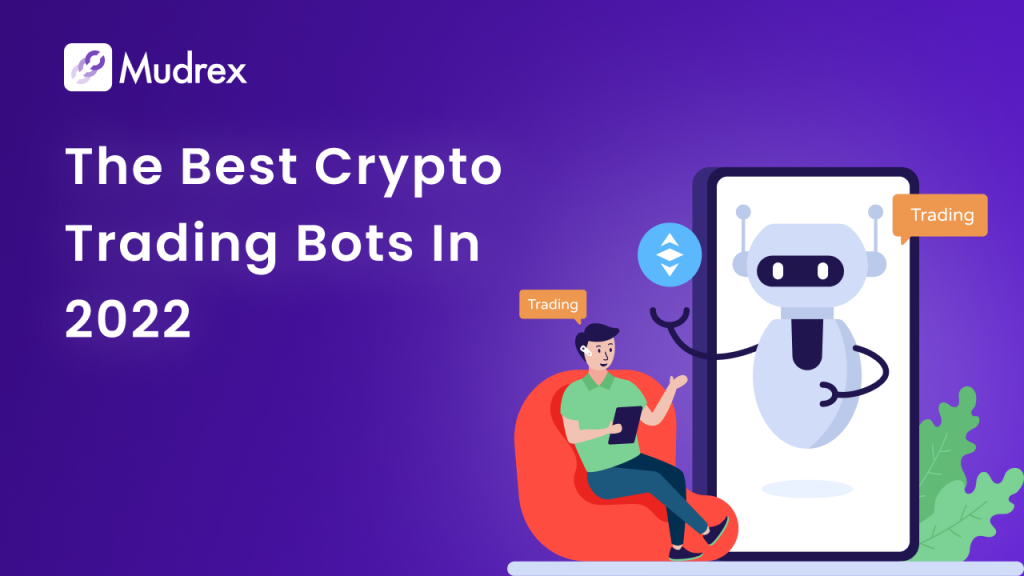 Cryptocurrency has emerged as one of the most sought-after trading markets in recent times, and a pool of new investors is adding crypto to its portfolio every minute. While the prices have grown significantly in the past few years, so has the trading opportunities for many. But the crypto market is highly volatile, witnesses sharp jumps now and then, and is active round the clock. There are a plethora of exchanges, hoards of markets, and countless groups to give you tips and tricks to generate profits. Making consistent returns in such a market with manual trading is extremely difficult. Therefore, many traders are now moving towards cryptocurrency trading bots, which are computer programs built to ease out the trading process for traders.
This article will look at the basics of trading bots, their features & shortcomings, and highlight the top trading bots to look out for in 2022.
What is a Crypto Trading Bot
A trading bot is nothing but software that executes a set of instructions on the financial market. In the case of a cryptocurrency trading bot, the bot interacts with the crypto exchange, analyses market data and then places buy/sell orders as per the instructions stored in it. These bots follow these rules to monitor activity in the market and generate returns. While many crypto bots come with pre-defined strategies, some have the option for the user to customise them as per their own preferences.
These crypto trading bots are majorly used in two use cases. First, they make the trading process extremely simplified, and investors can leave out tasks such as portfolio diversification, rebalancing, and much more to the crypto bot. However, one can also use the crypto trading bots to study the market, analyse the trends and consistently make profits. Many bots even bet against the market to build profits. It all depends on the strategy coded into the bot.
Why Should You Use Cryptocurrency Trading Bots?
A well-executed bot can perform a lot of functions, which includes executing trades, portfolio management, data collection, rebalancing, and a lot more. In a market where there are 100s of exchanges, countless currencies, and 24×7 trading opportunities, crypto trading bots are becoming extremely vital. Here's why you should use cryptocurrency trading bots.
Automating Repetitive Tasks
If you trade regularly, there are certain tasks that take up a lot of time and effort. Using crypto trading bots can help you automate these tasks and save up precious time. One such task is rebalancing your crypto portfolio, and if you want to rebalance it frequently, it takes up precious time to do so. Using a cryptocurrency trading bot can help you rebalance your portfolio automatically, at the frequency you choose. Moreover, it can rebalance your portfolio on its own, even when you are sleeping.
Executing Trades Lightning-Fast
Timing is critical when you are trading cryptocurrency. The price changes every second, and the thin line between profit and loss can be timing. If you do every trade manually, every single trade will take some time and can have a severe impact on your potential profits. The bot, however, can automatically execute the trade as soon as the price threshold is reached and do it in an instant.
Ease Out The Trading Process
There are a lot of profitable trading strategies, but very difficult to execute manually. Moreover, keeping track of prices across exchanges and managing trades keeping all prices in mind is highly complicated. Here, traders can use crypto trading bots to automate these complex strategies and time-consuming tasks with ease and efficiency.
Types of Crypto Bots
While one can encode numerous strategies into bots, we will look at the four main types of cryptocurrency bots. These are:
Arbitrage Crypto Trading Bots
Since there are multiple exchanges on the market, the price of a cryptocurrency can vary across exchanges. While these price differences are usually not significant enough, the difference can be monumental when coupled with a large enough volume. An Arbitrage trading bot profits off this difference, as it purchases an asset for a lower price and sells it higher, both at different exchanges.
Market Trend Crypto Bots
These bots predict the market trends and create trades accordingly. These bots take positions, both long and short, and generate returns through multiple market cycles, even if the trend changes. These bots are generally long-term; therefore, many trades also return losses.
Market Neutral Cryptocurrency Bots
These bots create buy and sell orders based on short-term price changes and usually do not depend on the market trends. These bots try to generate profits from short-term price rise and fall and are not suitable for long-term returns. While most of their trades might return profits, they'll be riddled with transaction fees.
Portfolio Balancing Crypto Bots
The portfolio balancing cryptocurrency bots don't actively trade but focus on building the portfolio as desired by the user. Most people use these bots to take care of repetitive tasks by automating them.
Pros And Cons Of Using A Crypto Trading Bot
Much like any other asset to trading, crypto bots are not just a bed of roses. While using the correct cryptocurrency trading bot may bring in consistent and exponential returns, some inevitable snags and risks cloud these bots. Therefore, you should understand both the pros and cons of using a cryptocurrency trading bot.
Pros Of Using A Cryptocurrency Trading Bot
Emotionless Trading: Since the crypto market is highly volatile, price fluctuations are common. However, manual traders sometimes make impulsive trades during market trends based on their emotions. Crypto trading bots, however, eradicate the emotions from trading and execute orders according to the market data and their pre-defined strategy. This removes any feelings that may cloud the trader's judgment in the case of a market crash or sudden price surges.
Trade 24×7: The cryptocurrency market is active round the clock, and even the most dedicated traders cannot trade all the time manually. These crypto trading bots run 24×7, actively monitoring the market and making trades accordingly, without any intervention required. Therefore, you can sleep even while you trade.
Execute Trades Lightning-Fast: Speed is vital when it comes to trading. Even a delay of a few seconds can be the difference between profits and losses. In manual trading, humans take some time to set up and execute trades, taking a few seconds. However, bots execute trades near instantaneously, taking advantage of price changes as soon as they occur.
High Efficiency: Crypto trading bots are highly efficient in studying different markets and executing the set strategy according to the data available. While humans can only research and learn so much, bots have no limitations. These crypto bots spot opportunities that a human trader might miss, thus, augmenting your profits.
Cons Of Using A Cryptocurrency Trading Bot
Prone To Hacking: While this depends on the bot's security, they are prone to hacking and may lose funds. This can be done through API or even directly from the exchange if the bots or the accounts are not secured well.
Require Monitoring: Automated cryptocurrency trading bots can indeed function round the clock without any human intervention, you might still need to keep an eye on it to adjust them according to your changing investment strategy or changing markets. While the bot analyses the market, they are not equipped to keep track of all things going outside the crypto market but might affect it a lot. Things like mergers, scams, massy buy/sell announcements can impact the market, but your bot may not know it. In that case, they might not take this into account without human inputs, and trade based on the old strategy.
Top Crypto Bots To Look Out For In 2022
While there are many bots available in the market, below, we look at the top crypto trading bots. We will rank these bots on features such as their reliability & security, platform pricing, profitability, and ease of investment. So, here are the top crypto bots that you should look out for in 2022.
Mudrex
Mudrex was launched in 2019 and is a Y-Combinator-backed cloud-based automated crypto algorithm marketplace that has amassed over 20,000 investors and a total trade value of nearly $1Billion. At Mudrex, traders can either invest in 100% automated cryptocurrency trading bots created by expert traders or build their own. The process to invest is extremely easy, and one can invest in just a few clicks. Mudrex has applied certain comprehensive security features to help users invest securely, such as 2FA, API integration with no withdrawal permissions, and lightning-fast customer support.
At Mudrex Invest, users don't have to pay any fee to use the platform but only pay a small fee while investing, which can be as low as $5. However, if a user wants to build their own bot using Mudrex's drag and drop visual editor, they will have to pay $16/month to unlock the platform's full potential.
TradeSanta
Launched in 2018, TradeSanta is a cloud-based automated trading platform with over 40,000 active users and 12,000 active crypto trading bots. Users can invest easily on the platform through multiple premade strategies or automate their own trades. TrandeSanta is a secure platform with features such as 2FA, no withdrawal permission API integration and extensive customer support. TradeSanta has three subscription packages for its users, which are Basic ($14/month), Advanced ($20/month), and Maximum ($30/month), with varying features.
eToro
eToro is one of the oldest social trading platforms globally and was launched exclusively for stocks in 2017 and added cryptocurrency in 2017. The platform has over 13 million registered users, and it is still growing fast. While the platform is secure, users have to add money to their eToro account to trade rather than using APIs. At eToro, users can follow other traders and their investment strategies or automate their own trades. The UI, however, is a bit comprehensive and might be confusing for novice traders.
There is no platform usage fee on eToro, and users can copy other trader's strategies for free as well. However, when you buy cryptocurrencies from the platform, the platform has a spread fee varying according to the crypto. Moreover, the platform also charges a withdrawal fee of $5, and a standard crypto transfer fee may also apply.
Shrimpy
Shrimpy is a cloud-based social trading platform with over $1 Billion in trade volume, with over 1,20,000 daily trades. The platform was built majorly to help users automate their crypto portfolio. To help users invest securely, Shrimpy offers features such as 2FA, no withdrawal API integration and extensive API encryption.
The platform has two plans for its users, a free plan with minimal features to help users get started and a paid plan at $13/month to unlock the platform's full potential and an extensive feature list. The platform is very easy to use, and one can start investing in it in just a few clicks.
Zignaly
Zignaly is a Singapore-based crypto trading platform that offers copy trading, automated trading bots, and a trading terminal for its users. Users can either invest in pre-made crypto bots created by other expert traders on the platform or automate their own bots using a pool of technical signals. While investing in Zignaly is easy and secure, users have to deposit their funds on the platform instead of trading via APIs.
While users don't have to shell out any fee to use the platform while investing in crypto trade bots created by other traders, users might have to pay a fee between $5-$500 depending upon the bot they choose. Moreover, some strategies also work on a profit-sharing basis and charge anywhere from 10% to 50% success fee from profits.
| | | | | | |
| --- | --- | --- | --- | --- | --- |
| Feature | Mudrex | TradeSanta | eToro | Shrimpy | Zignaly |
| Platform Reliability & Security | 9/10 | 8/10 | 9/10 | 8/10 | 8/10 |
| Platform Pricing/Fee | 8/10 | 7/10 | 7/10 | 7/10 | 8/10 |
| Ease Of Investment | 9/10 | 7/10 | 7/10 | 7/10 | 7/10 |
| Trading Strategies and Profitability | 9/10 | 7/10 | 8/10 | 8/10 | 8/10 |
| Total Score | 35/40 | 29/40 | 31/40 | 30/40 | 31/40 |
What To Consider While Choosing Best Crypto Trading Bot
There are hundreds of crypto trading bots available in the market, and it is essential to choose the right platform for all your investment needs. Therefore, you should really consider these things before investing in any trading bot.
Also Read: 5 Key Steps To Keep In Mind While Making Your Own Trading Bot
Reliability
One of the key features to look for in a bot is its reliability. Now, the reliability of the bot can be checked in two ways. One, in the bot's technical side. Does the bot suffer from glitches a lot or consistently goes offline? Is the bot not executing trades in a timely fashion, making people lose out on precious profits? These questions can be answered through reviews of other users and should be looked at comprehensively.

On the other hand, the reliability of the platform should also be checked out by looking for answers to questions such as how old is the platform, is it profitable or not, does it have a strong team behind it, are there any reports of scams on it and if it has a good user base? A reliable platform is a must while investing to save yourself from malicious transactions or unworthy bots.
Security
The security of a bot is critical, considering it deals with your funds. While most platforms don't require you to invest directly into their bots and work with an API integration that doesn't have withdrawal permissions, the bot still trades with your funds. If there is insignificant security on the platform, hackers might target your funds through the API with malicious intents. Therefore, once you choose a bot, make sure it has a proven track record for security. Also, look at the team behind ensuring the security of the bot and their credibility. Most secure platforms actively promote their security team, so that can be a good sign.
Easy To Use And Invest
Cryptocurrency trading bots are built to make trading easier for all traders, and that is what you should look for in a bot. If investing in a crypto bot requires you to be on your toes for an extended period of time, it might not even be worth it. Many platforms today help you invest in just a few clicks, with an intuitive UI matching the expertise level of all traders. Moreover, once you invest, you might need the help of customer support. Therefore, make sure the bot has active and reachable support that can solve your problems soon enough.
Profitability
Everything that happens in trading is to generate profits. A crypto trading bot is only good if it creates consistent returns for its users. Therefore, before you invest in a bot do backtesting, i.e check out the bot's past performance and read reviews for the specific bot. However, past performance doesn't always guarantee future profits, so tread with caution.
A bot is only effective if it is consistently achieving profits for its users.
Pricing
While some bots are available for free, users have to pay to use some. Usually, paid bots are higher in quality than free bots, but it all depends on the budget you have and if the past profits are even worth the investment. Moreover, some platforms charge an additional subscription fee even to use the platform, and if you are using a bot on these platforms, make sure you factor that cost into the profits as well.
Final Thoughts
While a trading bot can never replace a human trader, crypto trading bots have made trading substantially easy for all traders. Using a cryptocurrency trading bot can remove emotions from trading, increase efficiency, and execute strategies that are virtually impossible to execute manually. Not only this, they work round the clock, helping you sleep while you trade. But as we have discussed, not everything that shines is gold, and these crypto trade bots have some shortcomings as well. Therefore, before you invest, make sure you do your due diligence in the bot you wish to invest in.
With so many crypto trading bots now available in the crypto market, it is essential to find a reliable, secure and profitable bot for your investment portfolio. Mudrex is a crypto algorithm marketplace, which brings crypto investments to everyone. Invest in 100% automated crypto trading bots built by top crypto experts, and invest with high security and reliability. Get features such as no platform usage fee (nominal fee when you invest), fee refunds if the bots do not generate profits, risk vs reward performance score for each strategy, high referral bonuses and a lot more.
It is safe to say, Mudrex is the high-performing automated trading platform you are looking for.
Let your trades work on autopilot. Get consistent returns with Mudrex.