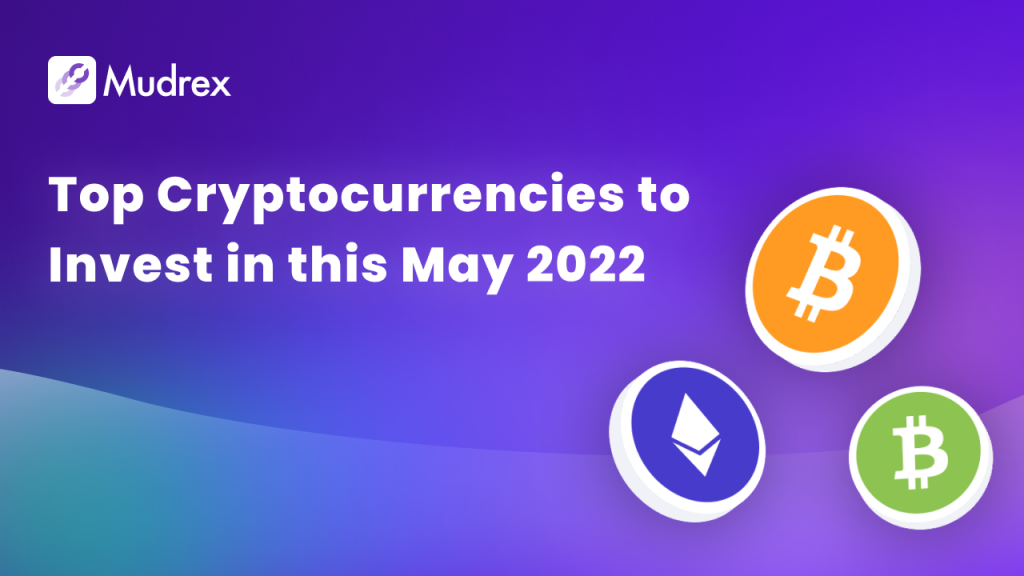 In less than a decade, cryptocurrency grew at a rapid pace grabbing attention of many globally. In 2013 there were only seven cryptocurrencies listed on the Coin Market Cap, it was easy for people to pick. But, in 2022, there are 10,363 cryptocurrencies listed, making things tricky for new and old users. To help you determine the best for your portfolio, here are the top cryptocurrencies to invest in this May 2022.
Top cryptocurrencies to invest in May 2022
ApeCoin (APE)
ApeCoin has been in the news for quite some time now. It is because of its plots of virtual land on Otherside and its yet-to-be-released metaverse platform. APE is not directly issued by Yuga Labs, the company that owns Bored Ape Yacht Club, which runs on a decentralized autonomous organization called ApeCoin DAO.

The coin jumped as much as 90% on its second day of trading post the launch in March, 2021. The crypto grew more than 20% over the past year. Being a high-risk investment, it has the potential to give out high returns. Suppose you are one investor who believes that the BAYC ecosystem and Yuga Labs can outperform the market. In that case, ApeCoin could be a good idea to capture the ecosystem's increasing value. 
Check out our Latest Binance Tokens Coin Set and To The Mooooon Coin Set in which APE is listed.
Ethereum (ETH)
Ethereum is an open-source, public blockchain. It allows the end-users to run a custom code with the help of its smart contracts. ETH with the second-largest market cap is responsible for nearly 20% of the overall market. The project is appreciated worldwide for its blockchain technology. ETH has the top most smart contracts, NFTs and many tokens are built on it.

The most exciting thing about ETH is its upcoming upgrade to proof-of-stake from proof-of-work. The upgrade is likely to make transactions more efficient and faster is a real game-changer. ETH serves as money on one hand and also can be a store of value on the other side. For these reasons Ethereum is one of the top cryptocurrencies to invest in this May 2022.
Check out our Crypto Blue Chip Coin Set and Smart Contracts Platforms Coin Set in which ETH is listed.
Polygon (MATIC)
Polygon is a layer-2 protocol that allows transactions on Ethereum to be made off the main network to lower the transaction fees to the end-users. MATIC is one of the top cryptocurrencies to invest with higher market cap. Polygon is a protocol optimistically to improve the shortcomings of Ethereum. This crypto has seen a great increase in its price in 2021 and is continuing to perform better with its technology. It allows up to 65,000 transactions per second on each side chain.

Polygon aims to offer a framework for blockchain networks that would allow users to create interconnecting blockchain networks. Also, the platform with more than 7,000 decentralized apps running on it, can to be relevant in the long term.
Check out our New Crypto Stars Coin Set and To The Mooooon Coin Set in which MATIC is listed.
STEPN (GMT)
STEPN is the top cryptocurrencies to invest next on the list. GMT has experienced a growth of more than 40% in April this year. GMT is the native governance token widely appreciated for its move-to-earn platform STEPN. It is for the hype around DeFi projects that reward users for staying active such as walking, jogging, or running.

After a promising growth, the token is also now listed on most exchanges. The platform has made nearly $26.81 million from its NFT marketplace trading and royalty fees in 2022.
Check out our Latest Binance Coin Set and To The Mooooon Coin Set in which GMT is listed.
TRON (TRX)
TRON is best known for its lower fees and several free transactions. It is one of the fastest-growing crypto assets, which has exceeded $108 million within a month of its launch. TRON allows users to create smart contracts and decentralized applications with great ease. The platform can make nearly 2000 transactions per second, which can be relevant in the short and long term. 
Conclusion
With cryptocurrencies gaining popularity every new day, adding these top cryptocurrencies to your portfolio can be great. While these are good options, it is recommended to keep your research before you invest in them.
If you are not sure about investing in one crypto, no worries! You can try investing in a set of tokens called Mudrex Coin Sets which are based on themes. Coin Sets lets you invest in ideas that you believe will grow in the long run.