As the craze of cryptocurrencies continues, it is safe to say that we might be looking at the future of finance in these decentralised digital currencies. With increasing investor numbers, better crypto penetration and a vast tech influence, crypto trading has never been better. Millions of traders trade in promising and trending cryptocurrencies every day to generate consistent returns.
But the crypto market is nothing like other financial markets we hear about regularly. The crypto market is active 24×7 and can be extremely volatile sometimes. This leads to drastic price changes in a matter of minutes, making it difficult to keep track. Therefore, users are now automating their trades to generate consistent returns without missing key market changes. Moreover, many platforms also help users copy other traders and their strategies, and this process is called copy/mirror/social trading.
But which copy trading platform is the best? To help you select the best crypto trading platform for your trading goals, this article will discuss three such platforms. This TradeSanta vs Mudrex vs Cryptohopper review will highlight the features of these platforms in detail and rank them accordingly.
Here's the TradeSanta vs Mudrex vs Cryptohopper Review
TradeSanta
TradeSanta is an automated trading platform that comes with a wide variety of trade automation tools that users can leverage to customise and automate their trades. This cloud-based platform offers customisable trading bots that can execute trades across a wide range of cryptocurrencies. With its pool of powerful tools and an easy investment process, TradeSanta has been received quite well by the trading community. This TradeSanta review will offer an exhaustive list of features to compare the platform with Mudrex and Cryptohopper.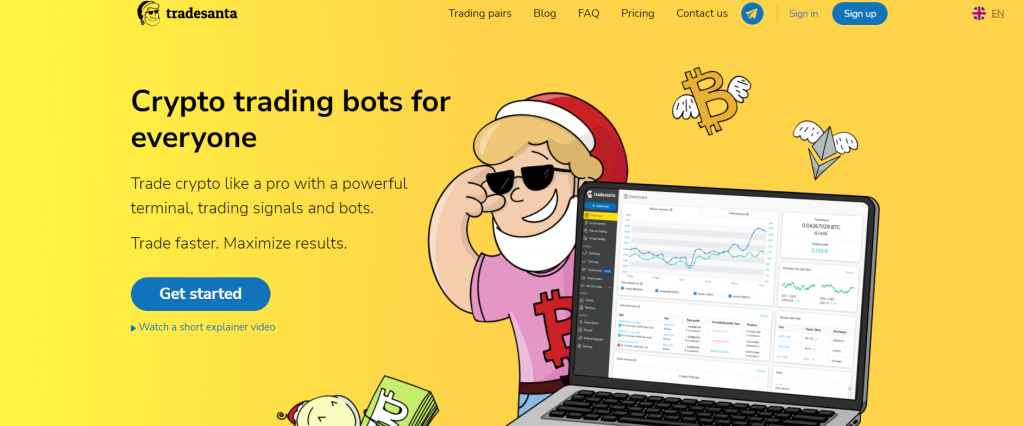 Mudrex
Mudrex is a crypto trading platform with a bunch of crypto investment options, one of which is automated Algo trading. The cloud-based bot marketplace offers 100% automated crypto trading bots, where users can easily invest in strategies created by expert traders and generate consistent returns on autopilot. These crypto trading bots are spread across cryptocurrencies and trading strategies, so users can choose the one as per their trading goals. Moreover, if users want to build their own crypto trading bot, they can use a no-code crypto strategy builder to create, backtest and publish their strategies. In this Mudrex review, we will highlight the top features of Mudrex and compare it with the other two platforms.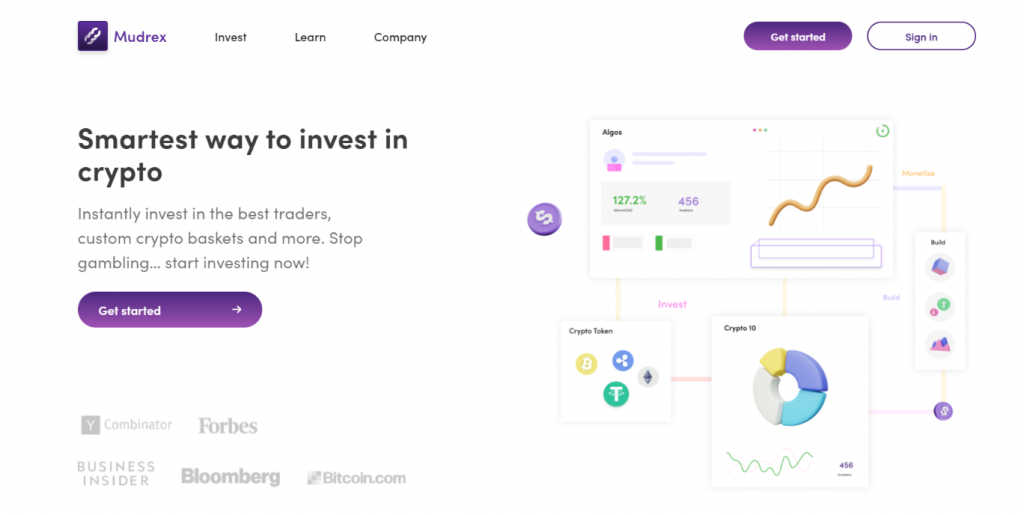 Cryptohopper
At Cryptohopper, users can customise, backtest and execute their strategies seamlessly. This cloud-based copy trading platform also offers multiple trading templates that users can start investing with. This Cryptohopper review will discuss the top features of the trading platform while underlining its differences against TradeSanta and Mudrex.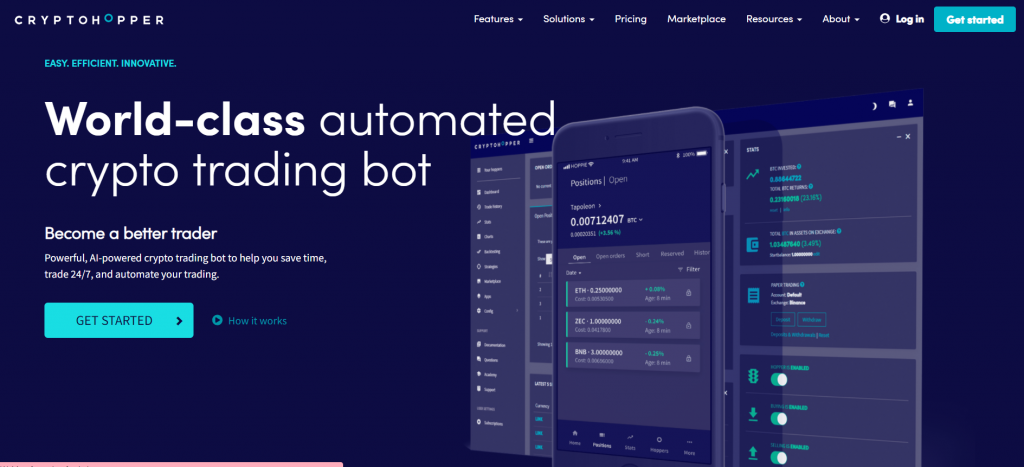 TradeSanta vs Mudrex vs Cryptohopper — A Review
In this TradeSanta vs Mudrex vs Cryptohopper review, we will rank these platforms on some key features and highlight the differences between them. These features include how reliable these platforms are, their customer support, bots profitability and pricing. While the final scores are given below, the detailed TradeSanta vs Mudrex vs Cryptohopper review follows.
| | | | |
| --- | --- | --- | --- |
| Feature | TradeSanta | Mudrex | Cryptohopper |
| Platform Reliability | 8/10 | 9/10 | 8/10 |
| Trading Strategies and Profitability | 7/10 | 9/10 | 7/10 |
| Platform Pricing/Fee | 7/10 | 8/10 | 6/10 |
| Ease Of Investment | 7/10 | 9/10 | 6/10 |
| Post-Investment Tracking | 8/10 | 7/10 | 8/10 |
| Exchanges Supported | 7/10 | 6/10 | 7/10 |
| Community & Support | 8/10 | 9/10 | 8/10 |
| Referral Bonuses | 6/10 | 9/10 | 7/10 |
| Total Score | 58/80 | 66/80 | 57/80 |
#1 Platform Reliability
If you are investing in a crypto trading platform, you are essentially trusting them with your money. As the number of scams and malicious transactions has increased in the crypto realm, it is essential to choose a reliable platform. Therefore, we look at features that make these platforms reliable.
TradeSanta Reliability
With over 40,000 active users and 12,000 active trading bots, TradeSanta has become a go-to platform for new and old traders alike. Since its launch in 2018, it has amplified its focus on security with features such as 2FA and API integration without withdrawal permissions.
Mudrex Reliability
Since its launch in 2019, Mudrex has become quite popular in the crypto space due to its profitable investment solutions and robust security measures. This Y-Combinator-backed crypto trading platform is based in San Francisco and has amassed over 25,000+ investors and $1.5 Billion in trade volume until now. To help users invest securely, Mudrex offers 2FA with various permissions, lightning-fast customer support and API integration with no withdrawal permissions.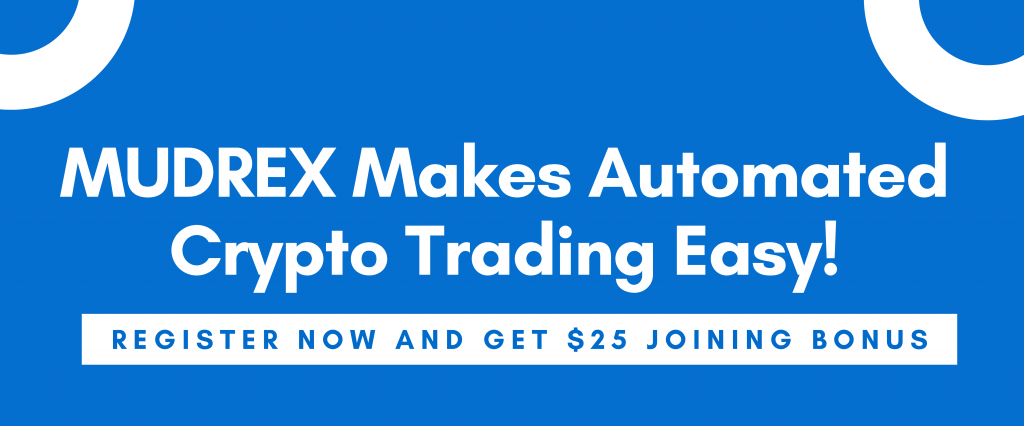 Cryptohopper Reliability
Based in Amsterdam, Cryptohopper was launched in 2017 and now has over 200,000 users and 30 million completed crypto transactions. In a short time, it has become one of the top crypto trading platforms in the world. Moreover, its security protocols include 2FA and API integration without withdrawal permissions.
Mudrex makes it easy for investors to invest in crypto with complete transparency and strong security protocols. Therefore, Mudrex ranks the highest in platform reliability.
Platform Reliability
| | | |
| --- | --- | --- |
| TradeSanta | Mudrex | Cryptohopper |
| 8/10 | 9/10 | 8/10 |
#2 Trading Bots/Strategies and Profitability
Every platform offers a wide range of investment bots, which sometimes can be confusing. Therefore, it is essential to have transparent and relevant information about the bots to make informed trading decisions. Consequently, we review the information offered by these platforms on their crypto trading bots and some of the most profitable solutions provided by them.
Trading At TradeSanta
TradeSanta offers users the option to automate and execute their own strategies or copy a premade trading strategy. Users can test their strategies in the Virtual Trading Space provided by the platform and even paper trade. One can also trade manually on the platform.
Some of the trading strategies provided by the platform are:
DCA (Dollar Cost Averaging)
Grid Bot
SmartOrder
Trading At Mudrex
Mudrex is extremely user-friendly when it comes to sharing transparent details about trading bots. On the Mudrex dashboard, users can view bot details such as total returns, 30-day returns, trading pair, number of investors, performance score (risk vs reward analysis by Mudrex) and the total runtime of the strategy.
Investors can easily view the top performing bots, and some of them are listed below with their returns in the past 30 days:
Trading At CryotpHopper
With customisable bots and trading indicators, users can tailor their own strategies to automate on Cryptohopper. However, users can visit the marketplace and copy the strategies created by other users. The bots pages have details about the strategy and its returns.
Some of the top-performing trading bots at Cryptohopper are:

Profit Hero Premium – DEX
Profit Grinder by Crypto-Base.eu
Triple Screen Short Term Swing Trading
Mudrex has highly profitable bots and completely transparent, relevant and comprehensive information about them, making it the highest-ranked in trading bots and profitability.
Trading Bots/Strategies and Profitability
| | | |
| --- | --- | --- |
| TradeSanta | Mudrex | Cryptohopper |
| 7/10 | 9/10 | 7/10 |
#3 Pricing / Platform Usage Fees
Even though many users believe pricing shouldn't be a deciding factor for a platform, there is no denying that high fees can deter investors from investing. Therefore, we review the pricing plans and bot fees on these platforms.
TradeSanta Pricing
Users at TradeSanta can opt for one of three packages offered by the platform. The Basic Package ($14/month) has minimal features that include up to 49 trading bots, unlimited pairs and more. The Advanced Package ($20/month) offers up to 99 trading bots, Telegram support, additional statistics and more. The Maximum Package ($30/month) consists of all Advanced Package features, advanced statistics, and much more.
Mudrex Pricing
Unlike many other trading platforms, Mudrex believes in low fees and a user-friendly approach. Therefore, Mudrex does not charge any monthly fee from the users and only takes a minimal cost only after you invest in a bot. This fee can be as low as $5 per month and only increases as per the invested amount and bot you invest in. To strengthen your trading goals, Mudrex offers Mudrex Protect — a stamp that signifies a fee refund if the strategy does not yield a profit in a month. This stamp is an optional opt-in for the creator and is displayed along with the strategy details.

If users wish to build, backtest, publish and monetise their trading strategies, they can opt for the Premium Plan ($16/month). The plan offers features such as 200+ technical indicators, unlimited backtests, priority 24×7 support across channels, and a chance to earn from your strategies.
Cryptohopper Pricing
Cryptohopper offers both free and paid solutions for its users. With the free versions, users get limited features such as up to 20 positions per month, manual trading (only) and more. The premium plans let the users deep dive into the platform and leverage its capabilities. The plans are Explorer ($16.58/m), Adventurer ($41.58/m) and Hero($83.25). Apart from the platform fee, users will also have to pay a strategy fee (only if they invest in a paid strategy), and some of these strategies are priced highly.
Since high pricing can act as an investment roadblock for many, it is essential that the pricing is user-friendly. Mudrex makes investing easy with a cost-effective and straightforward pricing model, making it the top-ranked platform in pricing and usage fees.
Pricing / Platform Usage Fees
| | | |
| --- | --- | --- |
| TradeSanta | Mudrex | Cryptohopper |
| 7/10 | 8/10 | 6/10 |
#4 Ease of Investment
Investments should be easy, and an easy process is a much-needed feature for any crypto trading platform. Therefore, we review how easy it is to invest in these platforms.
How To Invest In TradeSanta
TradeSanta's investment process is straightforward, especially for new traders. You can create bots without much hassle and start automating your trades. If you do not own a crypto wallet or wish to create a new one, TradeSanta offers one-click wallet support in collaboration with HitBTC.
Here's how you can start investing on TradeSanta:
Create/ Login to your TradeSanta account;
Pay the platform fee;
Connect an exchange account, or create a new one within the platform;
Create a bot by selecting the exchange and trading pair;
Choose the desired template and volume you want to trade in;
Manage risks by implementing signals and stop-loss;
Start your bot, and you are good to go.
How To Invest In Mudrex
Investing in Mudrex is as simple as you like. The platform offers a stellar user experience, and you can start investing in just a few clicks. The intuitive interface and transparent detailing make the process even easier. While the platform is not available on mobile platforms as of now, the browser version is self-sufficient.
Here's how you can start investing in Mudrex:
Create/ Login to your Mudrex account;
Connect the desired exchange with API keys;
Choose the bot you want to invest in and select the amount;
Pay the platform fee, and you are all done.
How To Invest In Cryptohopper
While Cryptohopper has made it easy to invest in the platform with a clean UI, the overabundance of information proves to be counterproductive. However, it has made it easy to invest with the Cryptohopper mobile app, available on Android and iOS.
Here's how you can start investing in Cryptohopper:
Create/Login to your Cryptohopper Account;
Connect an exchange with an API key;
Pay the membership fee for the platform;
Select the strategy you want to use from the marketplace, and pay the subscription fee;
Start the strategy, and you are done.
Mudrex makes crypto investments easy, which has been its key focus all along. Therefore, it ranks at the top of ease of investment.
Ease of Investment
| | | |
| --- | --- | --- |
| TradeSanta | Mudrex | Cryptohopper |
| 7/10 | 9/10 | 6/10 |
#5 Post-Investment Tracking
Once an investment(s) has been made, tracking its performance is imperative. With correct details and easy access, users can opt to continue or stop trading. Therefore, we review the post-investment tracking features offered by these platforms.
Portfolio Tracking At TradeSanta
The TradeSanta dashboard displays essential portfolio information that includes balance, profit, active bots, active orders and total bots. The dashboard also displays crypto news to help users stay updated.
Portfolio Tracking At Mudrex
The Mudrex dashboard helps the user stay updated about their portfolio developments in just one click. It features vital information, such as the crypto bots you have invested in, the amount invested, total returns in % of each bot, and the overall returns.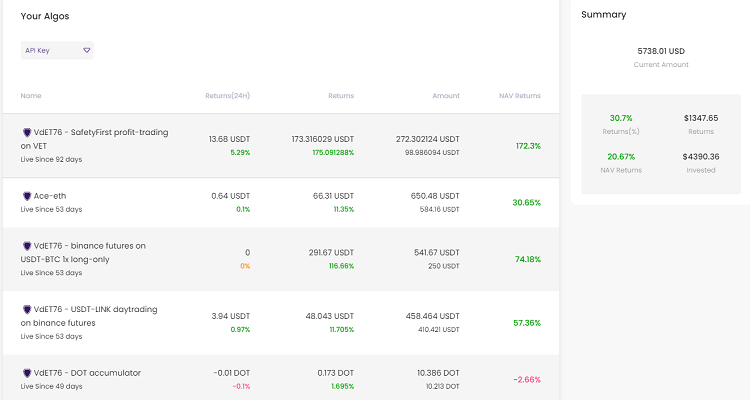 Portfolio Tracking At Cryptohopper
The Cryptohopper dashboard offers an exhaustive list of information about the user's portfolio, including the total invested amount, total assets in exchange, open positions, total current positions, last five sells, the current target, and Cryptohopper output, which shows detailed trade information.
Both TradeSanta and Cryptohopper have extremely detailed portfolio solutions, helping users stay updated and make better decisions. Therefore, they both receive the top rank in post-investment tracking.
Post-Investment Tracking
| | | |
| --- | --- | --- |
| TradeSanta | Mudrex | Cryptohopper |
| 8/10 | 7/10 | 8/10 |
#6 Exchanges Supported
Exchanges are platforms that help users trade cryptocurrencies for other cryptocurrencies, or fiat currencies. Most crypto platforms use exchanges as a bridge between their bots and the funds. With the number of exchanges rising, these platforms must offersupport for the top crypto exchanges. Therefore, we review the exchanges supported by these platforms.
Exchanges Supported By TradeSanta
TradeSanta supports seven different exchanges, including HitBTC, Binance, Bitfinex, Bittrex, UPbit, Huobi and OKEx.
Exchanges Supported By Mudrex
At Mudrex, users can invest through Coinbase Pro, Binance, Bybit, Deribit, OKEX and BitMex. Users can also invest directly through the Mudrex wallet.

Exchanges Supported By Cryptohopper
Cryptohopper officially supports 13 exchanges, such as HitBTC, Bitpanda Pro, Binance, Coinbase Pro and Bittrex, to name a few.
Cryptohopper and TradeSanta support the top exchanges, making them the highest-ranked in crypto exchanges supported.
Exchanges Supported
| | | |
| --- | --- | --- |
| TradeSanta | Mudrex | Cryptohopper |
| 7/10 | 6/10 | 7/10 |
#7 Community & Support
No matter how easy-to-use a platform is, users are bound to face some technical challenges or even minimal issues that require support. Therefore, we review how extensive is the support offered by these platforms.
TradeSanta Support
With minimal email support, TradeSanta helps users solve all their issues. However, the platform is active on YouTube, where they help users understand how the platform works and how they can invest in TradeSanta.
Here's how you can reach TradeSanta:
Email: team@tradesanta.com
Telegram: t.me/joinchat/EhCySlF1SsWMrOPMKt1Lzg
Facebook: www.facebook.com/tradesanta
Mudrex Support
Mudrex, with its user-focused approach, has invested deeply into building a seamless customer support experience. Users can head on to a detailed Mudrex Support FAQ section, where they can get answers to almost all account-related queries and learn about the platform and its features. If the FAQ doesn't solve the user's issues, they have lightning-fast email support and a live chat feature. Users can also view their comprehensive crypto blog section and learn more about trading strategies, investment options, and much more. The platform has active communities on Discord and Telegram, where the Mudrex team helps users.
Here's how you can reach Mudrex:
Cryptohopper Support
Cryptohopper helps users solve issues in their language and offers multi-lingual support in English, French and Spanish. Users can also generate support tickets or head on to the live chat to solve their issues. The platform has active communities on Discord and Telegram as well.
Here's how you can reach Cryptohopper:
Email: support@cryptohopper.com
Discord: discord.com/invite/qdv6RJx
Twitter: twitter.com/cryptohopper
Customer support should be simple and straightforward, which Mudrex does perfectly. Therefore, Mudrex gets the top rank in community & support.
Community & Support
| | | |
| --- | --- | --- |
| TradeSanta | Mudrex | Cryptohopper |
| 8/10 | 9/10 | 8/10 |
#8 Referral Bonuses
A referral bonus is an excellent incentive for users who wish to earn with their professional network. Therefore, we review the crypto referral programs offered by the platform.
TradeSanta Referrals
The TradeSanta referral program offers users a 20% commission on each plan purchased by every referred user. The earned funds can be withdrawn to a crypto wallet or used on the platform itself. However, the minimum funds that one can withdraw from the platform are $30.
Mudrex Referrals
Mudrex offers a no-limit crypto referral program that has multiple benefits. For every valid referral, Mudrex provides an amount of $25 that can be used on the platform. Moreover, a commission of 50% is also provided for whatever the user spends on Mudrex. There are no earning limits at Mudrex, and you can earn as much as you like.

Cryptohopper Referrals
When a referred user signs up for a paid plan, the referring user gets a 10% commission. Moreover, they also receive a commission of up to 15% for every payment made on the platform.
A crypto referral program should have high profitability without any earning cap, as provided by Mudrex. Therefore, it ranks highest in referral bonuses.
Referral Bonuses
| | | |
| --- | --- | --- |
| TradeSanta | Mudrex | Cryptohopper |
| 6/10 | 9/10 | 7/10 |
TradeSanta vs Mudrex vs Cryptohopper — The Final Verdict
Well, there you have it. As we see from this exhaustive TradeSanta vs Mudrex vs Cryptohopper review, each platform offers up features for traders that make it unique. For example, Mudrex has a highly user-friendly payment structure, making it the ideal choice for traders looking to start slow and not pay too much in fees. While we hope this TradeSanta vs Mudrex vs Cryptohopper review helps you select the right crypto trading platform, always remember that no single bot or platform is perfect for all traders. Therefore, ensure that you do your own research on trading platforms that match your trading goals and needs.
Even though no trading bot is the one that fits all, this TradeSanta vs Mudrex vs Cryptohopper review proves that Mudrex can be the ideal choice for crypto traders. With a stellar user experience, an easy-to-use interface, profitable bots and extensive security features, it is safe to say that Mudrex is the high-performing automated trading platform you are looking for.
Let your trades work on autopilot. Get consistent returns with Mudrex.