Arbitrum is a layer-2 network developed by Offchain Labs to improve Ethereum's smart contract capabilities in terms of speed and cost of functioning while also improving upon privacy. Basically, it is a network built on top of Ethereum that processes transactions and submits the end result to the main blockchain, like Polygon. This reduces Ethereum's workload, allowing it to scale.
The Lead-up to the Airdrop
On August 31st, Arbitrum's Nitro upgrade went live and boosted activity on the network. This upgrade saw transactions becoming cheaper and faster and smart contract activity on the network increasing dramatically.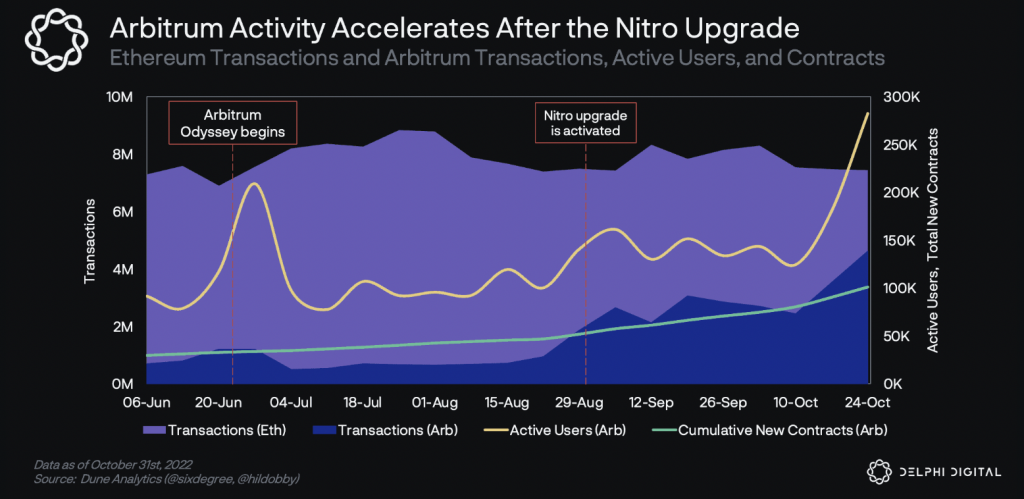 The average number of smart contracts deployed went up from 1800 per week to 6000 per week. Currently, Arbitrum hosts 62% of weekly transactions on Ethereum.
Talking about more recent developments, there have been speculations about Arbitrum releasing its own token for a while now. Enthusiasts theorize that there will be an ARBI token airdrop into the wallets of early users to kick things off.
On the other side of the coin
Back in April, Arbitrum's competitor, Optimism, launched its token, OP. Arbitrum's co-founder put out a cryptic tweet soon after that hinted at Arbitrum releasing its own token. "The appetizer is always served before the main course," Steven Goldfeder's tweet read.

Since Optimism is a very close rival, people are looking to their airdrop to find a template that a potential ARBI airdrop might follow.
With the OP tokens, there were a few criteria that made you eligible for the airdrop, like bridging funds to the network during its early days or even making a transaction once a week for four consecutive weeks. Investors who bridged from a different layer-1 solution like Terra or Solana to Optimism also received OP tokens.
Potential Criteria for the Arbitrum Airdrop
There are a few potential criteria suggested by Johnny Pedro, part of Lunar Strategy, a crypto marketing agency, and Miles Deutscher, airdrop hunter. So by any means, these are not the official criteria announced by Arbitrum.
These experts suggested that participating in the Arbitrum Odyssey campaign would make you eligible for the airdrop. But Arbitrum has the campaign paused right now. So as an alternative, Deutscher suggests buying Arbitrum Odyssey NFTs, which cost about $15 on average.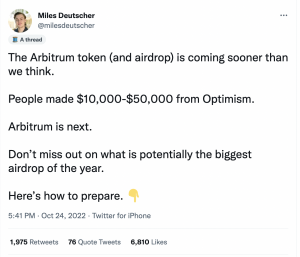 They also suggested that users should bridge funds to Arbitrum and make frequent transactions on the network to make themselves eligible. Frequently interacting with Arbitrum's many decentralized apps could work out in your favor as well. Other suggestions include joining the Arbitrum Discord channel and completing some quests on it. These quests include holding a few tokens.
But as we mentioned earlier, Arbitrum hasn't announced any of these as official criteria. So take all of this with a grain of salt even though there's a high chance some, if not all, of these criteria to turn out to be accurate. And while you're on the internet, be on the lookout for scams since excitement for the airdrop is at an all-time high. So keep an eye out for announcements from verified sources, and good luck with the potential airdrop!
Liked what you read? Download the Mudrex App for more crypto content at your fingertips!