Here we go again! Presenting the latest Coin of the Day – DOT 🎉

#Day 7 – Polkadot (DOT) Coin Of The Day Report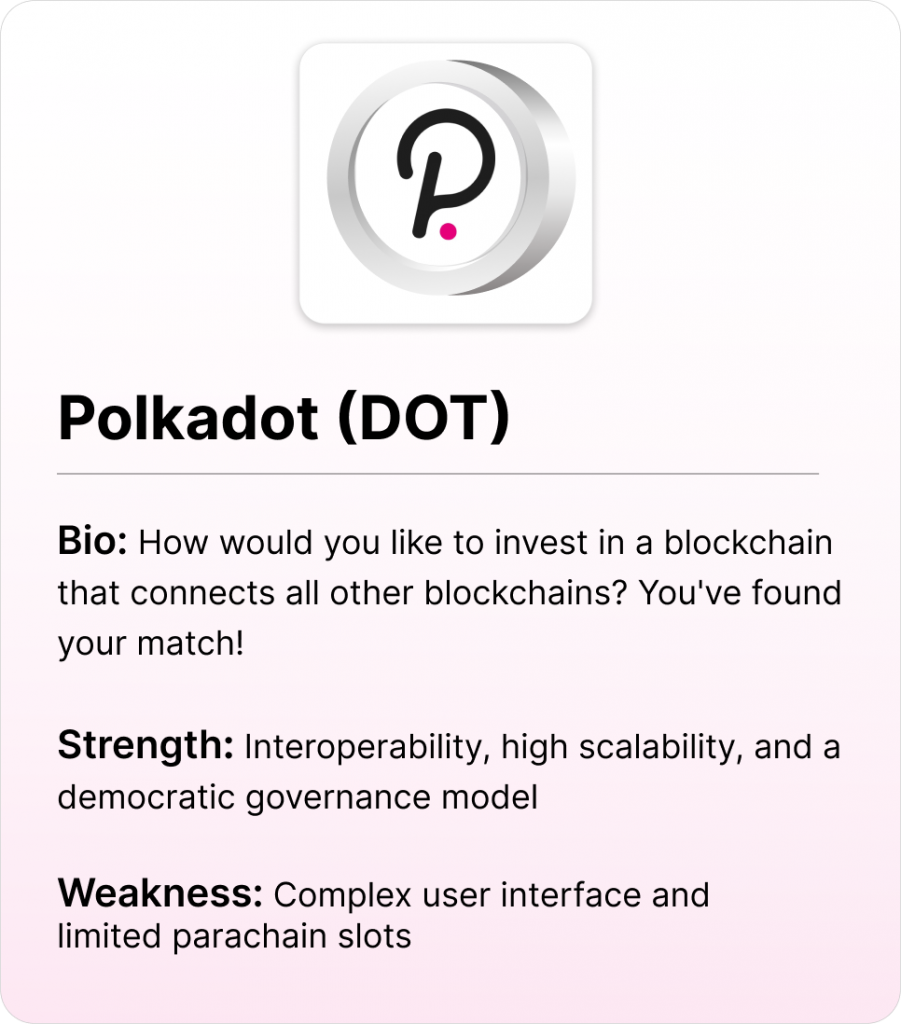 DOT Score

DOT's bullish score is a testament to its robust fundamentals and consistent growth.

How Did We Arrive at This Score?

When investing in a cryptocurrency, looking at some basic factors to determine whether the project is growing or dying is crucial. We did the same with Polkadot.

1. Price Performance ✅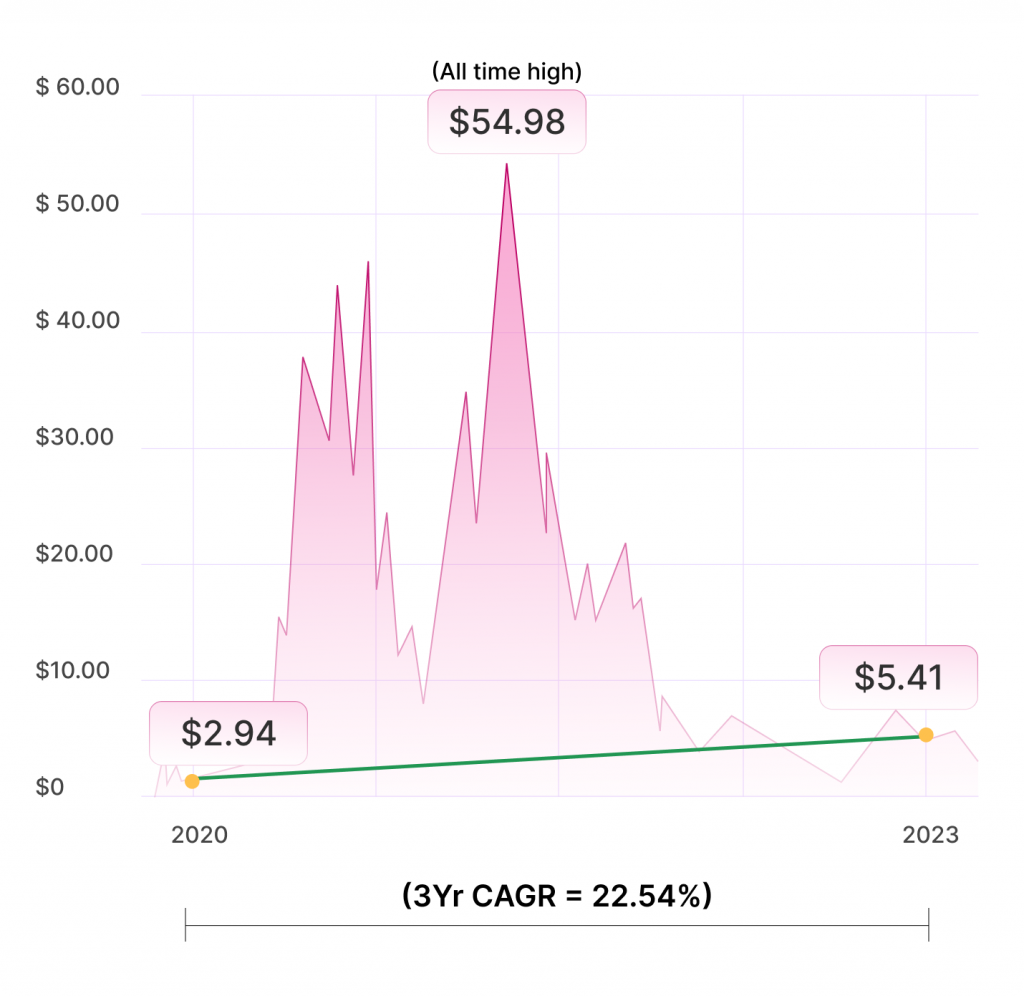 If you had invested $100 in DOT in 2020 and held it for three years, your investment would have grown to approximately $122.54.

2. Fundamental Analysis ✅

This section evaluates the Polkadot network based on important on-chain metrics.

2.1. Active Addresses Count 
Active address count indicates the overall activity on the network. A growing active address count signals a growing network and positively impacts the network token's price.

Average monthly active addresses on Polkadot went from ~96k to around 191k between 2020 to 2023 at an annual growth rate of ~25%.
2.2. NVT Ratio 

💡The NVT ratio compares a cryptocurrency's market cap to its transaction volume. A high ratio suggests a potential bubble since the market cap is outpacing the transaction volume. A low ratio indicates an undervalued token.

P.S. The NVT ratio for each crypto varies. Remember that this ratio shouldn't be looked at in isolation and must always be combined with other indicators.
2.3. Blockchain Network Roadmap

Polkadot's network roadmap can be divided into two parts; things they have achieved and their plans for the future:
Milestones Achieved:
Polkadot v1 launch started in May 2020 and concluded in December 2021 with the introduction of parachains.
The initial phase involved the Proof of Authority (PoA) mode, where users could claim tokens, stake them, and express their intent to validate or nominate.
The network then transitioned to Nominated Proof of Stake (NPoS), with a decentralized set of validators and ongoing governance improvements.
Governance was enabled, with the election of the Council and Technical Committee, allowing public proposals and removing the Sudo key's authority.
Balance transfers and remaining functionalities were enabled through governance decisions.
Parachains underwent testing and optimization on testnets and Kusama before being enabled through Polkadot's governance. Parachain slot lease auctions were initiated.
Current Phase: Post-launch upgrades
Post-launch upgrades include the development of cross-consensus communication standards (XCM), improvements to cross-chain message passing (XCMP), governance enhancements, and launching parathreads.
These upgrades will be enabled by Polkadot's on-chain governance community after the completion of development, testing, benchmarking, and auditing.

3. Community Sentiment

The DOT Fear and Greed Index analyzes social mentions, search engine queries, and technical indicators to gauge community sentiment. Neutral suggests that people are neither actively buying nor selling.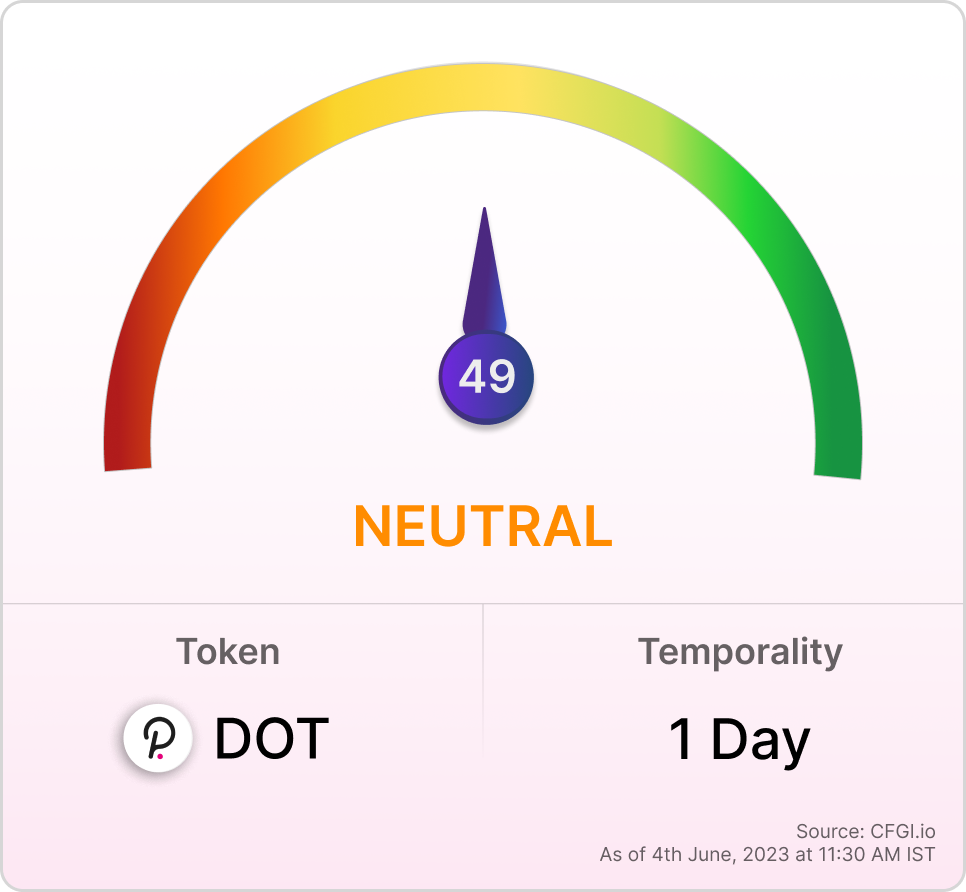 4. Technical Analysis ✅
Oscillators: They suggest a buy signal when an asset is oversold, indicating that the security may be underpriced and vice versa.
Moving Averages: When a moving average crosses above another moving average, it indicates that the trend is bullish and vice versa.




💡While oscillators suggest that DOT might be underpriced, the moving averages indicator indicates that selling pressure may be looming for the token. However, if you are convinced of the long-term growth prospects of DOT, technical analysis shouldn't deter you.


Key Highlights

Polkadot added six new parachains to its network in the latest auctions, taking the total number of parachains to 41.
Q1 2023 saw Polkadot undergo 4 forkless runtime upgrades while growing its developer count to 750 full-time developers and 2000 total developers.
Other ecosystem developments included Polkadot's XCM channels increasing by 60%. The XCM protocol facilitates cross-chain communication.
Disclaimer: None of the information in the email is intended to be financial advice. Please do your own research before making any investments.