Blockchains not being able to access real-world data like market prices, weather conditions, or sports scores was a real problem until Chainlink came up with a solution called Oracles.
On the Chainlink blockchain, oracles operate by establishing a secure and decentralized connection between smart contracts and off-chain data sources.
How much do you think its native token, LINK's score, will be in our report? Let's find out!

#Day 11 – Chainlink (LINK) Coin Of The Day Report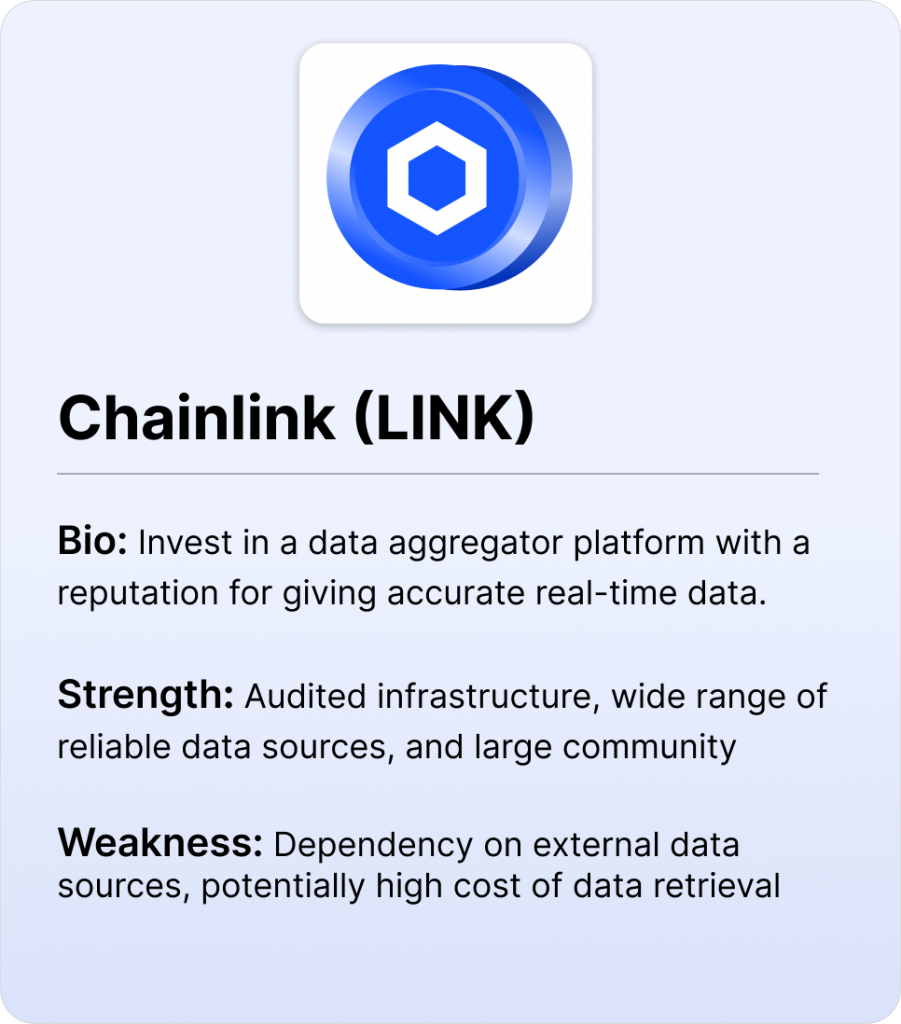 LINK Score


With Oracles, Chainlink solves a very unique use case that makes blockchain networks more functional.

How Did We Arrive at This Score?
We evaluated Chainlink on the following parameters.
1. Price Performance✅
If you had invested $100 in LINK in 2018 and held it for five years, your investment would have grown to approximately $1,641.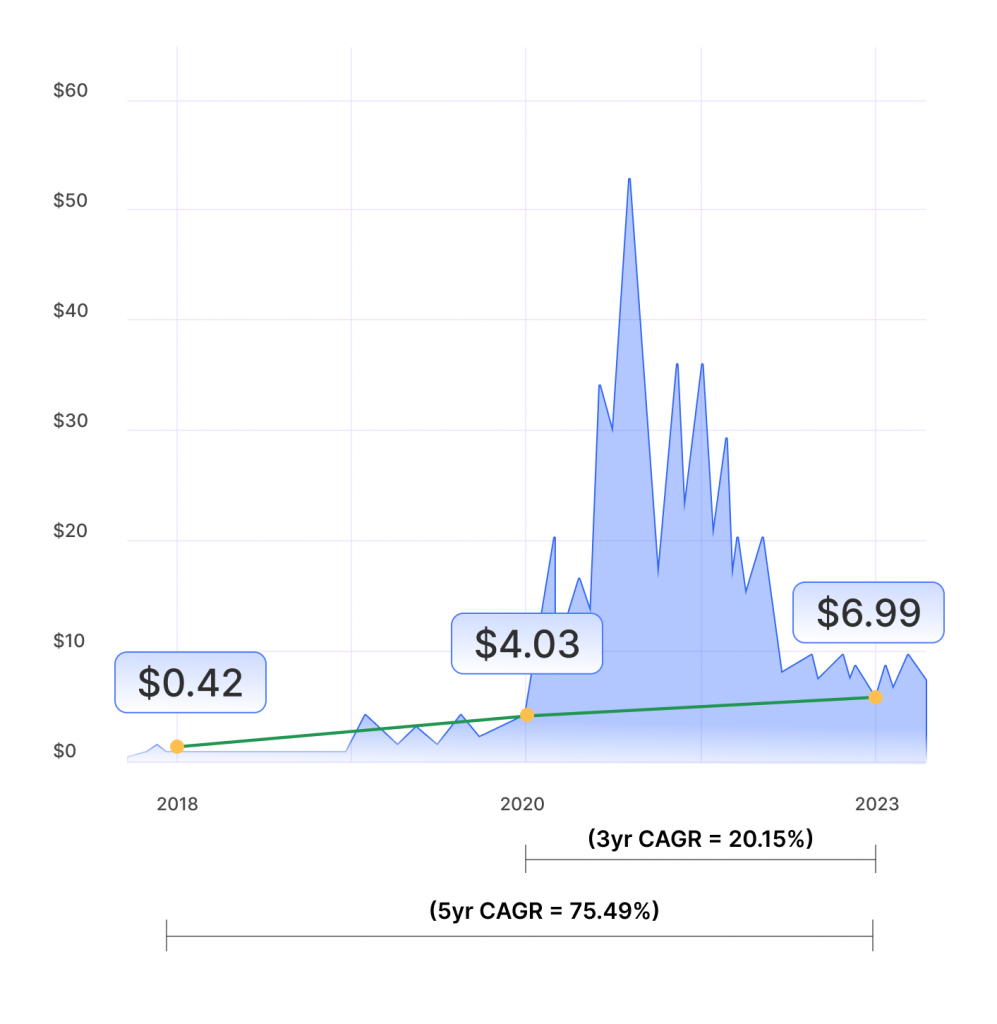 2. Fundamental Analysis✅

This section evaluates the Chainlink network based on critical on-chain metrics.
2.1. Active Addresses Count
Active address count indicates the overall activity on the network. A growing active address count signals a growing network and positively impacts the network token's price.

Monthly active addresses on Chainlink went from ~ 11k to around 141k between Jan 2018 to Jan 2023 at an annual growth rate of ~67%.
2.2. NVT Ratio
💡NVT Ratio: It compares a cryptocurrency's market cap to its transaction volume. A high ratio suggests a potential bubble since the market cap is outpacing the transaction volume. A low ratio indicates an undervalued token.

P.S. The NVT ratio for each cryptocurrency varies. Also, one shouldn't look at NVT in isolation and must always combine it with other indicators.
2.3. Blockchain Roadmap

Chainlink's network roadmap can be divided into two parts; past milestones and its plans for the future.
Milestones achieved
Solving the Oracle problem: Securely connecting reliable off-chain data with isolated on-chain environments
Providing minimum-trust services: Expanding the role of Oracles to not only reliably deliver data but also secure off-chain computation, providing trust-minimized services that allow developers to build more secure and cost-efficient dApps
Multichain support: Chainlink is natively integrated with over 12 blockchains and L2 networks, including Ethereum, BNB Chain, Polygon, and Arbitrum.
1600+ projects: The Chainlink ecosystem includes everything from top DeFi projects to global enterprises looking to leverage smart contract technology, like AccuWeather, Google Cloud, Amazon Web Services, etc.
Plans in Progress
Chainlink Staking: Chainlink staking will allow community members to directly participate in the network while improving security and generating rewards for them.
Chainlink SCALE: SCALE focuses on accelerating blockchain and L2 network growth by allowing them to fast-track smart contract innovation in their native ecosystems by covering the operating costs of the Chainlink Oracle network for a period of time.
Chainlink BUILD: BUILD aims to accelerate the growth of early-stage and established projects in its ecosystem by providing them additional access to Chainlink features and support in exchange for commitments of network fees and other incentives to Chainlink service providers.

3. Community Sentiment

The below pie chart measures the sentiment for Chainlink across Telegram and Twitter. Over the last 7 days, Chainlink was mentioned ~443.3k times, of which ~114k mentions were positive, ~20.9k were negative, and about 308.4k were neutral.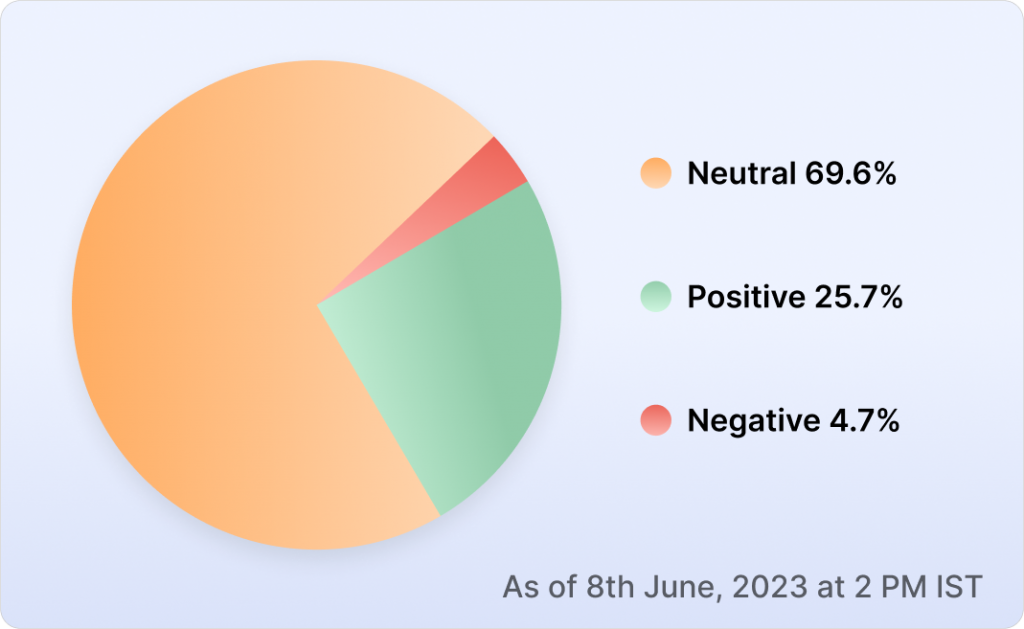 4. Technical Analysis ✅
Oscillators: They suggest a buy signal when an asset is oversold, indicating that the security may be underpriced and vice versa.
Moving Averages: When a short-term moving average crosses above a long-term moving average indicator, it suggests that the trend is bullish and vice versa.


💡Oscillators indicate a neutral market sentiment, while moving averages suggest active selling of the token.

Key Highlights

Q1 2023 saw the total value locked (TVL) on Chainlink go up by 26% quarter-over-quarter (QoQ) to $12 billion.
Chainlink ranked #1 in Q1 2023 among L1 blockchains in terms of daily active developers, with a 20% QoQ growth.
Disclaimer: None of the information in the email is intended to be financial advice. Please do your own research before making any investments.