Today we are talking about the second most wanted cryptocurrency on Mudrex, right after Bitcoin – Shiba Inu.
While its objective initially was to be the Doge Killer, it's been putting in some serious hustle to be more than just a joke. Shiba Inu aims to provide a fun, decentralized platform for trading, staking, and engaging in DeFi projects. However, some still see it as nothing more than an erratic meme coin.
Do you think of Shiba Inu as a solid crypto, or is it just a FAD? Let's find out.

#Day 13 – Shiba Inu (SHIB) Coin Of The Day Report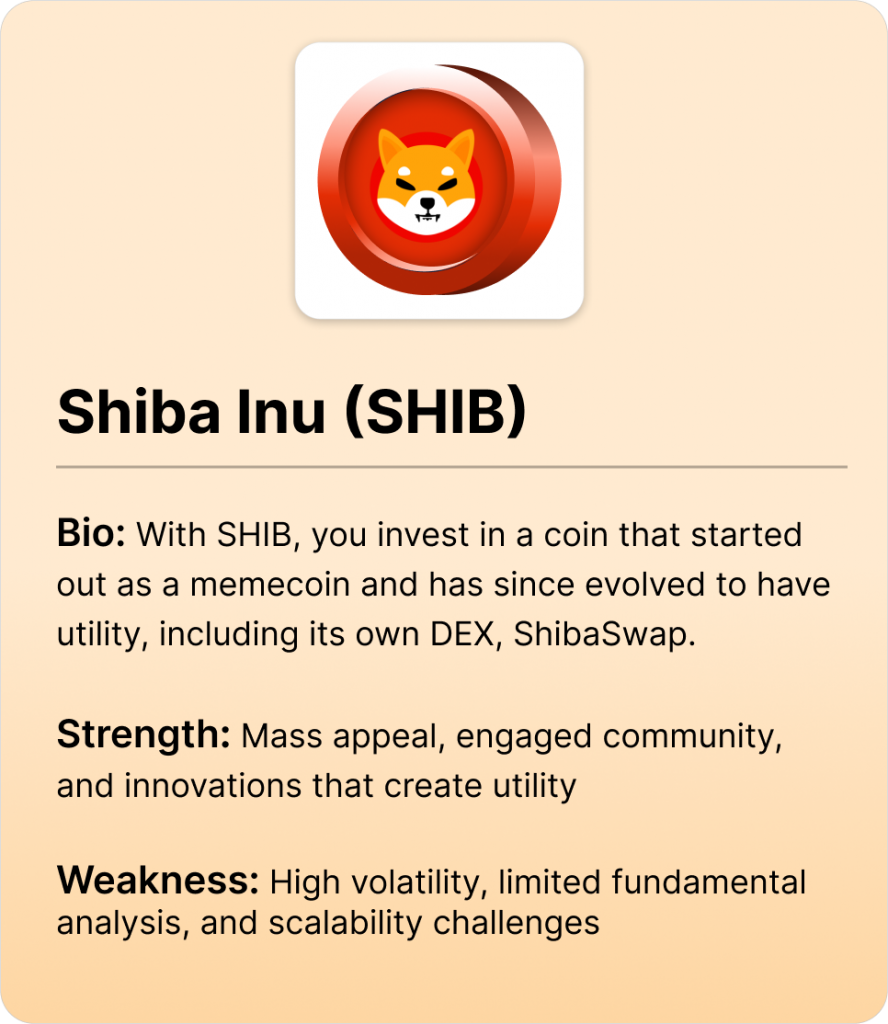 SHIB Score


While SHIB does receive a decent score in our evaluation, it is crucial to consider the high volatility of this cryptocurrency before making any investment decisions. SHIB is highly influenced by its active community members.

How Did We Arrive at This Score?
We evaluated SHIB on the following parameters.
1. Price Performance ✅
Though past price movements don't necessarily dictate future prices, it's good to know how your potential investments have performed historically.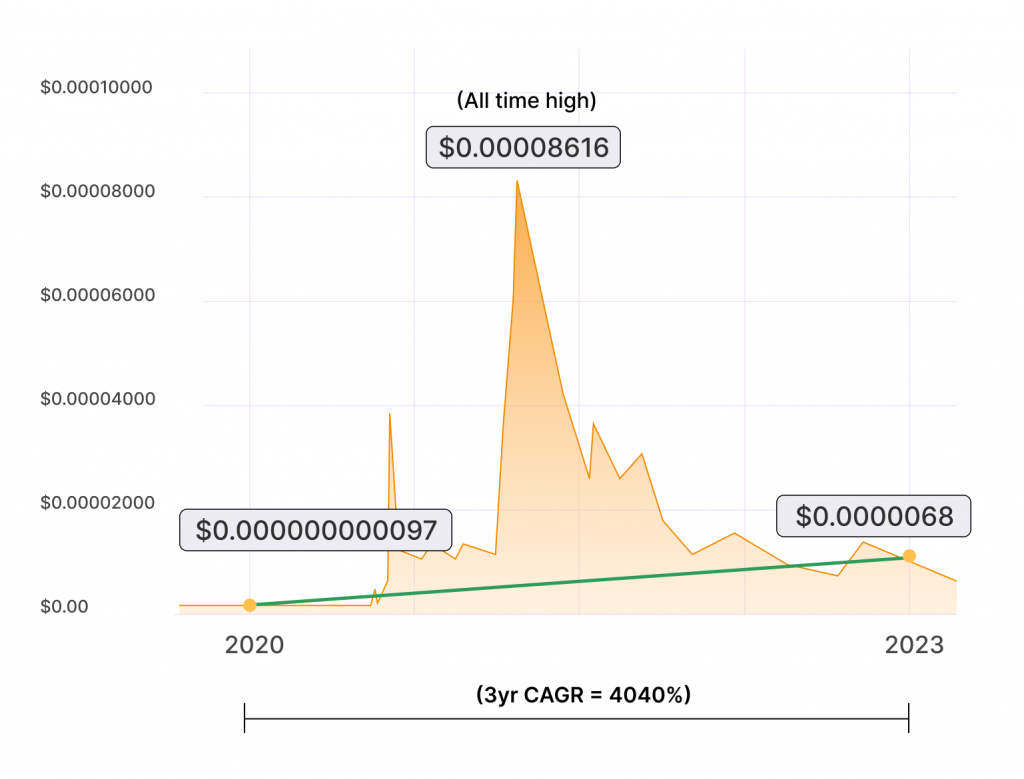 2. Fundamental Analysis ✅

In this section, we evaluate the Shiba Inu network based on critical on-chain metrics.
2.1. Active Addresses Count
Active address count indicates the overall activity on the network. A growing active address count signals a growing network and positively impacts the network token's price.

Monthly active addresses on the Shiba Inu network went from 6.5k in Jan 2021 to around 69k in May 2023.

2.2. NVT Ratio
💡NVT Ratio: It compares a cryptocurrency's market cap to its transaction volume. A high ratio suggests a potential bubble since the market cap is outpacing the transaction volume. A low ratio indicates an undervalued token.


P.S. The NVT ratio for each cryptocurrency varies. Also, one shouldn't look at NVT in isolation and must always combine it with other indicators.
2.3. Blockchain Roadmap

Shiba Inu's roadmap can be divided into two parts – a record of past milestones and plans that are currently in progress.
Past milestones
Shiba Inu registered over 16 million wallet addresses, showcasing the growing interest and adoption of the SHIB token.
Shiba Inu has burnt over 410 trillion tokens since its launch to reduce inflation and drive demand for the token, thus driving up prices.
Despite launching as a memecoin, SHIB has created utility for itself with ShibaSwap, a fork of SushiSwap.
Plans in progress
Shibarium- Shiba Inu's layer-2 Shibarium will allow users to transact with lower fees, allowing them to bypass Ethereum's gas prices.
ShibaSwap 2.0- The overhaul will bring a host of new features with it along with a UI update, transitioning ShibaSwap into a crypto portal that displays the latest news and trends.
Shiba Inu Metaverse- The memecoin's metaverse will feature virtual real estate available for purchase in the form of Lands.


3. Community Sentiment
The SHIB Fear and Greed Index analyzes social mentions, search engine queries, and technical indicators to gauge community sentiment. Fear suggests higher levels of uncertainty around the SHIB token.

However, Warren Buffett once said that it is wise for investors to be "fearful when others are greedy, and greedy when others are fearful."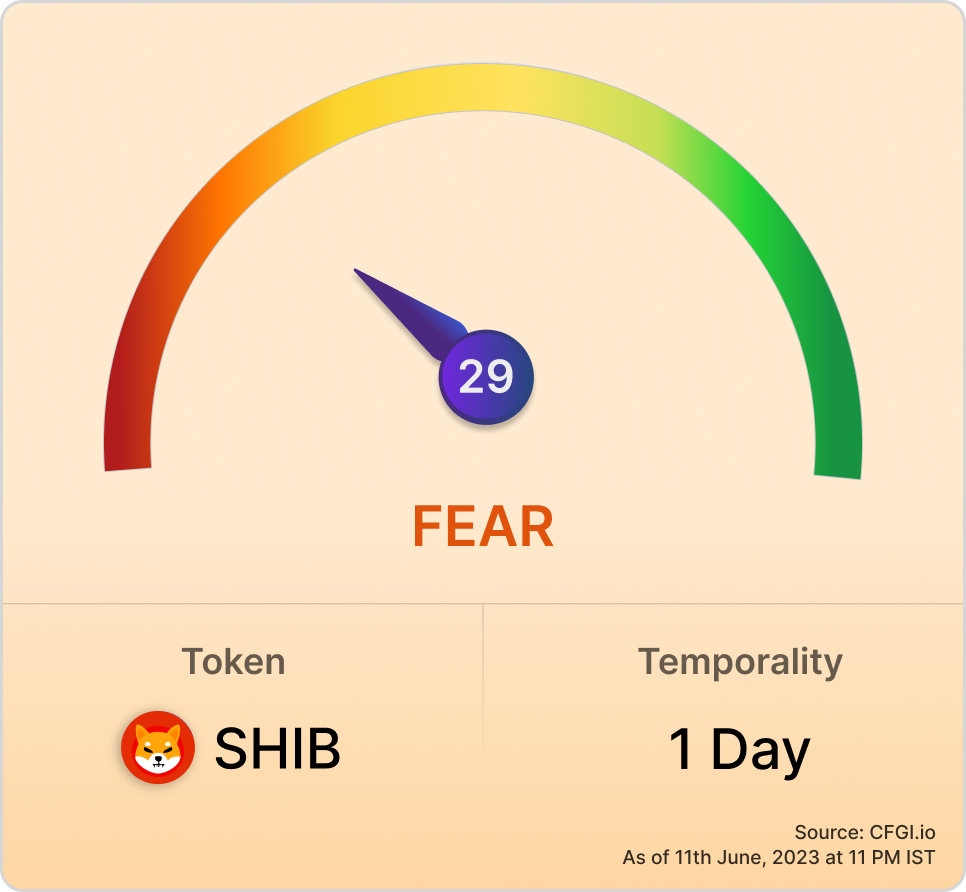 4. Technical Analysis ✅
Oscillators: They suggest a buy signal when an asset is oversold, indicating that the security may be underpriced and vice versa.
Moving Averages: When a short-term moving average crosses above a long-term moving average indicator, it suggests that the trend is bullish and vice versa.



💡Oscillators and moving averages both lean towards sell, indicating active selling to a point that the asset has become oversold.

Key Highlights

The number of SHIB holders that have held the token for over a year reached an all-time high past the 800,000 mark.
Shibarium's testnet processed over 11 million transactions since its launch in March, showcasing the anticipation for the layer-2 network that will reduce transaction fees on the network.
The hype for the launch of Shibarium also saw the number of SHIB holders on Ethereum go past 1.3 million.
Disclaimer: None of the information in the email is intended to be financial advice. Please do your own research before making any investments.