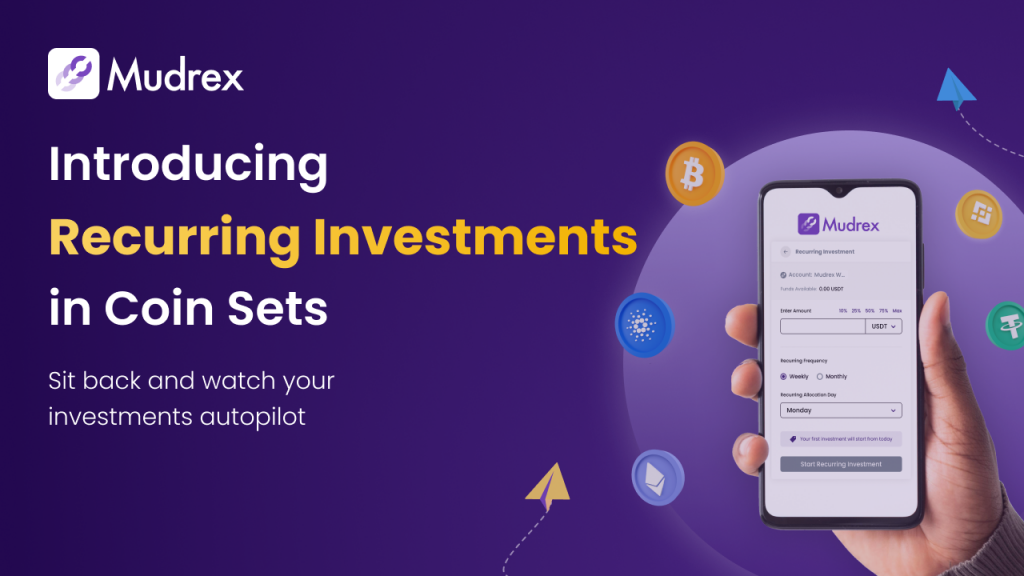 In October 2021, we launched Coin Sets, getting appreciation worldwide. It is one of the favorite products amongst investors on Mudrex, who have used Coin Sets to effectively and easily invest in ideas and themes. The product has already scaled to over 50,000 investors in less than 6 months. And today, we are excited to announce Recurring Investments for Mudrex Coin Sets, which will allow users to invest systematically with ease.
Recurring investments have been popular in the equity market for years now, and are now available in one of the newest asset classes around – crypto.
Users can choose between a daily, weekly or monthly schedule for their Recurring Investment. What's also worth noting is that Recurring Investments will incur no extra fees, so users can continue investing in Coin Sets (with or without Recurring Investments) with zero fees, and with a capital as low as $10.
How do Recurring Investments work?
Users can invest systematically with fixed amounts of money through this method. This can be on a monthly, or weekly or daily basis.
Benefits
1. Power of compounding
Investing over a long period of time is really about the compounding; with Recurring Investments, you can stay invested and compound returns over long periods of time.
2. Dollar-cost averaging
DCA is a concept where investors purchase more units when the Net Asset Value (NAV) of the fund is low and lesser units when the NAV is high. With Recurring Investments, investors need not worry about how to time the market, for DCA will kick in automatically.
3. Low initial investment and no fees
Users can start investing with a capital of as low as $10. Also, there is no fees to use Recurring Investments, and Coin Sets remain a free investment tool.
4. Convenience
Just load your Mudrex wallet, set up your Recurring Investment, and you're good to go. It's as easy as that!
How to Invest in Mudrex Coin Sets with this new feature?
Step 1: Create an account
To kickstart your crypto journey, investors need to create an account.
Step 2: Purchase or Deposit token
You can now either purchase tokens on Mudrex, or transfer your existing tokens from other wallets and exchanges.
Step 3: Select the Coin Set
Once the wallet is funded, investors can select a Coin Set of their choice.
Step 4: Choose the Recurring Investment Option
Pick a frequency between weekly and monthly, choose an amount, and you're good to go!
Mudrex Coin Sets
Mudrex allows investors to invest in ideas of baskets that they believe in rather than investing in one token. These crypto baskets have been created after careful consideration from experts. Here are some of the top Coin Sets for you to choose from:
Crypto Blue Chip: The Coin Set aims to offer steady and long-term returns with high market cap tokens.
New Crypto Stars: New Crypto Stars consists of tokens showcasing the most promising growth in the crypto space.
Smart Contracts Platforms: Through this Coin Set, investors can invest in tokens of platforms building the smart contracts infrastructure.
NFT: NFT Coin Set allows the users to invest in the tokens that are expected to gain widespread adoption in the NFT space.
Metaverse: Metaverse Coin Set provides you an opportunity to invest in platforms building the infrastructure of the modern day shared virtual reality, or the metaverse.