In Crypto; TLDR
The crypto market may stop bleeding as Ethereum foresees triple halving.
Vitalik Buterin is positive about crypto payments going mainstream.
Cardano whales accumulate $140 million worth ADA 💸
MicroStrategy outperforms 97% of the stocks and even Bitcoin!
1. The Worst of the Pain in the Crypto Market May Be Over, Says JP Morgan.
On Monday, JP Morgan's analyst Kenneth Worthington in a note said that the market may have "found a floor."
Despite lower trading volumes, they cite the limited impact of the Terra/Luna black swan event and the Ethereum "Merge" to be the factors that helped.
Though the aftereffects of the catastrophic Terra/Luna incident were massive, it could have been worse.
Companies like Three Arrows Capital, Hashed, Celsius, and Voyager Digital were all hit after the collapse of the LUNA token in May. Followed by cryptocurrencies like Bitcoin and Ethereum plummeting, pushing the crypto market capitalization below $1 trillion for the first time since January 2021. However, many cryptocurrencies quickly bounced back after touching lows in June.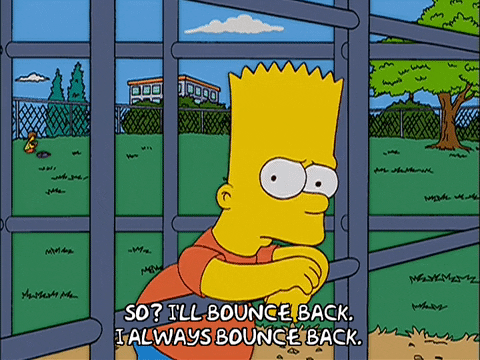 Notably, Ethereum has had a strong comeback credit due to the "Merge". According to CoinGecko data, ETH dropped below $900 on June 18 and currently trades at $1,700, up around 90%.
JPMorgan said that the Merge was the key factor behind the market bounce. The note said:
"We think the real driver has been the Ethereum merge and positive data following the launch of the Sapolia testnet in early July and Ropsten testnet in June, indicating the Merge is viable in 2022."
Ethereum's final Merge testnet on Goerli also went live. And the main event is tentatively scheduled for mid-September. They believe a successful launch should improve the sentiment in the crypto market.
Why is there so much optimism around the "Merge"?
It isn't just something that will make the Ethereum blockchain more energy efficient by shifting it from proof-of-work to a proof-of-stake mechanism. When the Merge happens, the Ethereum chain will experience "triple halving."
Halving usually refers to an event that reduces the supply of cryptocurrencies. And, triple halving is nothing but a series of such events. Here's what will actually happen –
New Ether coins will be issued at a slower rate (4.3% to 0.4%).
Some existing Ether will be burnt.
Some staked ETH will be unavailable for withdrawal.
And all of us know what happens when demand beats supply! So if you haven't already, you might wanna consider flocking on some Ether, or better invest in some blue chip cryptos because there might be some ripple effects.
2. 60 Mn Merchants Accept Cryptos; Vitalik Believes Crypto Payments Could Go Mainstream 💳.
Binance recently announced that it added Shiba Inu ($SHIB), Ripple ($XRP), and Avalanche ($AVAX) as payment means to the Binance Card. The Binance Card enables people to convert their cryptos and spend cryptocurrencies in over 60 million online and physical stores. It now supports a total of 14 cryptocurrencies. However, it is only accessible to European residents.
Though we see growing acceptance among people to use crypto as payment, there is still a lot of opportunity for mainstream adoption.
Talking on the same topic in the Korea Blockchain Week 2022, Ethereum founder Vitalik Buterin shared how the "Merge" could help crypto payments go mainstream.
He expects the upgrade to bring down the Ethereum fees as low as $1. Buterin envisions transaction fees to drop to 0-25 cents after the rollups are implemented and is hopeful that it can even be reduced to 5 cents with further advancements.
Fees have been one of the biggest roadblocks in mainstream crypto payment adoption.
3. Cardano Whales Accumulate $140 Million Worth of ADA 💸.
Cardano investors are hoarding up as Charles Hoskinson assured users that there should be no further delays to the Vasil hard fork.
What is the Vasil hard fork? It is intended to improve the network's scalability, higher throughput, and smart contract enhancement. However, it has been pending for several weeks now.
Between July 27 – Aug 5, major Cardano accounts added over $138 million worth of ADA tokens.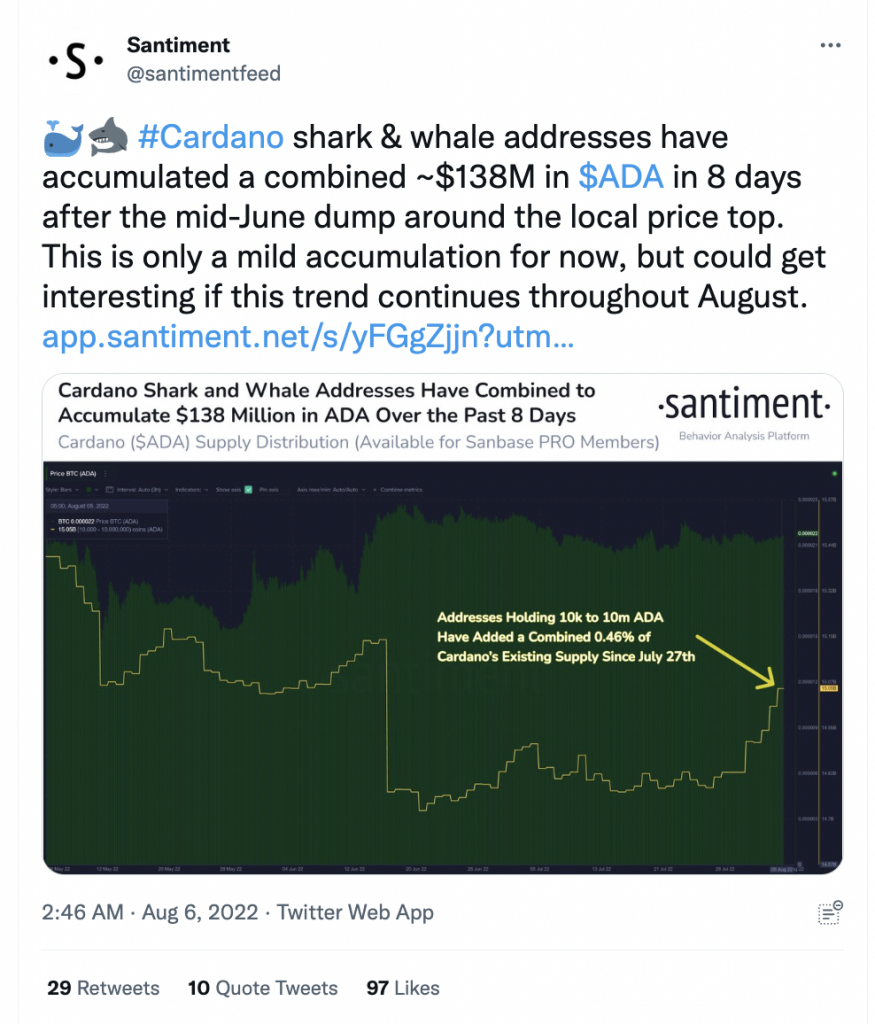 Notably, over the last month, the shark addresses added 79.1 million ADA to their aggregate wallets, worth ~$40 million. Meanwhile, the total number of Cardano wallets surpassed 3.5 million.
The blockchain witnessed sustained growth over the past year, during which its development team incorporated multiple updates, starting with the smart contract functionality. According to Cardano Blockchain Insights data, the number of Cardano Plutus smart contracts exceeded 3,000, owing to Alonso's hard fork.
Is it time that we will start seeing some action in Cardano?
4. MicroStrategy Outperforms 97% Stocks Since Adopting Bitcoin 📈.
The MicroStrategy (NASDAQ: MSTR) stock has outperformed most asset classes since adopting the Bitcoin strategy in August 2020. Despite the firm's revenue shrinking due to the crypto market meltdown.
A senior ETF analyst noted that MicroStrategy has easily defeated small and large companies, including Bitcoin itself.
In particular, the MSTR has recorded returns of 158.65% over 728 days. Compared to the Russell 2000 Index, which comprises the smallest 2,000 companies, MicroStrategy has registered returns of 25.17%. While S&P 500 is following MSTR at 27.40%. Interestingly, the stock's returns compared to Bitcoin stand at 98.28%.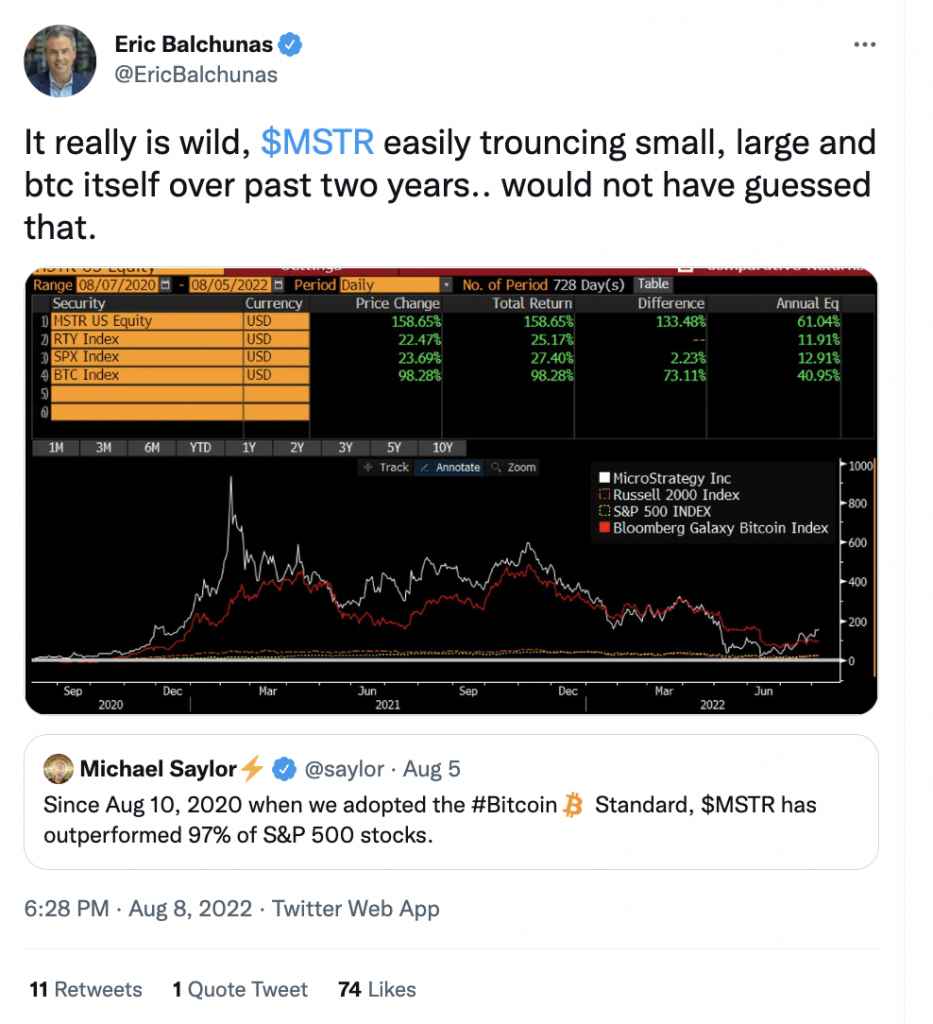 Though, following the crypto market correction, MicroStrategy has dipped into losses, with Bitcoin correcting by over 60% since its all-time high of almost $68,000 in November 2021.
During Q2 2022, MSTR reported quarterly revenue of $122.1 million against expectations of $126 million. Furthermore, the company also posted $918.1 million in losses, with $917.8 million attributed to its Bitcoin holdings.
MicroStrategy's current Bitcoin holdings are valued at almost $3 billion, against the acquisition value of $3.975 billion.
Other Highlights
Jack Dorsey's digital payments firm Block Inc. saw profits soar 29% to $1.47 billion in Q2.
Iran makes $10Mn imports with cryptocurrencies.
A Redditor turns criticisms of personalities such as Warren Buffet and Peter Schiff on NFTs into an NFT collection called Worthless JPEGs.