Synopsis
Cathie Wood's ARK Invest Files for First Ever Spot ETH ETF in the US
Genesis Global to recover $600m from DCG
CFTC cracks down on DeFi – Penalties for 3 DeFi Exchanges
Biggest winner and loser of the week
Key Observations
The market cap could fall below $1T. Historically, September is considered to be a bad month for crypto. We anticipate it to move sideways and consolidate before making a move up. In the event of a downtrend, we can assume the market to meet support at $987B.
Analysis
The first US Ether Spot-ETF application filed!

Cathie Wood's ARK Invest and 21Shares have filed an application with the US SEC for an ETF named Ark 21Shares Ethereum ETF, which would directly hold Ethereum (ETH). This ETF is the first of its kind in the U.S. to invest directly in ETH and plans to store its assets with Coinbase Custody Trust Company. This filing comes amidst a series of applications for a highly sought-after spot bitcoin ETF, which the SEC delayed deciding on last week.

Genesis Hits Parent Company DCG With $600 Million Lawsuits
Genesis Global, a collapsed crypto company, has filed lawsuits against Digital Currency Group (DCG) and Digital Currency Group International (DCGI) seeking repayment of over $600 million in loans, including $115 million in Bitcoin. The loans, which matured in May, have allegedly not been repaid, and Genesis Global is also seeking to recover accrued interest and late fees. Genesis Global went bankrupt in January after being hit hard by the collapse of FTX, and it owed users of Gemini Earn $900 million.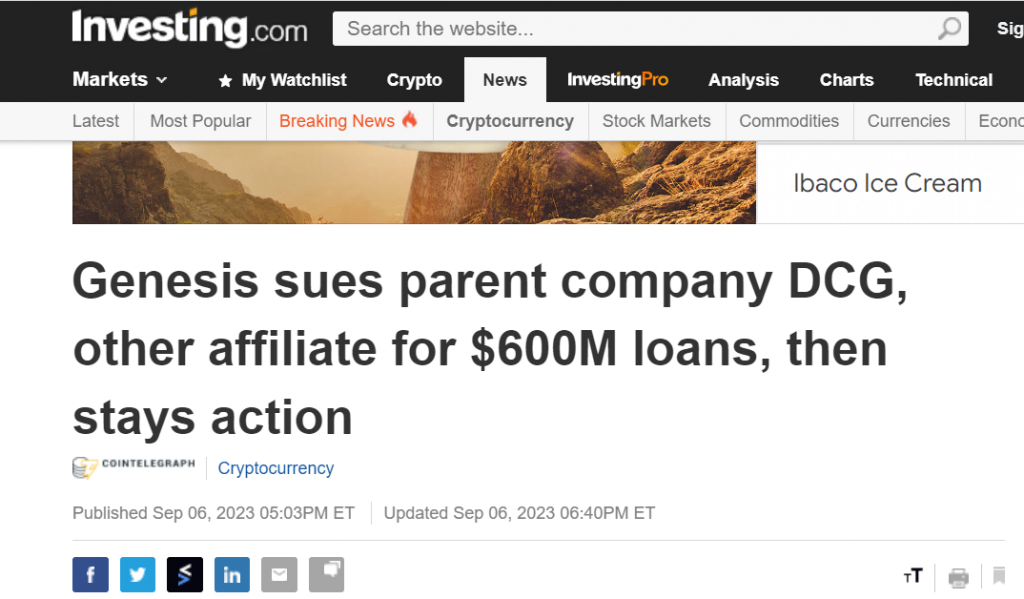 CFTC Charges Three DeFi Protocols With Violating AML Rules, Operating Without Licenses

The CFTC (Commodity Futures Trading Commission) has taken action against three decentralized exchange platforms (DEXs) – Opyn, ZeroEx, and Deridex. These platforms are facing charges for not obtaining the required licenses to operate in the United States. Additionally, they are being accused of allowing users from the US to access their services and violating anti-money laundering (AML) laws.
Opyn has been ordered to pay a penalty of $250,000, ZeroEx $200,000, and Deridex $100,000. This development has sparked concerns about growing regulatory scrutiny of decentralized finance (DeFi) protocols in the US.
Top gainer of the week: Stellar (XLM) up by 4% ⬆️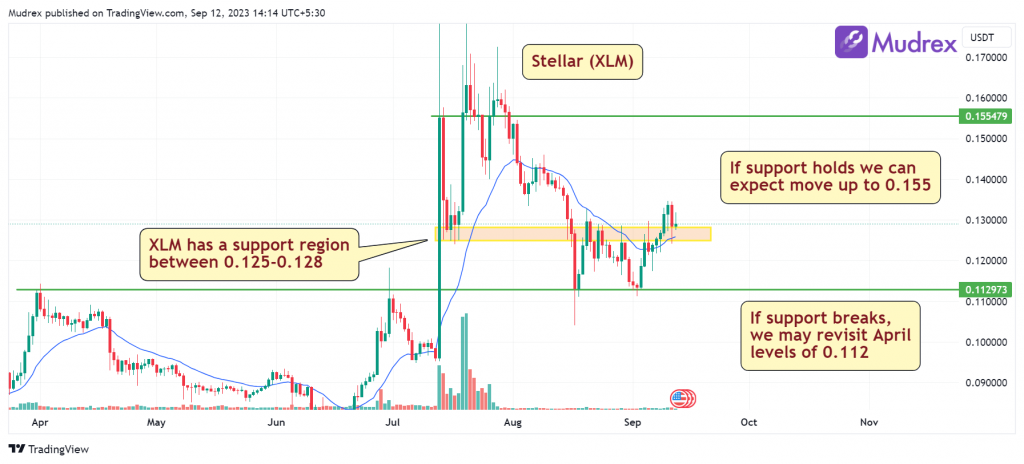 Opinions:
Fundamental Analysis:
There is anticipation around XLM's announcement scheduled on September 12. This has converted the community into a hive of activity with much speculation. As a result, XLM has defied market sentiments by pumping green.
Technical Analysis:
XLM has found support in the region between 0.125-0.128. Bulls will try to drive the price up and we anticipate a move towards 0.155. Having said that, breaking the support may revisit April levels of 0.112.
Oscillator indicators: 1 bearish, 8 neutral, 2 bullish
Moving average indicators: 2 bearish, 1 neutral, 12 bullish
Biggest loser of the week: Arbitrum (ARB) down by 13% ⬇️
Opinions:
Fundamental analysis:
ARB Whales have sold of their tokens which has lead to panic in the market. As a result, we have seen a major sell-off.
Technical analysis:
ARB is found to be heavily oversold. This opportunity could be used to dollar cost average as this could eventually see a correction.
Oscillator indicators: 1 bearish, 6 neutral, 4 bullish
Moving Average indicators: 12 bearish, 1 neutral, 0 bullish
Conclusion
The cryptocurrency market was marked with important events. US saw an application filed for the first-ever ETH ETF. Genesis is coming behind DCG for $600m in unpaid loans. CFTC cracks down on DeFi firms. The activity in the market suggests that the market shall move sideways.