Synopsis
Blood In The Water: Here's Why The Crypto Market Dipped In The Past Week!
The Shiny New Toy On BASE – friend.tech, Why Is Everyone Talking About It?
Mastercard's CBDC Launch – What It Means For Digital Currency?
Biggest Winner And Loser Of The Week
Figure 1: Cryptocurrency total market cap
Key Observations
The market saw a significant dip losing well over $100B in market cap. There was sell pressure as bears drove the market down. This led to a surge in transactions as the volume peaked, as indicated in the figure above. The total market is up 36% from the beginning of the year. We anticipate sideways movement from here. However, external factors can influence this both ways.
Analysis
Markets declined by 10%. Do we know why?
The crypto market is recovering from a crazy week. Bitcoin's trading price fell from the $29,000 level to around $25,000 at one point! We believe that this is simply a case of things going chaotic everywhere, all at once.
The first reason could be the news of SpaceX writing down their Bitcoin balance worth $373 Million, which led to mass speculation and panic.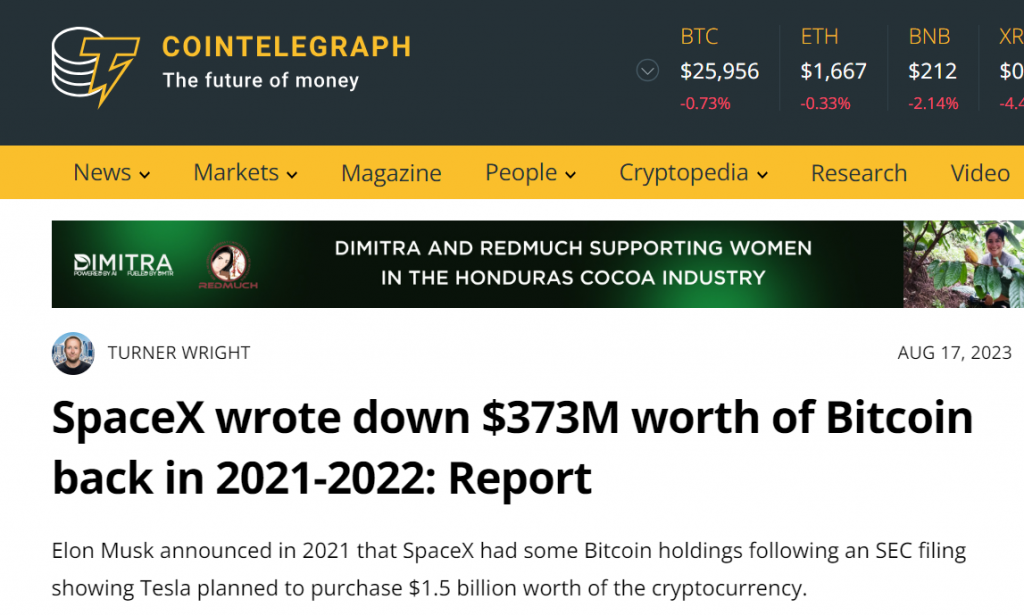 Another reason could be the lack of clarity on the Bitcoin Spot ETF front in the USA. We witnessed industry giants fighting for a front-row seat only for the SEC to take their sweet time. The US judicial system did not make any progress in the Grayscale Bitcoin ETF Saga.
The third reason could be the concerns around the Chinese Yuan weakening against the US Dollar. Chinese property giant Evergrande has filed for bankruptcy in the US which has rippled across global markets.

friend.tech+BASE = What's cooking?
The newest crypto sensation is social tokenization protocol friend.tech, which has earned over $1.6M in fees, ranking it behind Ethereum in revenue generated from gas fees.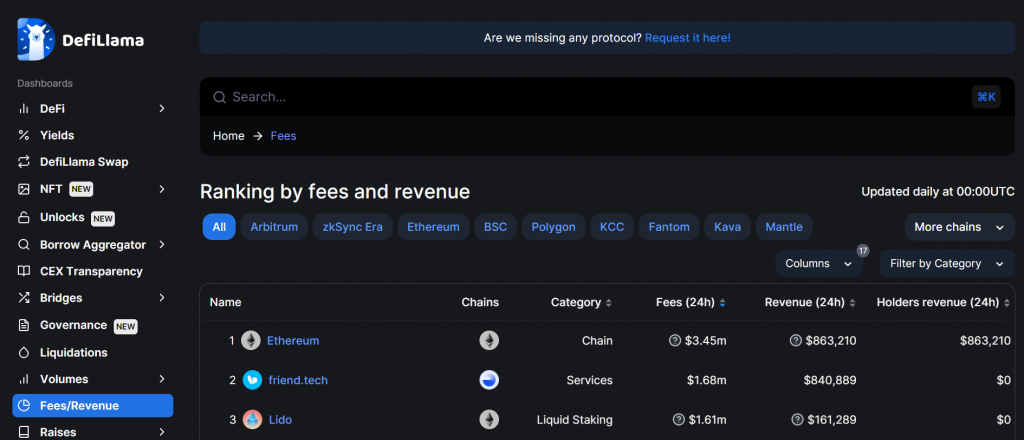 friend.tech is a messaging platform built on Base and lets users converse with their preferred Crypto Twitter creators. However, a unique approach is involved – users must purchase 'shares' of these creators to initiate conversations. Owning a share grants access to a group chat facilitated by the creator associated with that share. Users wishing to exit the group chat can return their share to the platform.
In this setup, influencers can gain 5% of the funds whenever someone purchases their share. The platform employs a pricing mechanism that increases the cost of a share as more people buy it and, conversely, reduces the cost as more shares are sold.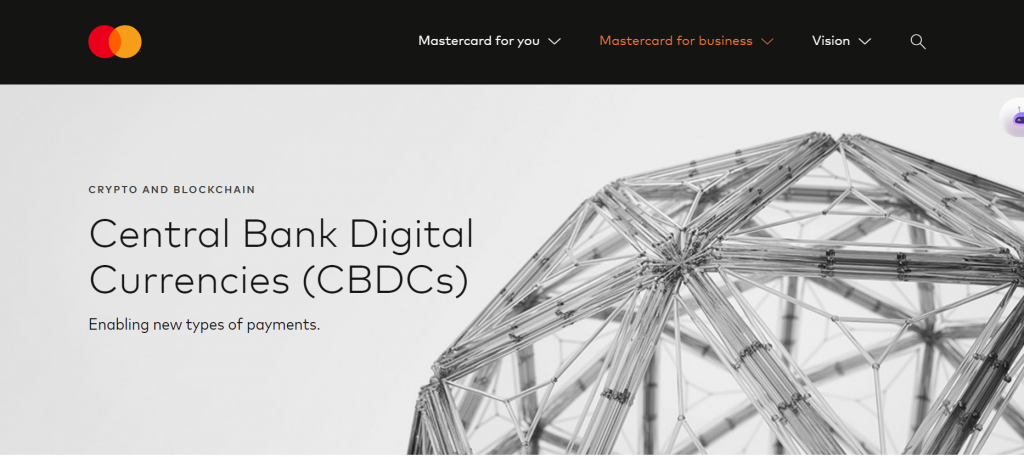 Mastercard Navigating Digital Currency Through CBDC Program
Mastercard recently launched its CBDC Partner Program with Ripple and ConsenSys. The idea is to explore novel digital currency avenues and develop digital currency projects focusing on transparency, stability, and consumer privacy. While CBDCs are not cryptocurrencies, they are a big step towards the larger adoption of digital payment methods and currencies.
Top gainer of the week: THORChain (RUNE) up by 9% ⬆️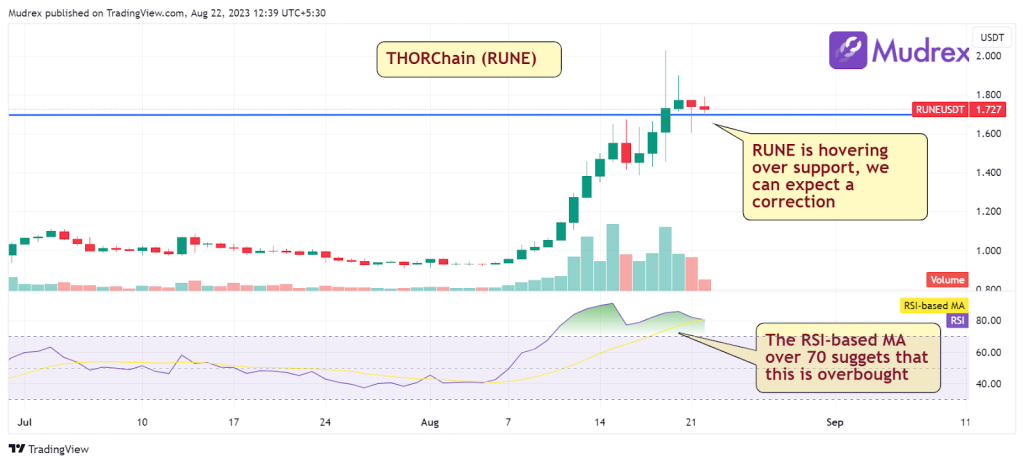 Figure 7: RUNE technical analysis
Opinion
Fundamental Analysis:
RUNE has surged despite the decline of the total market. It has shown strength and processed over $100M in trades over the past week.
The introduction of streaming swaps to tackle slippage has proven to be a game-changer! They have also introduced a lending protocol tied to their stablecoin, TOR.
Technical Analysis:
The market sentiment is neutral, leaning toward bulls. We expect it to undergo a correction as early investors could realize profits, and the RSI-based MA also hints that this is overbought.
Oscillator indicators: 3 bearish, 7 neutral, 1 bullish
Moving average indicators: 1 bearish, 1 neutral, 13 bullish
Biggest loser of the week: Uniswap (UNI) down by 23% ⬇️
Figure 8: UNI technical analysis
Opinions:
Fundamental analysis: The past week was not kind to the crypto market, and UNI did not behave any differently. Uniswap saw a drop of ~20% over the past week.
Technical analysis: UNI has seen a huge decline over the past week. It has traced its way back to its previous levels of support. The RSI indicates that UNI is oversold and we expect it to hold this level before moving up.
Oscillator indicators: 2 bearish, 8 neutral, 1 bullish
Moving Average indicators: 13 bearish, 1 neutral, 1 bullish
Conclusion
The past week was brutal, with a steep decline in terms of market cap. This led to billions being liquidated on the back of institutions like SpaceX and Evergrande. The launch of friend.tech and Mastercard's CBDC announcements round up this week's highlights. The activity in the market suggests that the market shall move sideways over the coming week.