Synopsis
SEC to advocate for stablecoin regulations, PYUSD on the radar
Hong Kong's Securities Regulator to introduce crypto ETFs to retail investors
Deutsche Bank Partners with Taurus for Crypto Custody and Tokenization
Biggest winner and loser of the week
Key Observations
Analysis
PYUSD on the SEC radar
The SEC's looking into PayPal's PYUSD stablecoin echoes the recent sentiment of the growing regulatory scrutiny surrounding stablecoins. The SEC's stance on altcoins and stablecoins emphasizes the need for proper registration. This investigation follows the partnership between PayPal and Paxos, with the Paxos facing prior scrutiny over BUSD.

Moreover, Worldcoin's recent decision to halt payments in USDC raises questions about the evolving landscape of stablecoin regulations.
Hong Kong's progressive approach to crypto

In a significant development, the Securities and Futures Commission (SFC) in Hong Kong is paving the way for retail investors to access spot crypto Exchange Traded Funds (ETFs).
The CEO of SFC, Julia Leung emphasized the importance of managing risks and taking a bold step forward as the agency embraces innovative technological proposals across various assets.
In a series of regulatory changes this year, the Securities and Futures Commission (SFC) in Hong Kong initially tightened its grip on the cryptocurrency sector in January. At that time, they restricted regular folks from investing in crypto spot Exchange Traded Funds (ETFs). Instead, they made it exclusive to those with deep pockets, requiring investors to have at least 8 million Hong Kong Dollars (around $1 million) in their portfolios.
However, things have taken a turn since then. In October, the SFC adjusted its rule book again to make cryptocurrency investments more accessible. They introduced a requirement for a broader range of investors to take a knowledge test and meet certain financial conditions, making it accessible to the general public.
Hong Kong regulators continue to take a progressive approach to crypto, and their opinion on retail exposure to digital assets has shifted throughout the year.
SEC's crypto ETF approval-sized conundrum
As October came to a close, there was no action from the U.S. Securities and Exchange Commission (SEC) regarding the approval or disapproval of several applications for the first Bitcoin Exchange Traded Fund (ETF).

It appears the SEC is still taking its time to reach a final decision, leaving analysts to speculate on the inflow of funds into the cryptocurrency market.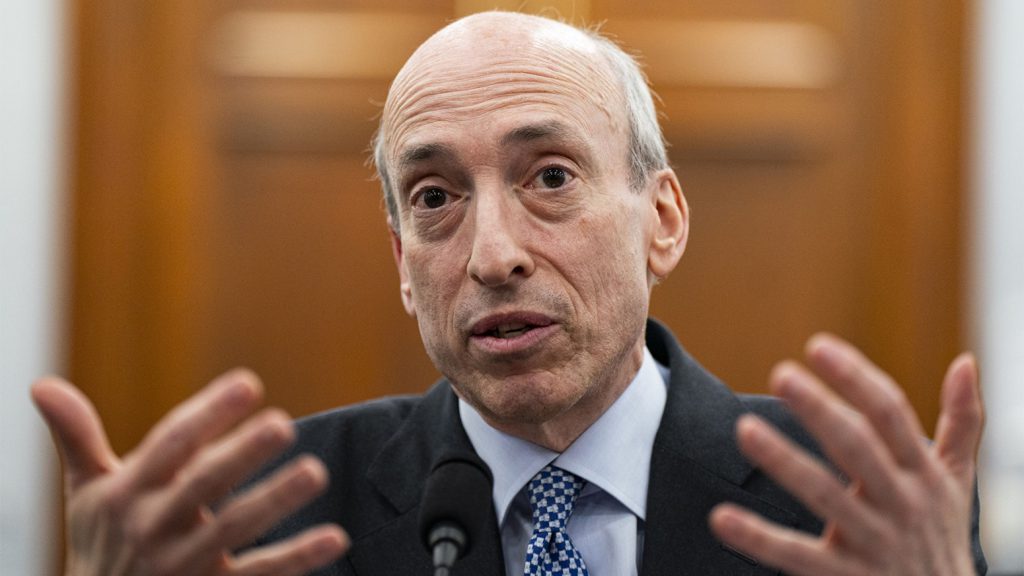 Experts are predicting how much money might flow into the crypto space following the approval of the inaugural ETF. These estimates range from $14 billion to $55 billion within the next three years, indicating the significant impact such a decision could have on the market.
Top gainer of the week: MultiversX (EGLD) up by 43% ⬆️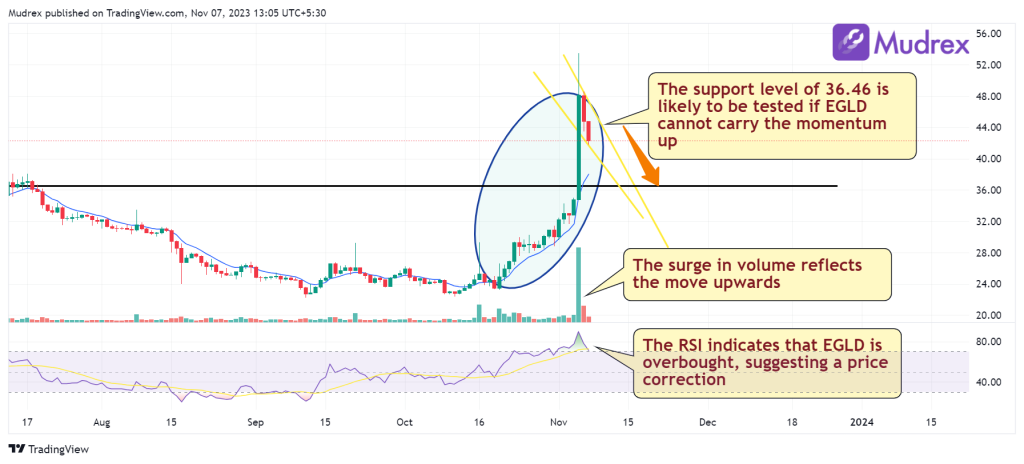 Opinions:
Fundamental Analysis:
The cryptocurrency world witnessed a recent frenzy when EGLD's price skyrocketed to $93 on South Korean exchange platform Upbit. This rapid surge had a ripple effect, leading to significant arbitrage opportunities from Western exchanges.

On Upbit, the trading volume of EGLD now competes with giants like Binance, surpassing even some major cryptos such as SOL, XRP, and BTC in terms of 24-hour volume.
Technical Analysis:
According to the RSI values, EGLD is in the overbought territory. We can anticipate that there will be a correction and key levels of support shall be tested as per the image.
Oscillator indicators: 3 bearish, 7 neutral, 1 bullish
Moving average indicators: 1 bearish, 1 neutral, 13 bullish
Biggest loser of the week: Maker (MKR) down by 6.58% ⬇️
Opinions:
Fundamental analysis:
FalconX recently transferred $12.8 million worth of MKR tokens to centralized exchanges OKX and Binance, contributing to the increase in Maker's reserves across exchanges. Such movements often correlate with a potential decline in the asset's price. This indicates an influx of MKR tokens into the market, which can impact its price movement.
Technical analysis:
The selling pressure has driven the price momentum down. If the support level of $1269 breaks, we can see a pullback towards lower levels. If it breaks the resistance at $1364, we can expect it to move up.
Oscillator indicators: 2 bearish, 9 neutral, 0 bullish
Moving Average indicators: 10 bearish, 1 neutral, 4 bullish
Conclusion
The cryptocurrency market was marked with important events.The SEC's scrutiny of PayPal and growing interest in stablecoin regulations, coupled with Hong Kong's progressive steps towards crypto ETFs, round up the key highlights of the week in the crypto and regulatory landscape. The activity in the market suggests that the market shall test resistance levels of 35,000 before moving up.