In celebration of our biggest supporters — you, Mudrex is offering exciting rewards for everyone! With $1,000+ in rewards available, this crypto winter, we wish Warm Rewards to all. Kick-start your 2022's investment journey with exciting rewards at Mudrex.
How To Claim Your Rewards
To qualify for rewards of $1,000+, you must invest in Mudrex Coin Sets. Just head to your Mudrex dashboard and start investing. 
The reward structure is as follows:
Invest over $100 and get guaranteed rewards of up to $20
Invest over $500 and get guaranteed rewards of up to $500
Invest over $1000 and get guaranteed rewards of up to $1000
What Are Mudrex Coin Sets
Mudrex Coin Sets are a new and simpler way to invest in crypto. Designed for investors of all shapes and sizes, Coin Sets are crypto baskets based on a theme or an idea. These baskets are created, managed and rebalanced by crypto experts with decades of experience.
Coin Sets are built for long-term returns and frequently rebalanced to minimise risk and maximise returns. These baskets are created after thorough market research and aim for the best possible returns in long term. With multiple Coin Sets available to invest in, ranging from the Blue Chip of Crypto to the best Smart Contract Platforms, there is a basket for everyone.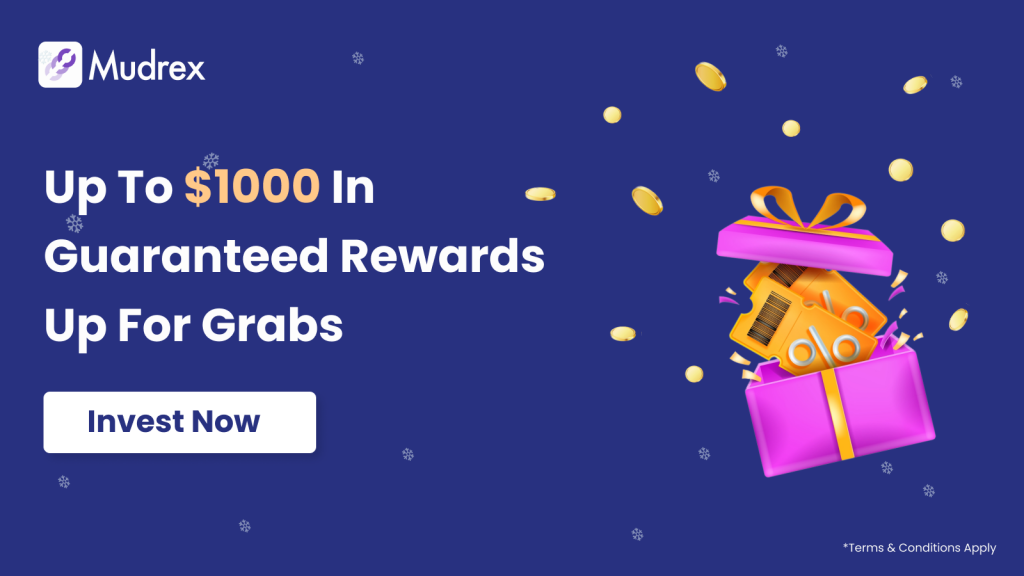 Top Coin Sets At Mudrex
Crypto Blue Chip: With the who's who of the crypto world, this Coin Set contains the top cryptocurrencies on the market according to market cap. With the top tokens such as BTC, ETH and BNB, this basket is built for long-term returns.
New Crypto Stars: If you are all in for success stories, then this Coin Set is for you. The future is here, and this basket helps you invest in the top coins that promise growth. Built with stability in mind, this basket contains well-established tokens as well as some newcomers.
NFT: 2021 was the year of the NFTs, and 2022 is going to be no different. The NFT crypto basket contains handpicked NFT tokens that offer diversification as well as promising growth.
Metaverse: The virtual world is the hype right now, and the projects building the Metaverse are in demand. The Metaverse Coin Set offers a well-balanced and diversified investment opportunity in tokens building the Metaverse.


How To Invest In Coin Sets
Mudrex makes it easy for users to invest in Coin Sets in just a few clicks. Here's how you can start investing in ideas you believe in:
1. Create/Login to your Mudrex account.
2. Deposit your crypto in the Mudrex wallet.
3. Choose the Coin Set you wish to invest in, and select the amount to invest.
4. Confirm your allocation, and you are all done.
Terms & Conditions
If you do not have a Mudrex account, you can sign up here and start investing.

Offer valid only for users who invest in Coin Sets using Mudrex Wallet.

Rewards will lapse if the invested amount is withdrawn within 30 days.

Earned rewards cannot be withdrawn; the user can invest the reward amount and the profits generated can be withdrawn.

The offer can be removed at any time at Mudrex's discretion.

Refer to the Mudrex Terms Of Use for detailed terms of service.