In Crypto, TL;DR
Tesla sold 75% of its Bitcoin holdings for $936 million.

Interest rate hike could affect Bitcoin's value; however, institutions might save the day.

Ethereum on exchanges moved to the Beacon chain. People prefer hodling over trading!
zkEVM testnet ready; faster and cheaper transactions on Ethereum coming soon.
---
Tesla Sells 75% of its Bitcoins For a Loss?
Yes, the Doge Daddy, Elon Musk owned Tesla recently disclosed to have sold 75% of its Bitcoin holdings in Q2 to add $936 million in fiat to its balance sheet.
Don't be surprised. During economic slowdowns, it is natural for companies to improve cash flows which is what Tesla did. They are greatly reliant on China for manufacturing its car parts, and after the country recently imposed Covid 19 restrictions, it became vital for them to improve their liquidity. As a result, they had to sell their Bitcoin holdings.
Elon Musk also affirmed that the sale "should not be taken as a verdict on Bitcoin." "The reason we sold a bunch of our Bitcoin holdings was that we were uncertain as to when the Covid lockdowns in China would alleviate. So it was important for us to maximize our cash position." "We are certainly open to increasing our Bitcoin holdings in the future."
To which the OG Bitcoiner, Michael Saylor, said –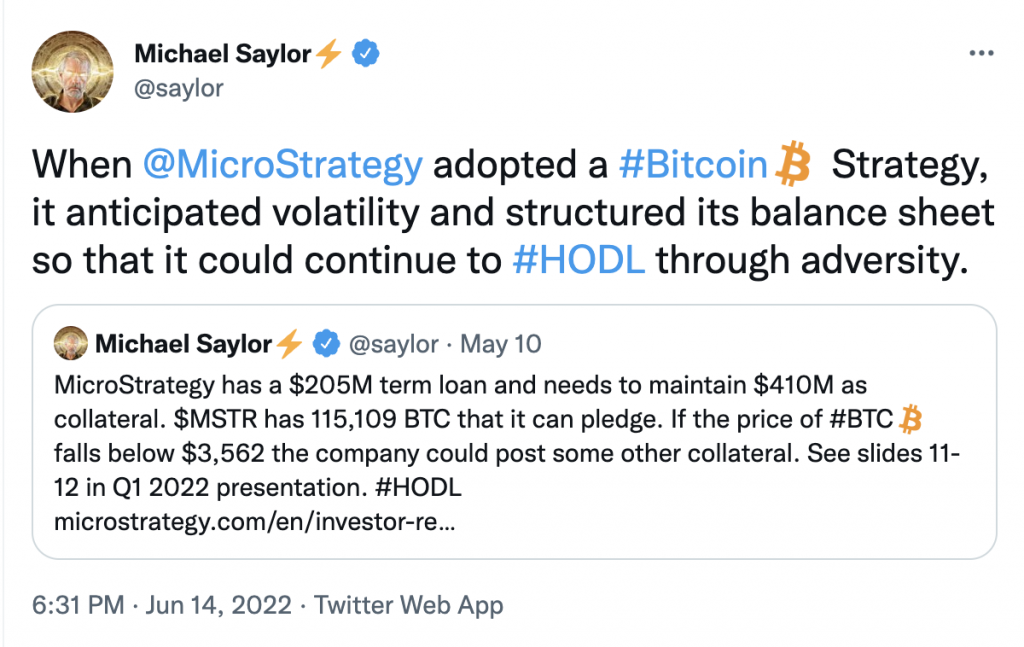 But did they sell at a loss?
As of June 30th, Tesla valued their digital assets, both Bitcoin and Dogecoin at $222 billion in their balance sheet. Now, because of the market downturns, they wrote off $170 million as a loss between Jan to June. However, in reality, they made a profit of $64 million while selling.
Fed Decides Bitcoin's Moves 📈
Historically, interest rates and stocks have had an inverse relationship.
When interest rates go up, stock prices tumble and vice versa. And as the once uncorrelated cryptos begin to mirror the stock market lately, it could likely be the case for crypto as well.
The inflation pressure has caused the Fed to raise interest rates. They have already done it a couple of times. In this week's meeting another hike of 0.75 percentage point is expected.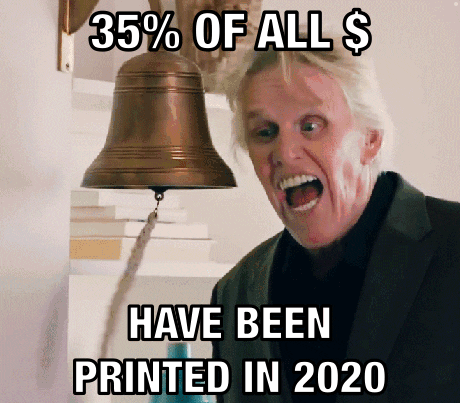 This is an unusually big rise and may affect the financial markets across. Further rate rises are also forseen this year.
Moreover –
1. Bitcoin's mining difficulty rate has plunged, which may also negatively impact its prices.
2. The looming recession fears may also have people liquidate their crypto assets.
3. The FUD in the market is adding fuel to the fire.
On the bright side; analysts believe that this pullback in the crypto market could be offset with greater institutional interest later in the year. For instance, large financial institutions like Barclays are thinking of buying a stake in a crypto firm, Copper.
HODL'ing' Ethereum (ETH) All The Way To Merge 💪
As the most awaited upgrade of the Ethereum network, 'The Merge' approaches, ETH held on exchanges hit a four-year low.
The Merge is an update to the existing Ethereum network where it will move from PoW to PoS. Proof of Work (PoW) consumes a lot of computational power to validate transactions and is very slow, while Proof of Stake (PoS) validates transactions through staking, making it less energy intensive and much faster.
Though the transition date isn't announced yet, the developers expect it to be near Sept 19th. To successfully complete 'The Merge', people must stake ETH on the Beacon chain. It is a bridge between the current Ethereum network and Ethereum 2.0. Approximately 12.98 Million ETH are staked on the network, and this number is growing as we inch closer to the big day! People are withdrawing their ETH from exchanges to stake on the Beacon chain —They are hodling.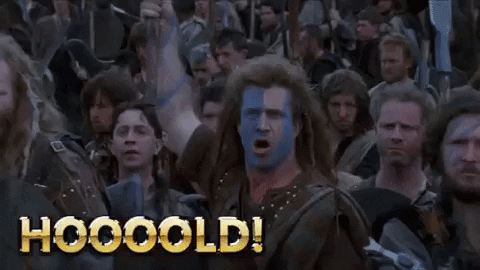 Consequently, ETH is also rallying.
We also noticed a bull run in Ethereum Killers like Solana, Polygon and Cardano. Despite shifting to PoS, the biggest issue of the network; expensive gas fees, won't be solved. The transaction cost on Ethereum 2.0 is going to be the same as it is today. Whereas the Ethereum killers promise the same functionality as Ethereum with lowers costs.
Polygon's ZK Rollup Testnet Ready! Mainnet Launch Coming Soon 🚀
At the Ethereum Community Conference (EthCC) in Paris, Polygon announced Polygon zkEVM. The company described it as the "first Ethereum-equivalent scaling solution that works seamlessly with all existing smart contracts, developer tools and wallets, harnessing advanced cryptography called zero-knowledge proofs."
Ethereum processes 15 Transactions Per Second (TPS) which is significantly lower than its competitors like Solana and Tezos which have a capacity of 3000 and 40 TPS respectively. On top of that, the gas fees make it very expensive to use. Rollups like Polygon zkEVM could be groundbreaking in boosting the network's capabilities. It would allow users to transact quickly and cheaply without compromising the network's security.
According to Polygon: "This scaling solution was at least 12 to 18 months away. But here we are, and we are open sourcing the code and making the test net live." The mainnet launch is expected in 2023.
Other Highlights
Christie's announced the launch of its in-house investing firm to support web3 innovation.
Cheapest CryptoPunks' floor price reaches $100K.
DeFi's total value locked (TVL) reaches $86.6 billion.
That's all for now, we will soon be back with more such updates. Until then check out the Mudrex App!