TL;DR
Unstoppable Domains, a Web3 digital identity company, is the latest crypto startup to become a unicorn.
The Wharton School at UPenn has launched an online business certificate program in Metaverse.
Chipotle to give away $200,000 worth of Bitcoin, Ether, Solana, Avalanche, and Dogecoin via an online game.
---
Unstoppable Domains becomes a unicorn with $65M Series A funding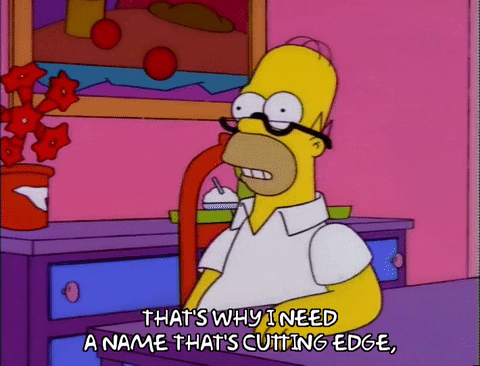 Unstoppable Domains, a provider of Web3 digital identity services has raised a $64 million Series A investment round from different VCs.
Users can obtain domains from Unstoppable Domains in the form of non-fungible tokens (NFT), which are suitable for 150 various Web3 apps.
One benefit would be replacing long crypto wallet addresses with shorter, more approachable ones. According to the company, it has so far registered 2.5 million such domains.
Wharton Business School launches an online business certificate program in Metaverse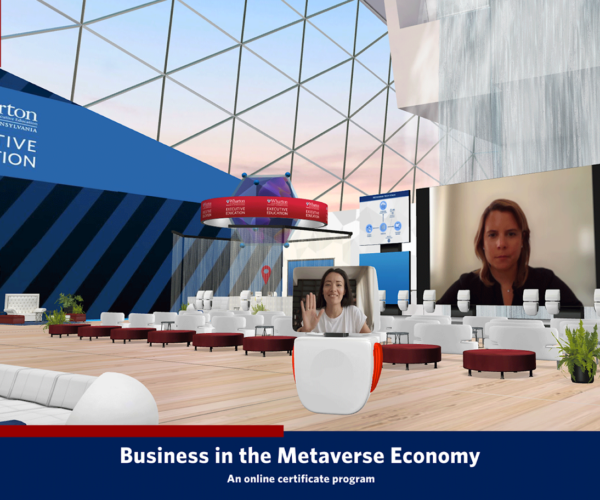 A certificate program named "Business in the Metaverse Economy" will be introduced by the University of Pennsylvania Wharton School of Business on Tuesday.
A significant amount of immersion will be used in the six-week course's online classes. The cost of the six-week course at the Ivy League business school will be $4,500, including over 50 lectures and guest lectures.
Chipotle to give away $200,000 worth of cryptocurrency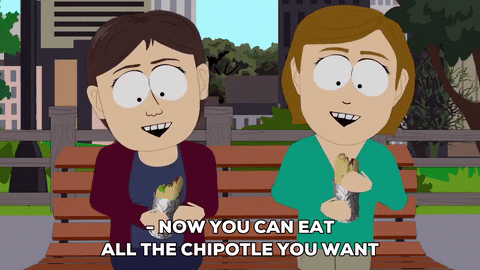 Chipotle has launched an online game that offers players the chance to win more than $200,000 worth of cryptocurrency.
Chipotle said on Monday that customers may use their rewards accounts to play its "Buy The Dip" game up until July 31. With the help of the game, the corporation will award $45,000 in Bitcoin (BTC), $10,000 in Ether (ETH), $13,750 in Solana (SOL), $14,250 in Avalanche (AVAX), and $14,250 in Dogecoin (DOGE).
Chris Brandt, chief marketing officer of Chipotle, stated, "We want to interact with the Web3 community to cultivate the next generation of Chipotle fandom."
---
Other news:
Ethereum Classic jumps up more than 60% for the week after crypto miner Antpool's $10 million investment and Vitalik's supportive comments.
In a progressive stance, the City of Miami to Launch 5,000 Ethereum NFTs with TIME, Mastercard, and Salesforce.
Sudoku and Solitaire game players can now earn Bitcoin rewards. More reasons to play these all-time classics, eh?
The institutional sentiment towards ETH has improved after almost 11 weeks of outflow.
---
Market performance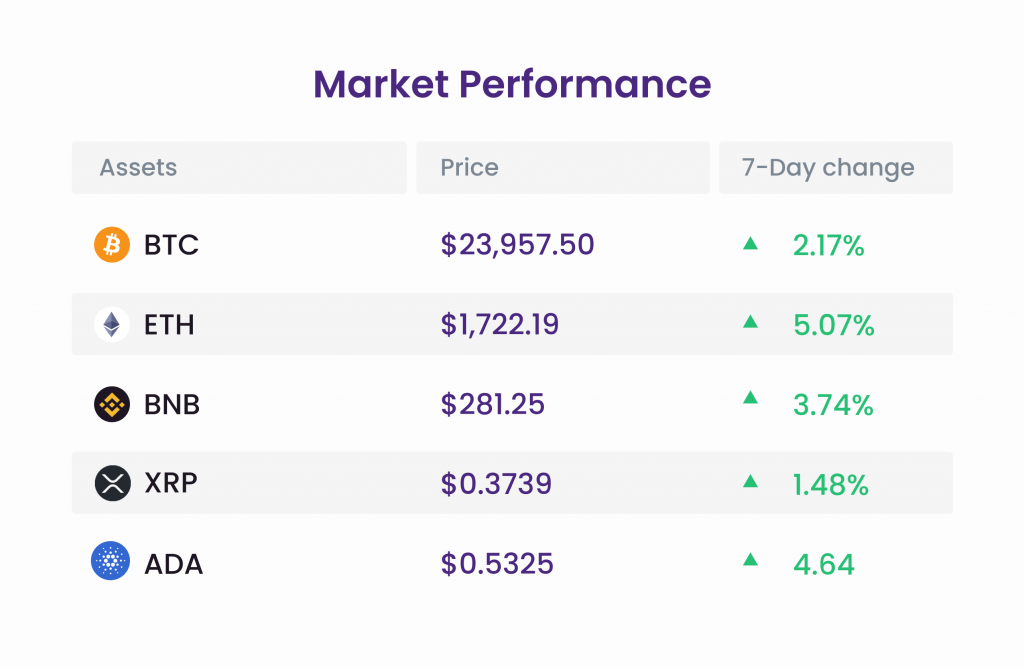 We saw a massive recovery across the major cryptocurrencies over the past week. Although it was only ETH that was driving this rally initially. However, post the interest rate announcement, others seem to be joining the frenzy.
Sector performance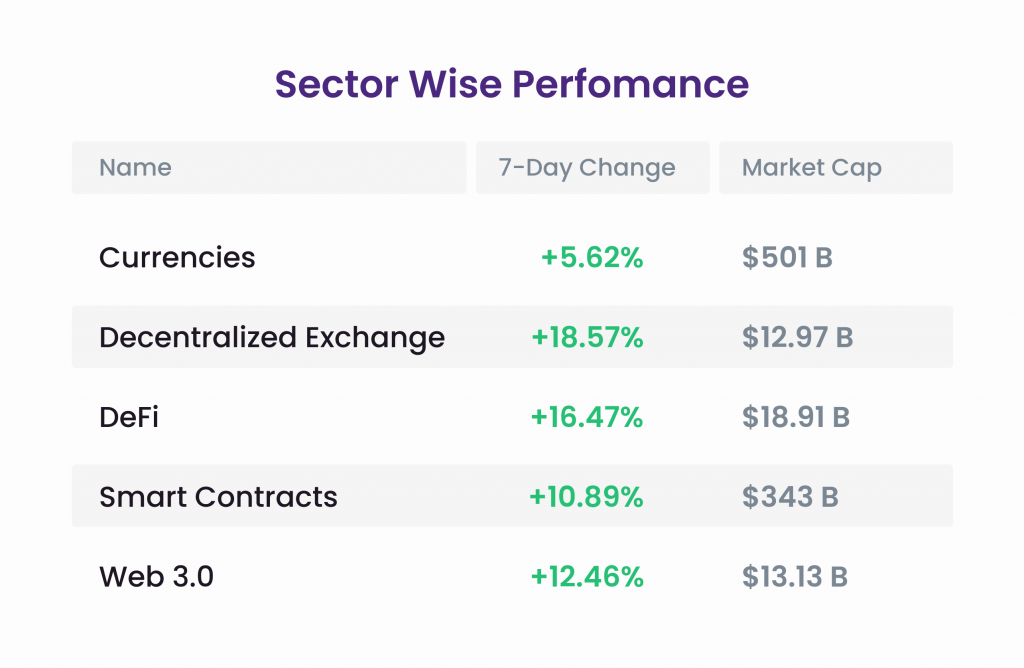 We always advocate investing across sectors over individual cryptos. The numbers above speak for themselves. With double-digit growth across sectors, a sector-based investing strategy would have smoothly outperformed investing in individual cryptocurrencies.
---
Coin of the week
Optimism: $OP
Our pick of this week is overwhelmingly optimistic. With trading volumes surging by almost 500% over the past seven days and a market capitalization of over $386 Million, the Ethereum Layer-2 scaling solution shows a highly promising future. The token has more than doubled over the past week and still seems to have a lot of momentum left.
With layer-2 solutions gaining massive popularity among developers, Optimism is bound to be an investor favourite over the coming time.
---
Crypto Simplified
How do interest rate decisions impact the crypto market?

Remember how central banks worldwide printed money recklessly during the Coronavirus crisis? The central banks did it to ensure the economy had enough liquid cash.
This whole phenomenon has a name: 'Quantitative easing!' As a consequence of this reckless printing of money, inflation shoots higher. And to bring inflation under control, the government has one triumph card: raising the interest rates.
More recently, the European Central Bank announced a 50-basis point, or 0.5% hike. It was its first hike in more than a decade!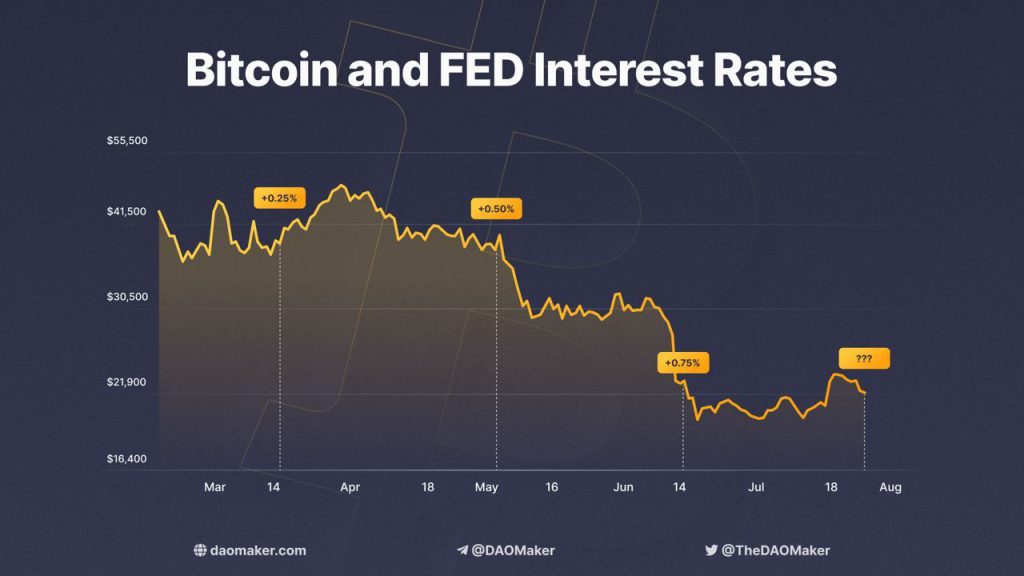 When it comes to the markets, one thing is apparently etched in stone: the market does not like uncertainty! The speculation that the Fed might do a 100 basis point rate hike had triggered a major sell-off across global equities during June this year.
Wait! So rate hikes are unpleasant, right? So, on Thursday, when the Fed hiked the interest rates by 75 basis points, why did the markets go higher?
Well, two reasons:
The hike was only 75 basis points (0.75%) compared to the speculated 100 basis points (1%).
More importantly, the Fed Chairman said that data would drive any future hikes. Data takes time to come through. It essentially means that rate hikes are probably not coming anytime soon!
That being stated, this rally across the cryptocurrency market was more of a relief rally and not likely sustainable. So, it would be wise to sit back and let the markets settle a bit!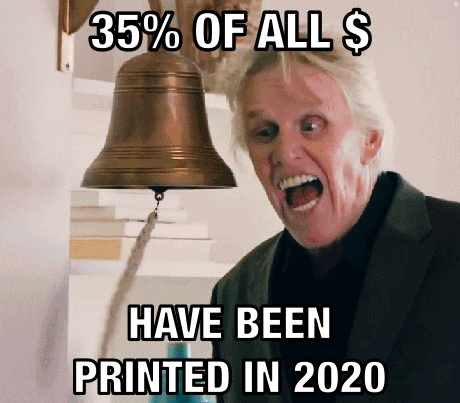 ---
Another crazy week across the cryptocurrency market! The numbers do not lie! As we can clearly see in the above market and sectoral performances that sector based investing is a much more prudent way of investing. Mudrex Coin Sets allows you to diversify your investments across across sectors.
DeFi 10:- This Coin Set is created with the belief that DeFi will make finance more efficient and more accessible to everyone. DeFi revolves around decentralized applications (DApps) built on blockchains.
Smart Contract Platforms:- This Coin Set invests in tokens of platforms to build the smart contract infrastructure. Adding such potential tokens to your portfolio can offer stable investment opportunities for long term investors. 
Best Exchanges:- The Best Exchanges Coin Set invests in tokens that represent the largest exchanges in the crypto space, otherwise known as exchange tokens. 
---
Here we are, at the end of our 52nd edition. We hope you liked reading it. 
If you liked the content, please share this with your friends.