In Crypto; TLDR
Pension funds and institutional investors hold onto crypto, despite the bear market.
BTC transaction fees down below a dollar.
Acala suffers a $3 billion hack.
Hope in the Bear for Pension Funds and Institutions
A Wall Street Journal report suggests multiple pension funds invested in crypto throughout 2020 and 2021. While these investments may have burnt them, some still have hope.
A Quebec pension fund invested and lost $150 million after Celsius filed bankruptcy.
Houston's pension fund for its firefighters invested $25 million in BTC and ETH. Though its value has depreciated, the fund has no plans to exit.
Two Virginia-based pension systems approved a three-year plan of investing $70 million in crypto assets.
Not just pension funds but large institutional investors have also put their trust in crypto.
BlackRock joined hands with Coinbase to offer crypto trading to its investors. It also launched a spot Bitcoin private trust.
Charles Schwab, a US broker and investment fund with an AUM of $655 billion filed for an exchange traded fund (ETF) to give investors access to cryptos without exposing them to the tokens.
A 200-year-old UK asset manager, Schroders, too, bought a stake in crypto firm Forteus.
What's keeping them hooked to crypto?
Well, you might already know. Pension funds and institutional investors have been trying their hands on various asset classes in search of better returns to keep their promise of higher returns. Usually, they would lean on bonds as an investment tool, but though safe, bonds can't cater to their aggressive needs. Thus, the introduction of crypto unleashed a perfect opportunity for them. Since these funds have a long-term outlook, they are waiting for the light at the end of the tunnel.
As of June, ~6.5% of all Bitcoin was held by institutional investors, and this might just be the start of mainstream crypto adoption.
BTC Transaction Fees Slumps Below a Dollar
Yep, you read that right! The average transaction fees on the Bitcoin blockchain fell to $0.825 on Monday. At one point, it was more than $60.
What caused Bitcoin transaction fees to drop to a dollar?
Timely upgrades, including the Lightning Network and Taproot upgrade.
Falling market prices and lower mining difficulty. Bitcoin mining difficulty hit an all-time high in May this year, rising again earlier this month. But the falling prices of GPU or graphic cards has meant miners can mine more BTC.
Transaction fees on blockchains have been one of the biggest factors that kept them from wide adoption. However, with the two biggest blockchains overcoming the transaction fees problem, there could be some positive after effects.
Acala Firefighting a Hack
The Honzon protocol on the Acala network happens to come across a misconfiguration in one of its liquidity pools, leading to a $3 billion hack. Liquidity pools are a pool of crypto assets used to facilitate trade between cryptocurrencies. Unlike order books, liquidity pools use equations to fulfill orders.
What happened was –
On Saturday, a new iBTC-aUSD liquidity pool containing a software bug launched on Acala. Which minted $3 billion aUSD without appropriate collateral. 1.2 billion of these were sent to 16 liquidity providers of the pool as rewards for providing liquidity. Another 4.3 million tokens remain unclaimed.
While some wallets may have claimed the rewards as an error, others looked at it as a money-making opportunity, says a pseudonymous Twitter user Alice and Bob.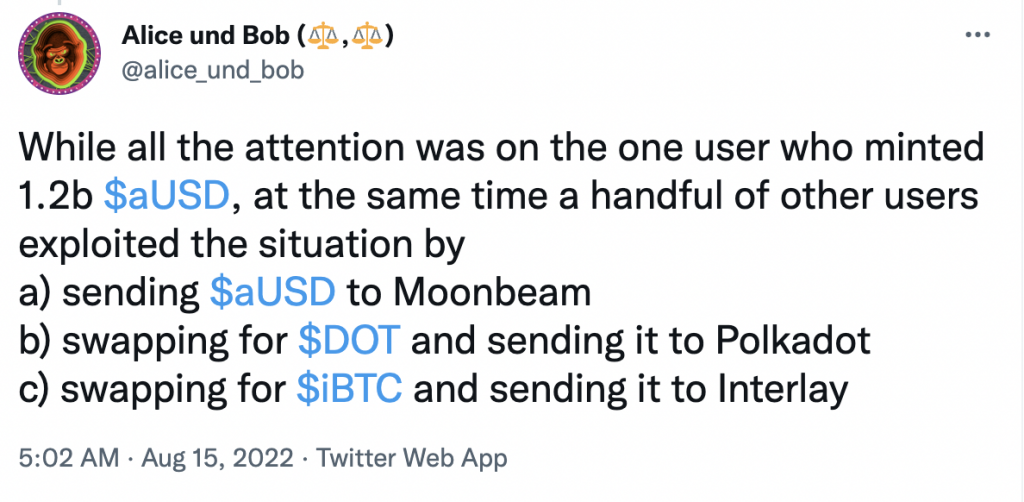 According to it, they exploited the situation by
Sending $aUSD to Moonbeam
Swapping for $DOT and sending it to Polkadot
Swapping for $iBTC and sending it to Interlay
The minting of such an enormous amount of tokens in such a short span caused the Acala Dollar (aUSD) to lose its peg. Trading at about $1.02 on Saturday evening, aUSD plunged to less than a penny, according to data from CoinMarketCap.
Immediately after finding the breach, Acala halted the transfer of aUSD on the network. It also destroyed 99% of the 1.2 billion tokens that remained on the network along with unclaimed tokens to revive its peg.
Other Highlights –
Australia works on crypto regulation.
Fed may launch FedNow to compete with CBDCs.
Chingari launches a video NFT marketplace called "Creator Cuts."
Polygon surpasses Solana with more than $2.1 billion in total value locked compared to Solana's $1.6 billion.
Hope you enjoyed reading this blog, if you did, why don't you download the Mudrex App.