Synopsis
Uncertainty over stablecoin protocols
Bank of Japan's revamped yield policy
Bills passed in US House Committee in favor of crypto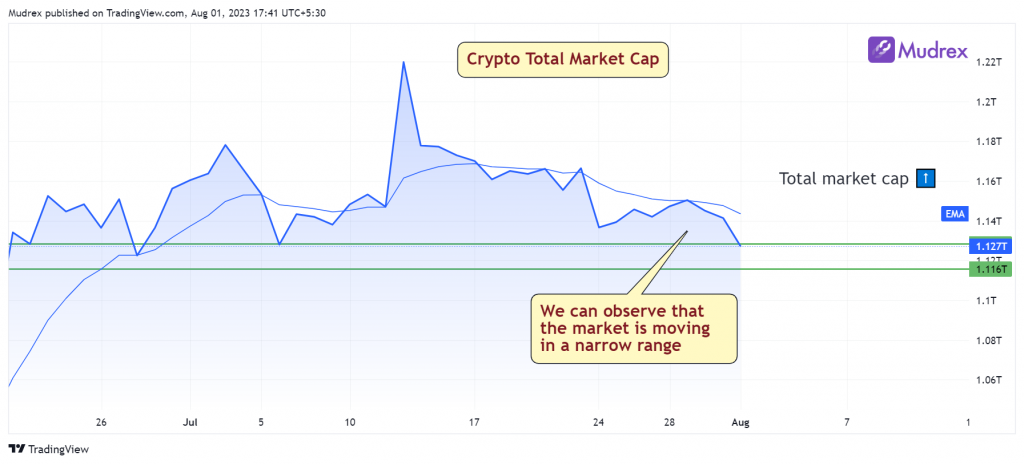 Key Observations
The market has slipped into a downtrend. We can see that the market has been moving in a narrow range. The total market cap is hovering around the local support line of 1.13T and it may slip down to 1.11T if it does not hold the levels.
Analysis
The stability of stablecoins is under question, yet again
Recently, there was a security issue with CRV that put more than $100 million of users' funds at risk. This has made people question the security of stablecoin exchanges. CZ, Binance CEO mentioned that stablecoins may not always be as stable as they seem.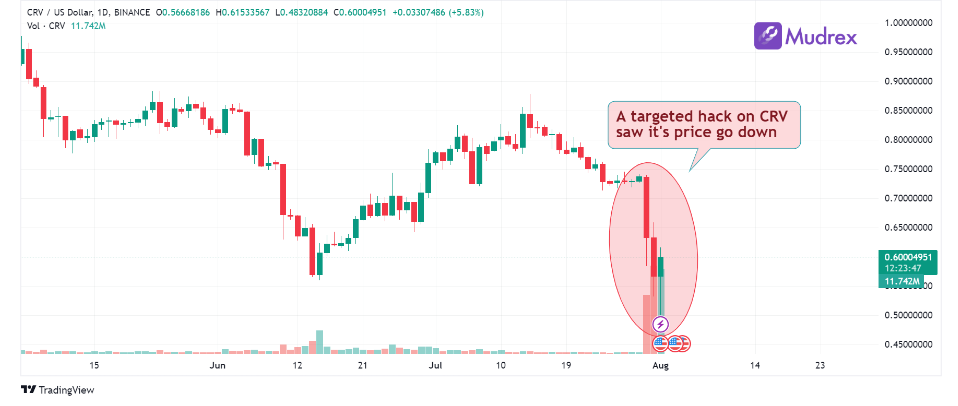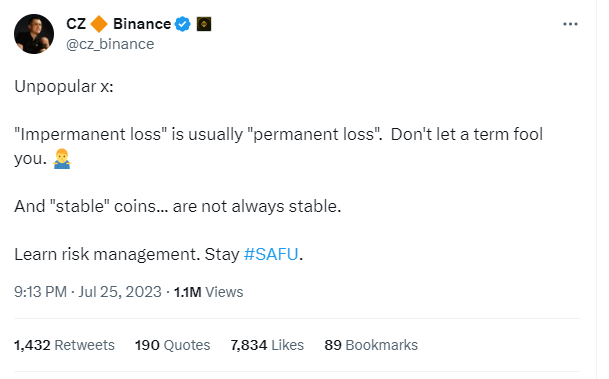 MakerDAO's DAI stablecoin seems to have everyone's attention!
For reference, DAI is used heavily in DeFi. MakerDAO recently introduced a buyback mechanism for its MKR token, and MKR whales – notably crypto VC firm a16z – have been selling heavily into the rally. This has led to speculation about whether DAI is at risk, and there's more hints about this.
MakerDAO recently raised DAI yield to 8% to attract more buyers. However, high yields in crypto are not without risks due to DAI's collateral being mostly real-world assets.
USDC is also another prospect owing to high yields offered despite the regulatory clearance and backing. They also rely on DeFi and could be what CZ may have been talking about.
Bank of Japan's Yield Curve Flexibility
The Bank of Japan's surprising decision to change its yield curve approach has caught markets off guard. Institutions that were benefiting from interest rate differences between Japan and other regions might now face higher costs and lower returns. The EU and US markets closed lower resonating the sentiment across the global markets.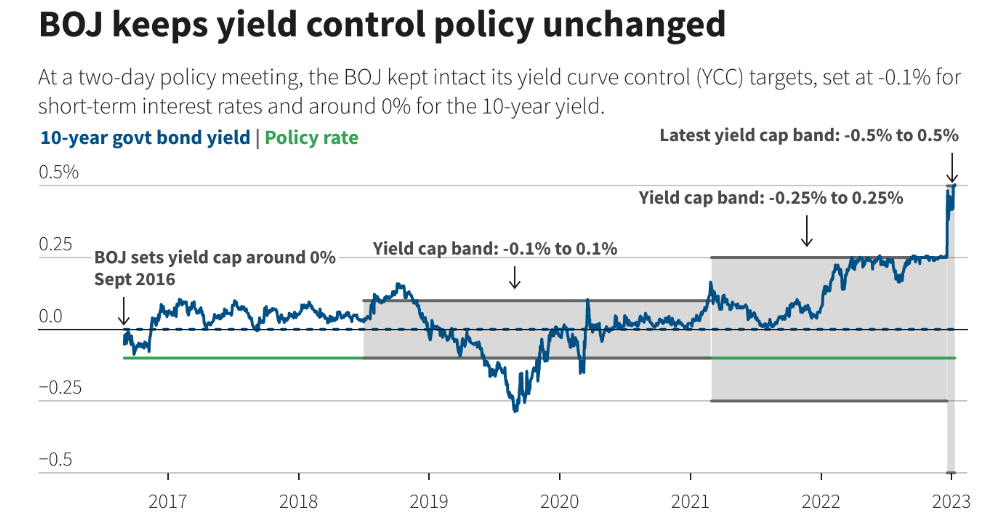 US House Committees Approve Financial Innovation Act, considered a win for the Crypto Industry
The US House Financial Services Committee passed a significant bill on July 26, 2023, with the US House Agricultural Committee passing it the next day.
The bill, the Financial Innovation and Technology for the 21st Century Act, is a major win for the global crypto industry as it specifically addresses cryptocurrencies, giving power to the CFTC over digital commodities and clarifying the SEC's jurisdiction over digital assets.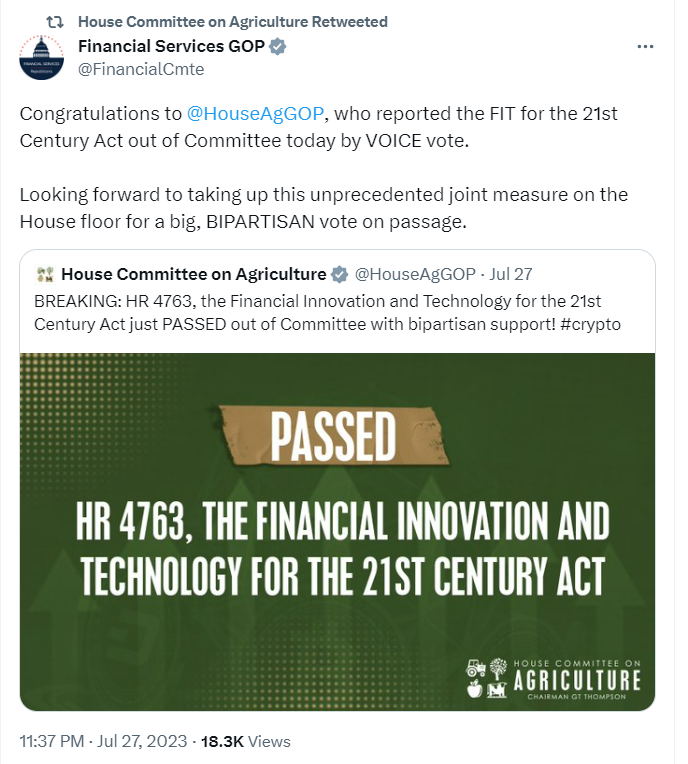 Top gainer of the week: Maker (MKR) up by 23% ⬆️
Maker's price saw a boost due to increased ecosystem activities as the Maker Governance votes to approve or reject the new Spark Protocol changes commence.
This vote was a result of Phoenix Labs' proposed key adjustments to Spark Protocol DAI market parameters to enhance user experience. Additionally, being the governance token of Maker protocol and MakerDAO, has resulted in increased trading activity and demand for MKR.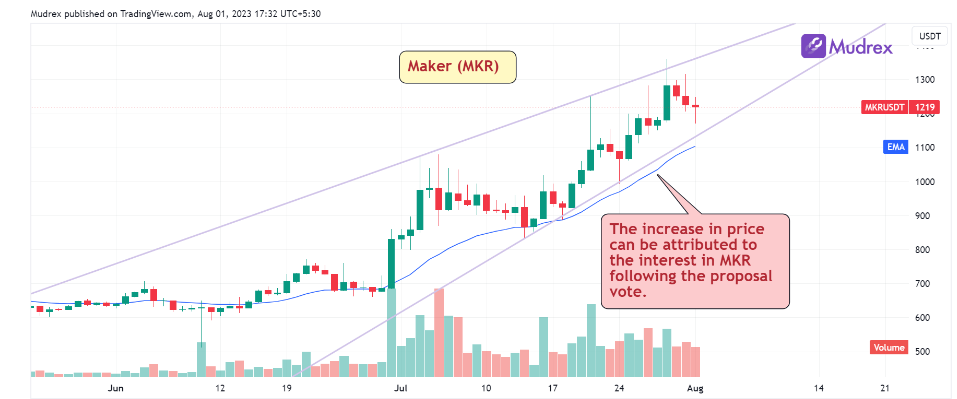 Opinion
Fundamental Analysis:
There was an increase in interest for MKR because of the MakerDAO vote on the Spark Protocol. This caused more people to buy it to cast votes and the market turned bullish.
Technical Analysis:
This leg up means that shorters may prefer to stay clear of MKR for the moment.
Oscillator indicators: 1 bearish, 8 neutral, 2 bullish
Moving average indicators: 3 bearish, 1 neutral, 11 bullish
Biggest loser of the week: TonCoin (TON) down by 14% ⬇️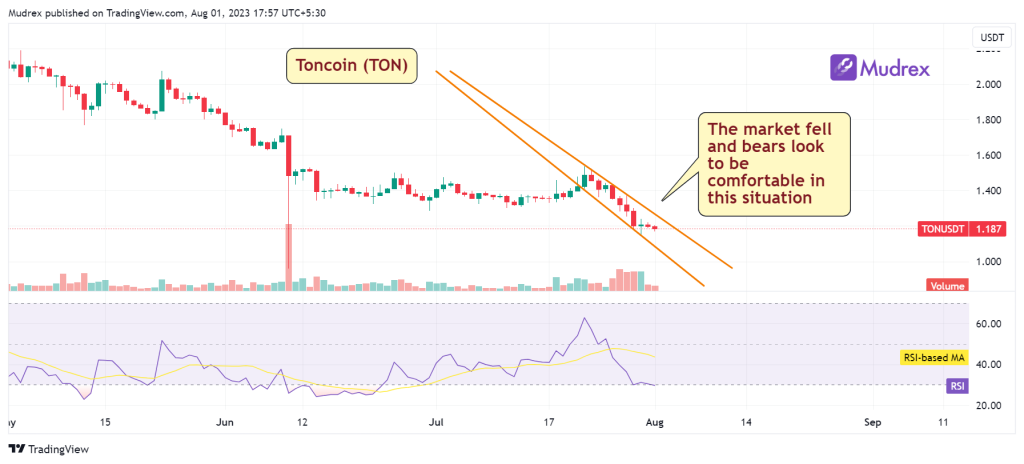 Opinion
Fundamental analysis: Toncoin seems to be a great project but the lack of active publicity by the team does not translate well to the investors. This leads to most traders choosing to stay away from buying at this price range.
Technical analysis: TON has seen a dip over the past week, by the looks of the market movement bulls are wary of this token and bears seem to be comfortably in control.
Oscillator indicators: 2 bearish, 8 neutral, 1 bullish
Moving Average indicators: 10 bearish, 1 neutral, bullish
Conclusion
The cryptocurrency market continues to be influenced by regulatory actions, and institutional involvements. The past week revealed the uncertainty looming over stablecoins and how large institutions prepare in the wake of the yield rates proposed by the Bank of Japan. The passing of the Financial Innovation and Technology for the 21st Century Act bill in the US shows signs of promise for crypto adoption. The trading activity in the market suggests that there will be period of consoldation before moving up.