This week in The Flippening, TL;DR
Robinhood pulls in $233M in crypto revenues, contributing 41% in Q2. Polygon launches DAO to unite DeFi platforms. Ironically, Poly Network asks the White Hat hacker to join as Chief Security Advisor. Markets didn't move much last week. TIL – The Coinbase Effect. Mudrex announces rewards on depositing crypto in Mudrex Wallet. NFTs – Crypto history's biggest hack story in shitposts.
---
Top Highlights of the Week (ending 19th Aug)
Robinhood achieves remarkable crypto growth; pledges to launch crypto wallets and more coins.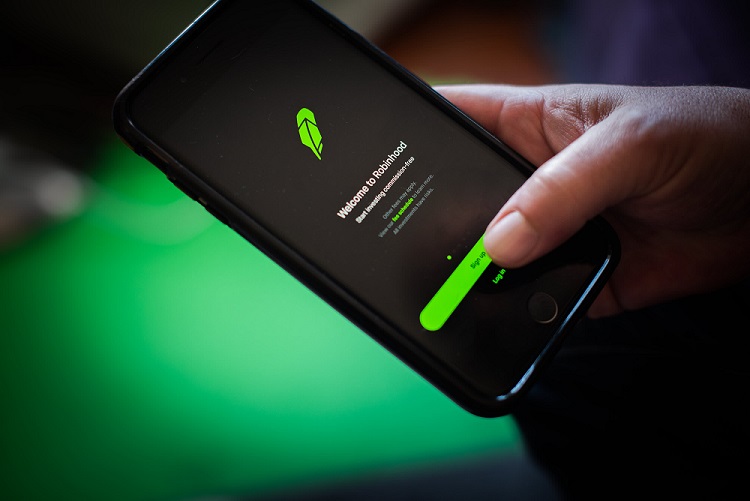 Robinhood reported its first earnings as a public company, revealing that more than 60% of its funded accounts engaged in crypto trading in Q2. The percentage of its total revenue derived from commissions on cryptocurrency trading jumped to 41% ($233M) in the second quarter, up from 17% in the first quarter.
But, there's a catch. Robinhood's 62% of all cryptocurrency revenues in the second quarter came from the trading of dogecoin (DOGE), up from 34% in the first quarter. The company noted this heavy reliance on Dogecoin as a potential risk.
Robinhood's upcoming plans for crypto include listing more assets, providing "interest and rewards" to users, and adding a wallet that will let users move tokens on and off the platform.
"I know there's been a ton of enthusiasm from the crypto community and the Dogecoin community in particular in getting access to wallets," assured Robinhood CEO Vlad Tenev.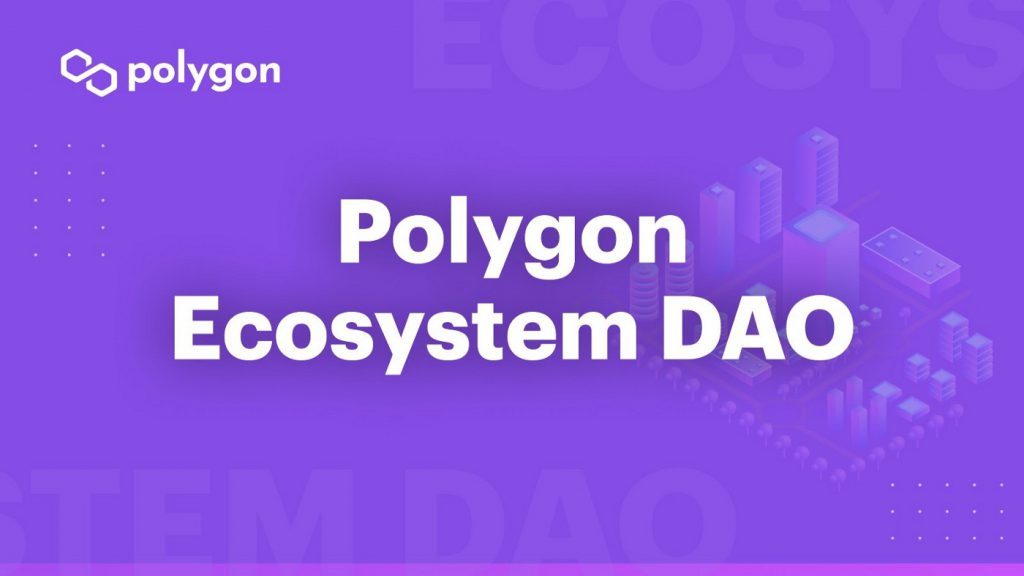 Ethereum scaling solution Polygon will launch a Decentralized Autonomous Organization (DAO) to encourage DeFi interoperability and adoption. The firm has tapped DeFi partners like Aave, Chainlink, and SushiSwap to help found the decentralized organization to govern the initiative.
Polygon will use the $100 million DeFi fund it announced this past April to fund the creation and maintenance of the organization, and help finance projects that users think can help push the DeFi industry forward.
"Polygon's overarching intention is to decentralize specific internal decision-making and invite the community to have a say in the ongoing development of the Polygon DeFi sector," reads the company's announcement. "The venture also intends to foster greater cross-collaboration and compatibility within community projects."
Last week, Polygon announced plans to acquire fellow scaling solution Hermez for $250 million, "merge" the Hermez token into its network via a swap and integrate its transaction-rollup tech within the Polygon suite.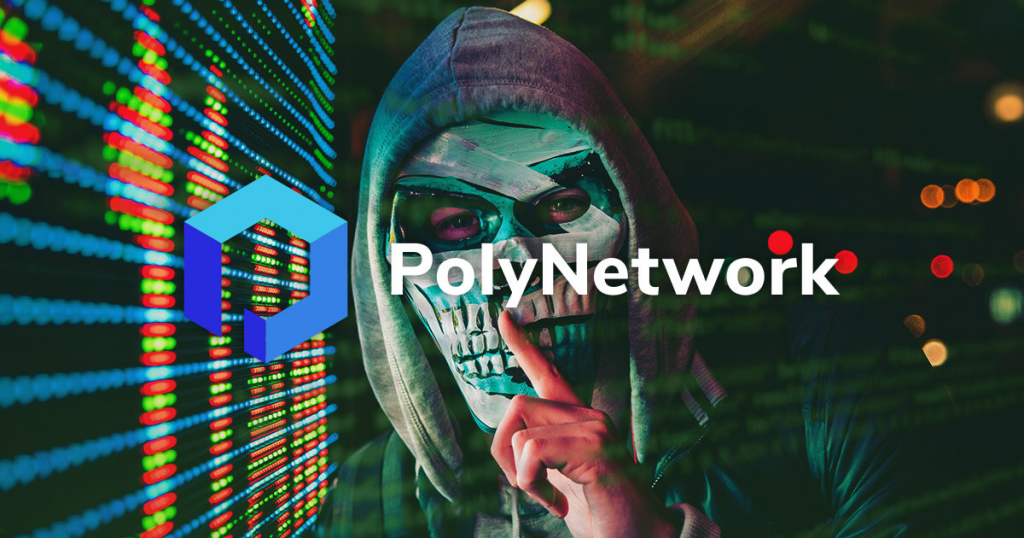 In a surprising turn of events, the Poly Network team said, in a seeming attempt to gain access to the hacker's expertise, that it would be inviting them to the position of chief security adviser. In addition, the project will be sending a $500,000 bounty for the attacker, whom Poly dubbed "Mr. White Hat," despite the fact they have previously refused any payment.
The hack was reported on Aug. 10, when analysts noted that roughly $610 million had been removed from the Polygon network, the Binance Smart Chain, and Ethereum.
The hacker subsequently communicated with the Poly Network team and others through embedded messages in Ethereum transactions, agreeing to return the funds.
---
Other News and Top Reads
---
Market Performance Overview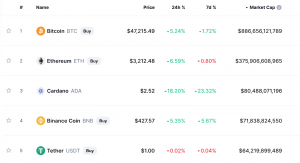 Prices haven't changed significantly over the past week for BTC (+1.72%) and ETH (-0.80%). However, ADA saw a big jump of 23.32% over the week reaching the price of $2.52.
The week ending 19th Aug didn't see a lot of movement across sectors. The leading sector this week was DeFi with 12.05% growth. Terra (67.77%) & THORChain (23.65%) were the top-performing assets in this sector.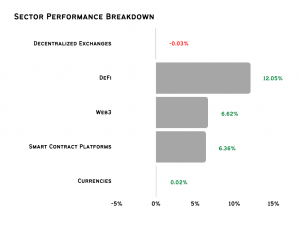 ---
Today I Learned
This week we came across an interesting concept – The Coinbase Effect and we'd like to share it with you all.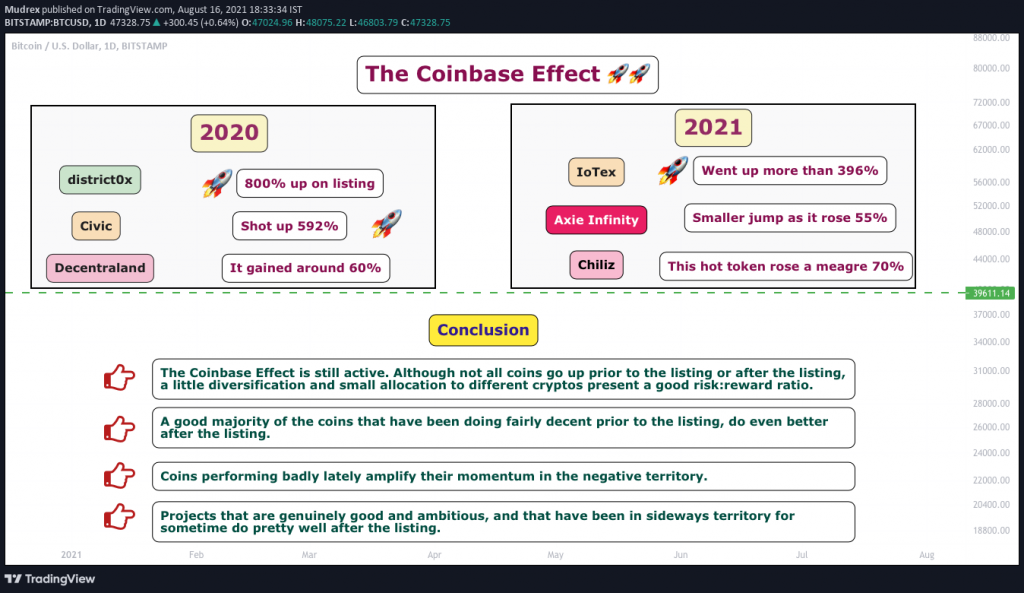 TIL – ​​The "Coinbase effect" refers to the notion that up-and-coming cryptos go through massive rallies during listing on the Coinbase exchange.
A lot of hype has been doing the rounds since ADA was listed on Coinbase in 2020. Several research firms jumped in to find the connection. The research firm Messari stated that on average, there is a gain of 91% within the first five days of listing.
The Coinbase Effect is still active. Although not all coins go up prior to the listing, a little diversification and small allocation to different cryptos present a good risk:reward ratio.
A good majority of the coins that have been doing fairly decent prior to the listing do even better after the listing.
Coins performing badly lately amplify their momentum in the negative territory.
Projects that are genuinely good and ambitious, and that have been in the sideways territory for sometime do pretty well after the listing.
---
Featured – Wallets with Benefits

We recently launched Mudrex Wallet and have come up with some grand promotions for you all. Unfortunately, it isn't available for our users in the US yet.
Deposit crypto worth more than $250 in your Mudrex Wallet by 31st August and get up to $500.
We have 3 tiers of rewards based on the cumulative amount you deposit during this period. There's also a Mega Reward for the user who deposits the highest amount during this period.
We are also conducting a webinar on 21st Aug 2021, 9:30 – 10:30 PM IST, explaining the benefits and how you can get started with Mudrex Wallet.
---
Here we are, at the end of our third edition. We're really enjoying writing these newsletters, we hope you like reading them too! Please write back with your feedback, comments and stuff that you'd like us to include in the newsletter.

We'll leave you with an amazing collection of NFTs, describing blockchain history's biggest hack story in shitposts.