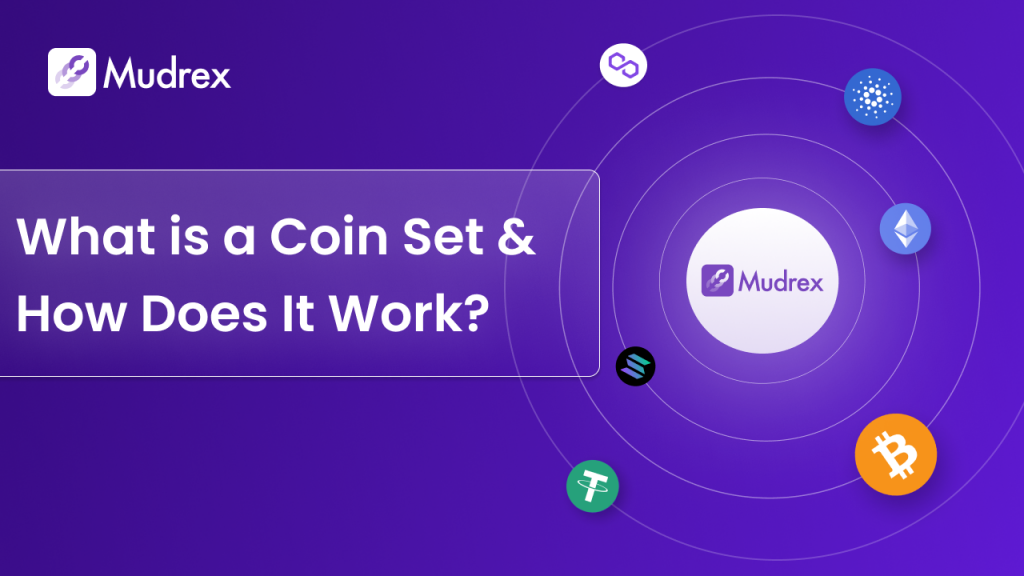 Many looking to invest in cryptocurrency have taken a step back due to market volatility. Some of you might not have time to manage your crypto portfolio investment, keeping track of it every day and on what to invest on, right? Introducing Mudrex Coin Sets will solve each of these problems. A Coin Set is just like an index fund or mutual fund managed by experts, and built for long-term investments and consistent returns. Let's learn more about it and how it works in this article.
What is a Coin Set?
A Coin Set is simply a set of handpicked crypto tokens designed by our experts based on themes. The themes of Coin Sets are spread across the emerging sectors in the crypto ecosystem, such as NFT, Web3, Metaverse, and many more.
What are the features of a Coin Set?
There are five main features of Coin Sets you should know about.
#1 Invest in ideas: A Coin Set allows you to invest on ideas in crypto that you truly believe will flourish.
#2 Dollar-Cost Averaging (DCA) via SIP: Through DCA you can divide the total amount to invest over time to reduce the effect of volatility. This way you can average out volatility.
#3 Managed by Experts: Mudrex in-house experts with more than a decade of experience manage these Coin Sets.
#4 Active Rebalancing: The tokens in the crypto basket are rebalanced depending on the market conditions to ensure high returns.

How does a crypto Coin Set work?
If you want to buy crypto, it is vital to keep track of the market volatility and risks associated with significant losses too. For example, when you invest in only Ethereum, your entire P&L depends on the performance of that one token. But when you invest in Coin Sets, you are practically investing in an index-like fund containing more than just one token.
In a Coin Set, you subscribe to a weighted basket of tokens based on a particular theme, gaining exposure to that theme or sector in a systematic manner. Here you don't need to keep checking your portfolio every day, because Coin Sets are designed in a fashion to reduce the overall risks of market volatility.
Who creates these Crypto Baskets/ Coin Sets?
The Mudrex in-house investment team with over a decade of experience has designed and curated these Coin Sets. The team has previously worked with global organisations like Deutsche Bank, Barclays, DE Shaw, etc, in managing funds, trading and research.
How are crypto Coin Sets managed?
The crypto tokens in the Coin Sets are thoroughly analysed and rebalanced depending on the market capitalization and performance. The rebalancing happens in two ways: adding/removing tokens while the other is altering weights assigned to tokens.
So, to ensure that the tokens part of a crypto Coin Set best represent the theme, the tokens are either added or removed. For instance, consider the Crypto Blue Chip Coin Sets, it has a total of 5 tokens. The weights in the crypto basket are allocated based on the market cap of these tokens.
Some Coin Sets are also altered or adjusted to create the best possible mix of constituent tokens from a risk-return perspective as part of the rebalancing. Consider the same example, Crypto Blue Chip is designed to have weights corresponding to their market caps. So, a token having a higher market cap contributes more to the Coin Set and thus ensures higher stability. In Coin Sets, when the crypto basket is rebalanced, the weights will also be readjusted as the market caps have changed.
How to invest in cryptocurrency through Coin Sets?
You can invest in Coin Sets in just a few clicks and start your crypto journey in four simple steps.
Step #1: Create an account using the Mudrex website or App. The App is available for both Android & iOS.

Step #2: Proceed with the KYC process or you can connect your preferred crypto exchange via its APIs.

Step #3: Depending on your choice you can now transfer funds from your exchange or you can also buy using your fiat currency.

Step #4: Choose your desired Coin Set and start allocating funds.

…and that's it! You have made your first investment in Coin Sets.
What are all crypto Coin Sets available to invest in?
There are a wide range of crypto baskets you can invest in, which are created keeping the central ideas across the crypto domain in mind. The themes of these in these crypto baskets are most popular and promising at the moment. We continuously work on identifying and coming up with new ideas where you can invest.

Crypto Blue Chip: Blue chip cryptos have always stood firm in the storm of volatility in the crypto market. This Coin Set picks up the top 5 major tokens with the highest market cap and should be part of everyone's crypto portfolio.

VC6: There are thousands of cryptocurrencies, but out of them, only a few fall in VCs' eyes for their potential. This crypto basket has the projects with the highest investments from the top VCs.

Smart Contract Platforms: With smart contracts becoming mainstream automating transactions effectively, this Coin Set picks up top tokens at the forefront of building the smart contracts ecosystem.

DeFi 10: As DeFi has grown multifold in the past few years, showcasing promising growth across the financial sectors, this Coin Set allows tapping into this finance revolution with exposure to tokens playing a part in the DeFi ecosystem.

Metaverse: The virtual reality world has become prominent as people's way of interacting, gaming, and experiencing things has changed a lot in the post-pandemic era. With large companies stepping into metaspace, this Coin Set allows you to invest on platforms building the metaverse space.

Raging Bulls: The coins in this basket have shown the most growth during the last month. It is a set of 10 tokens where your investment is split equally across all the coins to diversify. This set is a high-risk crypto basket for every trader wanting to make a strong bull move.

New Crypto Stars: This Coin Set consists of tokens showcasing the most promising growth in the crypto space according to the market cap in the past month with a well-diversified investment. The top 6th to 15th coins by market capitalization, excluding pegged and memecoins, are picked for this Set.

Web 3.0: The new internet era is exciting people across the globe for its permissionless nature. With Web 3.0, everyone will be able to trade value information and work with global counter-parties without having to worry about trust or intermediaries. This set picks the top 6 tokens working towards building a Web 3.0 ecosystem.

Latest Binance Tokens: Binance is the largest crypto exchange by trade volume, and this Coin Set consists of a list of tokens listed on Binance.

To The Mooooon: This Coin Set aims to pick the tokens that have the potential to give exponential returns shortly. It is a high-risk Coin Set, better suited for smaller investments.

DAO Universe: As the internet moves towards decentralization, it is expected that platforms participating in this infrastructure will gaining rapid adoption. This Coin Set consists of the top 10 DAO tokens that lead to new, innovative means of organising productive work.

NFT Gaming: NFTs are transforming how gamers view online gaming and in-game asset ownership. From in-game items, collectibles, to avatars, NFTs are being extensively used to certify ownership. This Coin Set enlists the top tokens at the forefront of building the NFT Gaming space.

NFT: NFTs have gained incredible attention for their ability to ensure the authenticity of products. NFTs can verify ownership and cut down the frauds across multiple industries have already started to adopt them, and several others are likely to adopt them soon. This Coin Set invests in a set of tokens participating in the NFT landscape.
Conclusion
In a market high on volatility, investing in one particular crypto can prove costly. Whereas, investing in the basket tokens can be the best solution for a long-term investment. Mudrex makes automated crypto investments easy ensuring high profitability to its users without the need to do hours of research.
Hope you got all your answers after reading this article! Why not check out Mudrex and start your crypto journey now.
Frequently Asked Questions
Q: Is it safe to invest in crypto Coin Sets?

A: Yes. Mudrex uses 2-factor authentication using Google Auth, performs weekly security checks, and rebalances the sets of tokens depending on the market changes.

Q: What are the charges involved in investing through Coin Sets?

A: When you invest in Coin Sets, there are no charges applied. Mudrex allows you to try investing in the product for free.

Q: How is Coin Sets different from mutual funds?

A: Essentially, they are quite similar to each other. But when you look at the regulatory point of view, mutual funds are regulated by a central authority such as SEBI, SEC, but whereas these baskets of tokens are not regulated.

Q: What is the minimum investment required to invest in Coin Sets?

A: You can start investing in this product from as low as $5.